Women's March on Washington – Useful Idiots Unite
March For Life
French Allies Welcome Trump Inauguration 
News You Can Use
In Case You Missed It
Say What?
In Remembrance
Islamic Terror Update
Chicago Shooting Count
Comedy Break
What Say You?
Soldiers Memorial Fund
Timeless Quotes

Stand Up America US Foundation s a network of patriotic Americans who wish to return America to its Constitutional roots.
General Paul Vallely and the SUA staff are committed to educating their followers and assisting pro-active groups in righting the ship of state.  Your donation is important to us and will assist in this historic effort.  Please join us today.
Editor: Ray DiLorenzo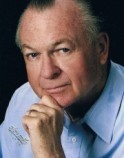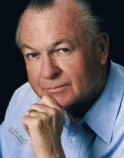 Maj. Gen. Paul Vallely served 32 years in the Army, having retired as Deputy Commanding General, US Army, Pacific.
Women's March on Washington
Useful Idiots Unite
Ray DiLorenzo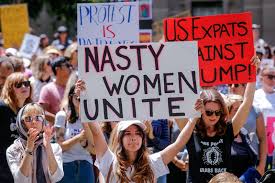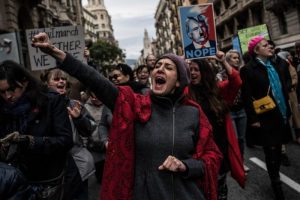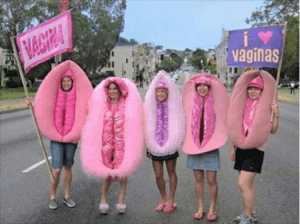 The Women's March on Washington and other cities has effectively demonstrated the division in our nation.  One side wants to conserve our ideals while the other side demands an end to our Judeo-Christian principles and faith.
In the process, these protesters are being unknowingly manipulated by Islamists, anarchists and communists, much of it financed by former Nazi, George Soros. The formula is simple. You find impressionable or unhappy people, tell them their misery is not their fault and then build a fire underneath them.
The Progressive movement and much of the Democrat Party in this country has been infiltrated and is no longer dedicated to liberal ideals per John Kennedy, Robert Kennedy or Hubert Humphrey.
What rights do women lack in America?  The right to kill your child any time before birth?  Who are the intolerant, the hateful, the fanatical?
Biological men who identify as women are angry that they were not included in the March, as the protest presented an 'oppressive message' that having a vagina is essential to womanhood.  Is this what we have become?
There are now massive amounts of men and women that are demanding an 'anything goes' society. It is no longer simply about freedom, but license…the license to be vile, degrading and offensive…the death of shame, the death of society.  And many women, the nurturers, the care givers of our children, are leading the march.
As Saul Alinsky preached in his book, 'Rules For Radicals', the breakdown of Judeo-Christian values is essential to the destruction of the West.  All three groups share a common hatred of Western culture, especially in the United States, the last stubborn holdout.  Liberals thought they won the culture war, only to find out the finish line has been moved. They are angry. Islamists, ironically, have no love for liberal values and, if the movement succeeds, there will be a blood bath for dominance, a civil war they have no intention of losing.  As faith dies out in the West, Islam moves in.
Meet the National Co-Chair of the Women's March on Washington
Linda Sarsour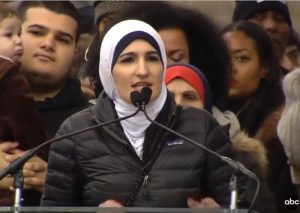 Linda Sarsour:
Muslim-American Woman
Pushing for Sharia Law in the United States.  You know, a Muslim that leaves Islam must be killed immediately.  A woman's testimony is worth half that of a man.  A woman is merely a possession. There is no age limit for marriage of girls.  A marriage can be consummated at age 8 or 9.  To prove rape, a woman must have 4 male witnesses. Banks must be Sharia compliant and cannot charge interest (of course, no bank will loan money). In the interest of furthering Islam, a Muslim is obliged to lie and should not have any feelings of guilt, etc.
Has ties to the terrorist organization, Hamas.  Sarsour was spotted at a large Muslim convention in Chicago posing for pictures with an acussed financier of Hamas.
Has cousins serving time in Israel due to their work with Hamas.
Has said in the past, "Nothing is creepier than Zionism."
Worked on the campaign of Bernie Sanders. Sanders expressed his support for her work with the Women's March.
Very active on Twitter, with tweets like: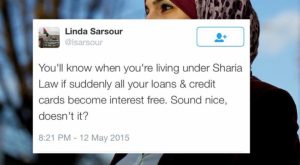 Enticing young impressionable minds.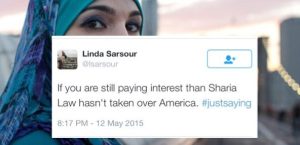 Enticing a generation that demands free everything.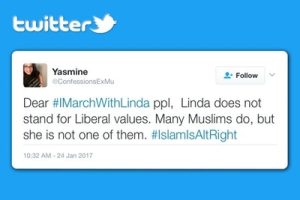 A warning from a liberal supporter of the March on Washington
March For Life
 January 27, 2017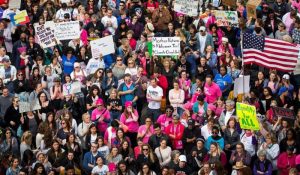 Getty Images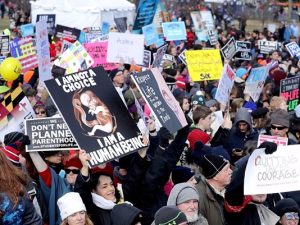 Getty Images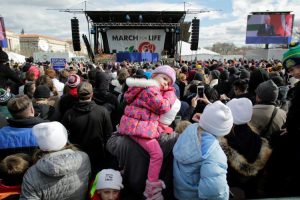 Getty Images
How refreshing to not find any 'Nasty Woman' signs, no vagina outfits, no speeches about blowing up the White House or sentiments of f**k you.
French Allies Welcome Trump Inauguration 
With Applause, Enthusiasm
Rosine Ghawji
As President Donald J. Trump took the oath of office at noon on Friday, some 3,800 miles away in the French capital, a group of dozens of high ranking French dignitaries hosted an American delegation in a festive celebration sponsored by the French-American Friendship Association of Paris.  French dignitaries included members of the French Parliament, members of academia and other elected officials.
The American military and congressional contingent included retired General Paul Vallely, former Deputy Commander of the United States Pacific Command, former Congressman Mike Flanagan of Illinois, and best-selling military author and former U.S. Navy Jag Officer, Lieutenant Commander Don Brown, who represented four-star retired Admiral James "Ace" Lyons, former Commander of the United States Pacific Fleet.  Members of the French-Russian Association of Paris also attended to show support for the American delegation.
The event, held in the ballroom of the InterContinental Paris le Grand Hotel, and sponsored in part by the French-American association of Paris, was covered in Europe and the Middle East by the I-24 Network, and by internationally-acclaimed journalist Christian Malard, who has interviewed more world leaders than any other active journalist.
President Trump's inaugural address was applauded by the French hosts several times, but perhaps the most enthusiastic applause, surprisingly, came when the new president proclaimed "America First."
After the inauguration, the French hosted a large cocktail party, followed by a formal banquet in the hotel's Grand Ballroom, which commenced with the playing of the Star Spangled Banner.  After dinner, all members of the U.S. delegation addressed the crowd, along with historian Frank Mitchell, author of DONALD TRUMP'S PLACE IN HISTORY: The Untold Story.
The loudest and most sustained applause came when Don Brown delivered Admiral Lyons' remarks on advice the Admiral would give to President Trump.  Addressing the crowd in French, Russian and English, Brown presented Lyon's speech, which declared that America's "eight-year nightmare with Barack Obama is finally over."  He called on President Trump to eradicate the Muslim Brotherhood from all positions in the federal government, to designate the Muslim Brotherhood as a terrorist organization, and to prosecute its members for sedition.  To each of these suggestions, the crowd enthusiastically responded with approval and applause.
The historic InterContinental Paris le Grand Hotel, built in 1861 at the request of Emperor Napoleon III, has been the site for numerous Franco-American diplomatic events in the past, and has hosted prominent American leaders including Presidents Harry Truman, Dwight Eisenhower and Richard Nixon. It has also hosted other notable Americans, including Ernest Hemmingway, Orson Wells, and Gregory Peck.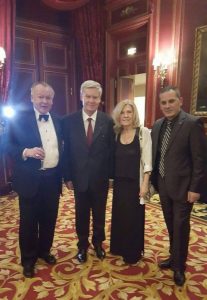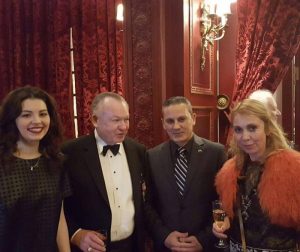 L to R: Dina, interpreter for Russian and French; General Vallely; Musa, Syrian Liaison Team; unidentified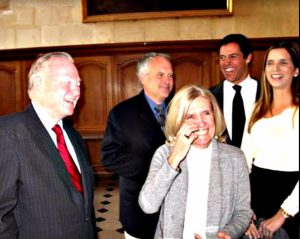 L to R: General Vallely; Don Brown; Rosine, event coordinator; King Louis XX of France, Queen Maria Margarita


Stand Up America US Foundation
Depends on your support to help the many organizations that work tirelessly to preserve our nation as founded
Notice To Subscribers
Some subscribers have complained that they were mistakenly taken off the mailing list.
If you forward this newsletter, be aware that the recipient could cancel your  subscription if they click the 'unsubscribe' button at the end of the newsletter.  It is our suggestion that you inform your recipients to just delete the newsletter if they find it objectionable, or simply copy and paste the newsletter removing the bottom portion where 'Unsubscribe' is located.
News You Can Use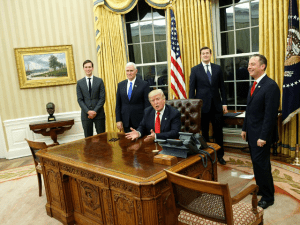 Trump Restores Churchill Bust to Oval Office
President Trump has restored the bust of former Prime Minister Winston Churchill to the Oval Office during his first day as president. President Obama had the bust removed and replaced with a bust of Martin Luther King.  Former London mayor, Boris Johnson, famously criticized the decision saying it was fueled by Obama's "ancestral dislike" for the British Empire. Breitbart
Editor's note:  It was widely reported by "fake news" outlets that President Trump had the bust of MLK removed. Not true. The bust was behind the door when the press walked into the oval office and simply not visible.
Madeleine Albright Says She Will Register as a Muslim
Former Secretary of State, Madeleine Albright says she is ready to register as a Muslim in solidarity as President Trump plans on suspending the U.S. refugee program for 120 days.  Fox News
Editor's note:  Where do you register as a Muslim?
Miami Trashes Sanctuary City
Miami has decided to follow President Trump's executive order on sanctuary cities and end its designation as such. The mayor has ordered jails to comply with detention requests. Other cities like New York, Chicago,  Boston and San Francisco could lose billions in federal funding if they persist in their standoff against the executive order with California being ground zero.  Fox News
Editor's note:  How about taking the money the cities don't get and use it to build the wall?
Democrats Settle on Scorched Earth Policy Toward Trump
Democrats have opted for a hard line, give no quarter posture, a reflection of a seething party base that will have it no other way.  "They were entitled to a grace period and they blew it," says Washington Governor, Jay Inslee.
Editor's note:  In other words, according to the opposition, this president has the nerve to do what the voters asked him to do. Unheard of!  This is not a smart strategy.  The democrats will only hold on to their die-hard supporters while leaving the more moderate democrats to switch to the Republican Party.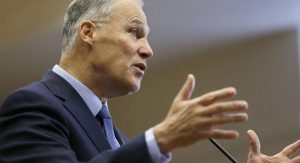 If you look closely at Governor's Inslee's suit collar, I think he's losing his hair over this.
AP Photo
In Case You Missed It
World Reaction to Trump Presidency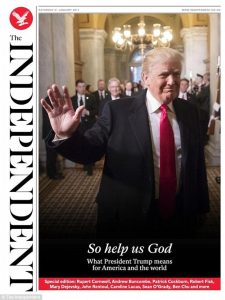 UK Newspaper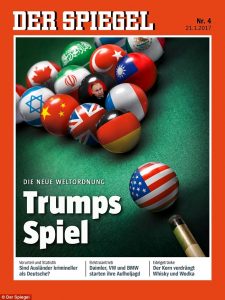 German Newspaper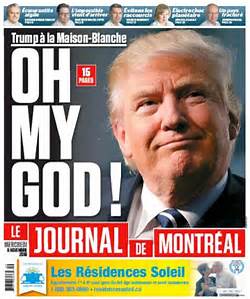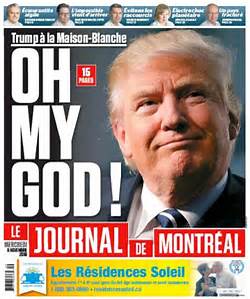 Canadian Newspaper
Mexico
Weekly news magazine, "Proceso", issued a warning on its cover that "War Is Coming."
Maria Lopez Gutirez of Pan American University thinks that the potential threat coming from Trump is highly exaggerated.  "We should be waiting", she advised.
Russia
A newspaper editor who introduced himself as Sergei, said that Trump is the most controversial president in American history, but he hopes that Trump will gain the confidence of U.S. citizens.
The "Russian Army" shop had set a flashing image of Donald Trump on an electronic billboard, offering a discount to U.S. citizens.
A pensioner, Lidia Vornova, said that people in Russia hope that the relations between Russia and America will move forward, and that the two countries will find a common language in relations with Syria.
Editor's note: The Russians have no respect for weakness. They only respect strength.
Niger and Nigeria West Africa
People seem encouraged by the new U.S. president and his administration. Most people in West Africa hope that Trump will unite the world, but there are those who are worried about his intents to ban the Muslims from entering the U.S.
Editor's note: Trump's statement during the campaign about Muslim immigration was more than reasonable, but has been distorted by the media.  He said we should consider a temporary halt to Muslim immigration until we "figure out what the hell is going on." Considering the tens of thousands of Muslim attacks and the many thousands of deaths around the world from those attacks, President Trump would be negligent in his responsibilities if he did otherwise.
Afghanistan
In Kabul, Abdul Hadi Arez, a retired lawyer, said he believes Trump will face some major challenges in foreign policy.
Emran Khan, a student from Kabul, is concerned about the arrival of the new president as he fears that Afghanistan will lose the help which they had received until now.  The student hopes that the United States will not resign from its efforts to eliminate the Taliban, because the commitment of the U.S. is necessary to secure the people of Afghanistan.
Iran
Iranian Foreign Minister Zarif called on Trump to adhere to the international accords reached by previous administrations…"The most important thing is that the future U.S. president sticks to agreements, to engagements undertaken.
Editor's note: Not surprisingly, Iran wants us to stick to the lousy agreements Obama made.
Cuba
News of Trump's win hit Cuba hard. President Trump has promised to reverse Obama's opening with Cuba unless President Raul Castro agrees to more political freedom on the island, a concession considered a virtual impossibility
Israel
Prime Minister Benjamin Netanyahu hailed Trump as a "True friend of the State of Israel."
Palestinians
A top Palestinian official says that he did not expect any change in U.S. policy toward the Palestinian conflict. Palestinian President Abbas says that the Republican and Democratic parties are committed to a two-state solution.
However, Trump has proposed moving the U.S. embassy to Jerusalem, even though previous U.S. policy has not recognized Israel's annexation of parts of the city.
Germany
German Defense Minister, Ursula von de Leyen called the U.S. vote, "A big shock." 
newswire.net
CBS News
Say What?
Celebrity Reaction to Trump Inauguration
"Don't forget to set your clocks back 300 years."
Chris Rock
"Sleeping in…then, I'm marching"
Katy Perry
"The White House removed its climate change web page.  And the healthcare, civil rights and LGBT sections.  Just thought you should know."
George Takei  (Star Trek)
"He will not last the four years."
Michael Moore
"What a beautiful prayer.  It makes me wanna grab my p***y."
Christine Teigen (model/actress)
"Because we appear to be living in an alternative reality where dreadful things you thought were impossible can happen."
J.K. Rowling (Harry Potter)
Editor's note: Ms. Rowling is going to lecture us about living in an alternative reality?  Unless she's writing a book, it seems she can't even express a complete sentence.
"Yes, I am outraged.  Yes, I have thought an awful lot about blowing up the White House."
Madonna
Editor's note: According to the Daily Mail (UK), AOL and Breitbart, Madonna will be investigated by the Secret Service for her stupid comment.
These are people who don't like Trump because they think he's hateful. In most ancient civilizations, actors' and entertainers' social class was no different than that of prostitutes. Today, the social class of celebrities has risen sharply primarily because of their commercial value. In other words, it was money that 'bought' most of them their social standing. Many celebrities want their political leaders and the general public to reflect their social mores, however bankrupt those mores may be, so as to give approval to their lifestyle. Unfortunately, countless people, especially the young, think they hold the standard for social behavior. There are, of course, exceptions, but one would be well advised to take from them their entertainment or amusement value but not their political or personal advice.
In Remembrance
72 Years ago, January 27, 1945
Auschwitz Was Liberated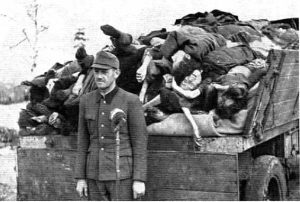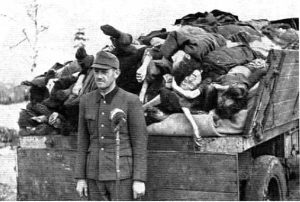 Auschwitz Concentration Camp Gas Chambers
General Eisenhower ordered photos and films taken of the concentration camps anticipating that future generations would attempt to sweep it under the rug. Only 54% of the world's population has heard of the holocaust according to a survey of 53,000 people in 100 countries.  Statistic: The Atlantic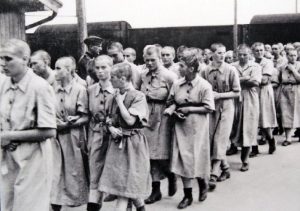 Islamic Terror Update
2017
Just since the beginning of this year!
There were 173 Islamic terrorist attacks in 28 countries.
1,272 people were killed and 1,588 people were injured
As a reminder, these were civilian attacks.
1/25/17 – Religion of Peace activists stage a suicide assault on a hotel – Mogadishu, Somalia – 28 killed, 43 injured.
1/25/17 – A suicide bomber blows himself up at a rival mosque killing a guard – Kaleri, Nigeria – 1 killed, 2 injured.
1/24/17 – A woman dies trying to defend her farm against an Islamic attack- Afgoye, Somalia – 1 killed, 4 injured.
1/23/17 – Boco Haram slaughters eight villagers and kidnaps seven women – Dzaku, Nigeria – 8 killed, 7 injured.
1/21/17 –  Thirteen civilians are executed by the Islamic State after being used as human shields – Rashidiya, Iraq – 13 killed.
1/21/17 – Two children are among twenty-five innocents killed at a market by bombers striving for a Sharia state – Parachinar, Pakistan – 25 killed, 87 injured.
This is only a small sample of the attacks this week.
Islamic terrorists have carried out more than
30,202 deadly attacks since 9/11
thereligionofpeace.com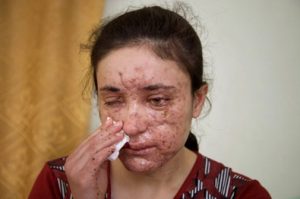 If you insist on marching, march for this!
The plight of Yazidi sex slaves and migrant rape victims was overlooked by the recent "Women's March on Washington" – an ironic protest against Trump, partly for his views on Sharia (which supports slavery) and Muslim migration.  thereligionofpeace.com
Chicago Shooting Count
The Chicago Shooting Count
For 2017 
as of January 27, 2017 (8pm MST), is:
47 Shot & Killed (a murder every 13:00 hours)
224 Shot & Wounded  (a shooting every 2:21 hours)
Total Shot:  271
During Martin Luther King holiday weekend:
10 people killed, 29 people shot!
2017 Victim Totals By Race
77.8% Black, 8.9% Hispanic, 4.4% White/Other, 8.9% Unknown
91.2% of assailants were unknown
resulting in no arrest.
2016 Totals
Shot and Killed:   716
Shot and Wounded:    3,663
Total Shot:    4,379
Total Homicides:   798
Editor's note: Depending on the state, there are different types of homicide (the killing of a person by another person)…criminal (first degree or manslaughter), justifiable or excusable. heyjackass.com
You can blame much on a poor education system, gangs, a lack of jobs and an unresponsive government; but, a portion of the blame goes to the individuals who would not or could not find it within themselves to build  a better life.
Comedy Break
Brit Humor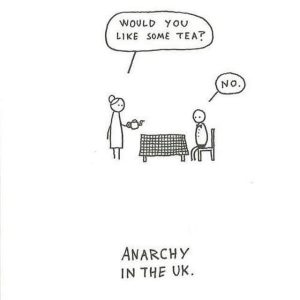 What Say You?
What Happened To Hollywood? Part 2 – 1/21/17
"Amen."  CD
To The 68 Democrats That Refused to Attend The Inauguration – 1/21/17
"As a veteran, I can say that those 68 who disrespected the office of the presidency also disrespected his authority as Commander-In-Chief. That infantile behavior, unwarranted and presumptive, needs to be remembered and addressed quickly. This tends to be contagious until confronted."  MD
"HEAR HEAR or is it HERE HERE?  Whatever…I agree…or fire them!  LG
If you would like to comment, just respond to this newsletter.
Stand Up America US Foundation




Donate
Your donation is important to Stand Up America US Foundation.  It helps us support the many worthy organizations that help restore this great nation.  Thank you!   
Timeless Quotes
Benjamin Franklin
To all those who bark that Obama is a much better speaker than President Trump: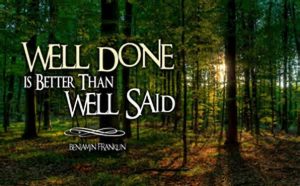 Copyright 2010 -2017 Stand Up America US Foundation, All Rights Reserved
Our Mailing Address is:
P.O. Box 1596, Bigfork, MT  59911