February 18, 2017
Alert!  Obama Holdover Government Plotting 
News You Can Use
In Case You Missed It
Comedy Break
Soldiers Memorial Fund
Timeless Quotes

Stand Up America US Foundation s a network of patriotic Americans who wish to return America to its Constitutional roots.
General Paul Vallely and the SUA staff are committed to educating their followers and assisting pro-active groups in righting the ship of state.  Your donation is important to us and will assist in this historic effort.  Please join us today.
Editor: Ray DiLorenzo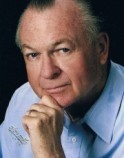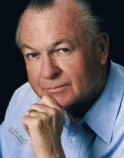 Maj. Gen. Paul Vallely served 32 years in the Army, having retired as Deputy Commanding General, US Army, Pacific.
Alert!  Obama Holdover Government Plotting
Several intelligence insiders have come forward over the last few days to describe a shadow government of Obama holdovers leaking information to derail the Trump presidency, with National Security Advisor, Mike Flynn's resignation its first success.
According to the Free Beacon, Flynn was targeted because he was preparing to "publicize many of the details about the nuclear deal that had been intentionally hidden by the Obama administration as part of its effort to garner support for the deal."
There are even allegations that former President Barack Obama is himself actively involved, citing his establishment of a command center in Washington and continuing involvement with activist organizations.
Retired Lt. Col. Tony Schaffer, formerly CIA-trained defense intelligence officer, said to Fox Business, "I put this right at the feet of John Brennan, and Jim Clapper and I would go so far as to say the White House was directly involved before they left.
The Washington Free Beacon quoted 'multiple sources in and out of the White House' on Tuesday to describe a "secret, months-long campaign by former Obama administration confidantes to handicap President Trump's national security apparatus and preserve the nuclear deal with Iran."
The New York Post is suggesting that Obama is running the show with not just whisper campaigns, but actively employing agitators across the nation as well.
It has been reported that Obama has employed an army of as many as 30,000 agitators who will fight his Republican successor at every turn of his presidency.  And Obama will command them from his bunker less than two miles from the White House.
Obama is doing it through a network of leftist non-profits led by Organizing for Action.  Organizations that are set up to support a politician are normally disbanded after he leaves office, but not this one.  It is, instead, gearing up for battle, with a growing war chest and 250 offices nation-wide.  Breitbart
American Muhajideen?
Editor's note:  What will happen when the Trump administration uncovers these seditious organizations?  Will the 30,000 agitators go rogue?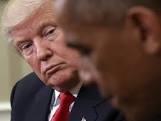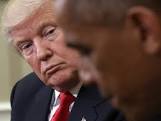 Businessinsider.com


Stand Up America US Foundation
Depends on your support to help the many organizations that work tirelessly to preserve our nation as founded.
Notice To Subscribers
Some subscribers have complained that they were mistakenly taken off the mailing list.
If you forward this newsletter, be aware that the recipient could cancel yoursubscription if they click the 'unsubscribe' button at the end of the newsletter.  It is our suggestion that you inform your recipients to just delete the newsletter if they find it objectionable, or simply copy and paste the newsletter removing the bottom portion where 'Unsubscribe' is located.
News You Can Use
French Police Flee Armed Mob as Paris Riots Spread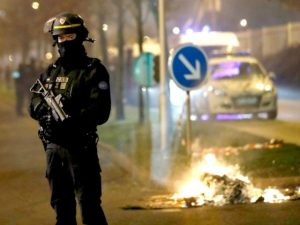 Photos: Getty Images
Muslims and leftists continue to riot across France for nearly a week.  The protests, against police brutality, have left a wave of destruction on the streets of Paris with burned-out cars and local shops smashed. Presidential candidate, Marine Le Pen slammed the French government claiming it has become "paralysed." Le Pen also said, "The government is silent.  A silence that reflects both its cowardice and its impotence." Breitbart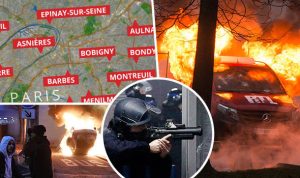 Editor's note:  Former French president, Nicolas Sarkozy, has declared war on Islamist terrorism and has demanded all immigrants should "speak French…live like French people." The French have seen a great many Muslims that have immigrated into their society without any desire to assimilate.  With de-facto no-go zones spread across the country, the French have literally given up parts of their country to Muslims that do not want to be French.  Mr. Sarkozy is running for president once again.
The Press Ruined Its Own Reputation – CBS Anchor
CBS anchor, John Dickerson, agrees with President Trump that the fourth estate has lost its credibility. "Manhattan-Beltway elites have lost the country," he said.  "Part of it…is a lot of hysterical coverage about every little last thing that doesn't warrant it." Townhall
Editor's note: The latest polling from Gallup shows that only 32% say they have a great deal or fair amount of trust in the media.  CNN whining about conservative news outlets getting to ask questions at a presidential news conference, even though they were fair questions, did not help CNN. 
Majority of Americans Think Trump is a Strong Leader
Considering the political divide among Americans, Trump is still considerd a strong and decisive leader who keeps his promises among the majority of Americans.  Gallup, Townhall
Editor's note: Those Democrats who don't think Trump cares about their needs are those who probably want their hands held through life's journey.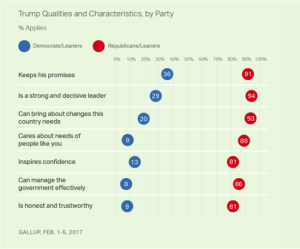 CAIR, ISNA & NAIT Are Radical Front Groups – Canadian Intel
According to Canadian intelligence, Muslim Brotherhood groups, the Council for American-Islamic Relations (CAIR), the Islamic Society of North America (ISNA), and the North American Islamic Trust (NAIT), are radical Islamic front groups.  They maintain a continuous position of being victims even though the violence may have been caused by other Muslims.  While the media continues to hound President Trump on Russia, they were silent when Obama became the Muslim Brotherhood's "fairy godmother." Conservative Base
Editor's note:  The Muslim Brotherhood says they plan to conquer Western Civilization from within. To do so, they are using these front groups to acquire credibility among political parties, students and voters.  NAIT is a financial arm of the Muslim Brotherhood, holding many properties, including hundreds of  mosques and schools and using financial pressure to acquire independent mosques.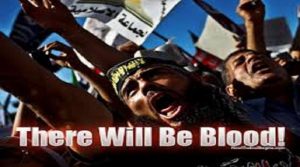 Conservative Base
In Case You Missed It
Guest Submission
Experts Turn Out 'Counterjihad' Blueprint For America
 by Michael Maloof, Senior Staff Writer, World Net Daily
Washington –
A plan to defeat the "global jihad movement" has been released by a team of national security experts who say it offers a blueprint for a "counterjihad security architecture for America" to confront what they call the "existential struggle of our time."
The Legacy National Security Advisory Group, founded by retired U.S. Army Major General Paul Vallely under the auspices of his Stand Up America US Foundation claims U.S. foreign policy has fallen short in setting goals for the region under Obama that encompasses the Middle East and North Africa (MENA).
"The U.S. has limited national security objectives in the MENA region, but they are important and must be precisely defined," Vallely told G2Bulletin.
He said the objectives of the blueprint are to defend U.S. diplomatic, intelligence and military assets in the region, keep open the naval, maritime, and commercial sea lanes and defend the free passage of oil and other commercial goods.
In addition, he said, the United States must make sure critical waterways such as the Strait of Hormuz, Bab al-Mandab, the Red Sea and Suez Canal are not controlled by the jihadists or other forces "hostile" to the U.S. and the West.
The plan also calls for defense and support of regional allies to include Egypt, Israel, Jordan and the Kurdish people.
In effect, Vallely said, the United States must seek a balance of power in the MENA region, rebuild the military, and defeat the ISIS – "global jihad movement."
The Legacy blueprint also said it is important to help create a "balance of power" between Shiite and Sunni Islamic forces, while avoiding actions to further destabilize the region "unless compelled in defense of other core U.S. national security objectives."
"We must understand that fashionable policies like 'exporting democracy, COIN (counterinsurgency), winning hearts and minds,' and 'nation building,' are futile among societies of Islamic law (Sharia) and showed no success." America must move the strategic "Lily Pad" concept and doctrine as articulated by MG Vallely in other published documents.
"Sometimes accepting local strongman rule that supports U.S. and Western interests, even though not democratic, is the lesser of two evils when the alternative would be either chaos or an Islamic jihad-and-Sharia takeover," the document said.
It also calls for rebuilding the U.S. military "ASAP" (as soon as possible), given that sequestration has "decimated" U.S. military readiness, hindering its efforts to respond effectively to "national security requirements."
It also said that Sharia law is a threat, calling on the White House to formulate and implement a national security strategy that "defines Islamic law (Sharia) as an enemy threat doctrine."
"It must be a priority objective of this new National Security Strategy to deter and defeat Islamic jihad globally," the Legacy document said. "To do that, it will be necessary that U.S. national security leadership understand that the Sharia threat is advanced by way of jihad, which may be kinetic or non-kinetic."
It also called for the White House and the intelligence community to "remove the jihadist penetration of and influence against the U.S. government, especially at top levels of national security."
The blueprint particularly singled out Iran with its weapons of mass destruction programs, especially "nuclear and electromagnetic pulse (EMP) programs and international continental ballistic missile delivery systems.
It said these pose an "existential threat to the U.S. mainland as well as regional allies like Israel."
The Syrian Renaissance (Rebirth, Restoration and Rebuilding of Syria) has just been launched by Stand Up America US Foundation.
F. Michael Maloof, senior staff writer for WND/G2 Bulletin, is a former security policy analyst in the Office of the Secretary of Defense.  Maloof is the author of "A Nation Forsaken–EMP: The Escalating Threat of an American Catastrophe," the e-book, "ISIS Rising: Prelude to a Neo-Ottoman Caliphate." 
Comedy Break…Sort Of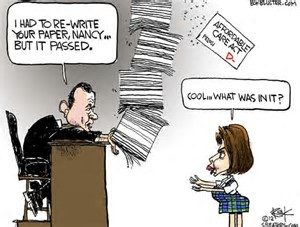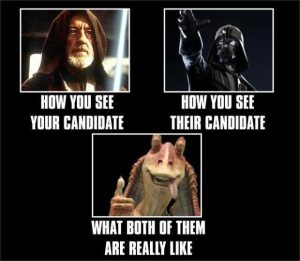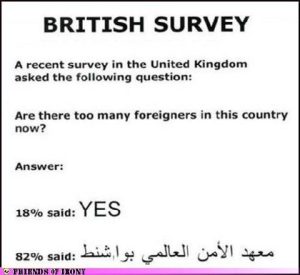 What Say You?
If you would like to comment, just respond to this newsletter.
Stand Up America US Foundation

https://www.youtube.com/watch?v=TDY7WvQhs_4&feature=youtu.be
A Soldier And His Dog KIA – Coming Home
Delta Airlines Employees Honor Guard


Your donation is important to Stand Up America US Foundation.  It helps us support the many worthy organizations that help restore this great nation.  Thank you!   
Timeless Quotes
Alexander The Great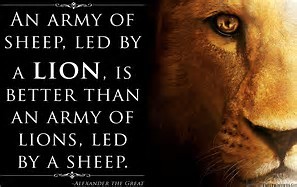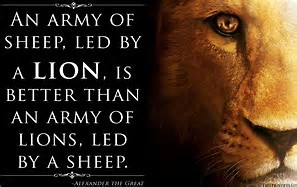 Copyright 2010 -2017 Stand Up America US Foundation, All Rights Reserved
Our Mailing Address is:
P.O. Box 1596, Bigfork, MT  59911