February 11, 2017
President Trump's First Weeks
News You Can Use
Say What?
In Case You Missed It
Comedy Break
What Say You?
Soldiers Memorial Fund
Timeless Quotes

Stand Up America US Foundation s a network of patriotic Americans who wish to return America to its Constitutional roots.
General Paul Vallely and the SUA staff are committed to educating their followers and assisting pro-active groups in righting the ship of state.  Your donation is important to us and will assist in this historic effort.  Please join us today.
Editor: Ray DiLorenzo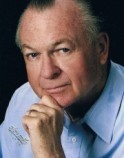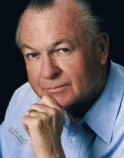 Maj. Gen. Paul Vallely served 32 years in the Army, having retired as Deputy Commanding General, US Army, Pacific.
President Trump's First Weeks
Ray DiLorenzo
From a NY Magazine article entitled:
'All the Terrifying Things Donald Trump Did Lately'
"Technically, it's only been two weeks since Trump became Commander-in-Chief.  But for the president's detractors, it's felt like centuries – long medieval centuries chock-full of plague, illiteracy, and barbarians running roughshod through the ruins of the old republic.  But we aren't actually living in the dark ages (yet).  So we might as well shed some light on what the barbarians have been up to."
New York Magazine, 2/3/17
Let's see what "terrifying things" President Trump and his "barbarians" have done lately:
1)  Proposed new tax plan
2)  Cut income taxes (7 brackets to 3)
3)  Lower corporate tax rate to 15%
4)  Repatriation rate of 10% (allow multi-national corporations to repatriate trillions of dollars sitting overseas)
5)  Nominate Judge Gorsuch to Supreme Court
6)  Drafted plan to defeat ISIS
7)  Setup task forces to fight drug cartels, reducing violent crime and attacks on police
8)  Planning border wall construction
9)  Initiate plan to rebuild military
Some of the Executive Orders thus far:
1)  Ease the burdens of Obamacare
2)  Freeze regulations
3)  Withdraw U.S. from Trans Pacific Partnership
4)  Federal gov't hiring freeze
5)  Advancing pipelines
6)  Stop sanctuary cities
7)  Initiate extreme vetting of immigrants from troubled countries
8)  Initiated 5 year lobbying ban for administration officials
President Trump is moving at the speed of the private sector – a speed no politician or bureaucrat has ever seen.  He is doing what he promised while not being daunted by political opposition. People are stunned. Democrats are in shock while the Republican Congress is still chewing on Trump's inauguration. Trump is leaving multitudes far behind.
We are witnessing an energy never experienced, a dream never realized, an administration emerging that could redefine good government. Of course, many don't recognize what they have never seen before.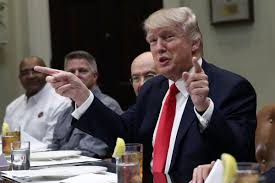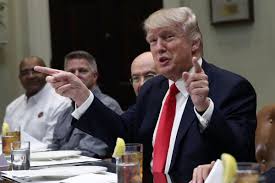 Townhall


Stand Up America US Foundation
Depends on your support to help the many organizations that work tirelessly to preserve our nation as founded
Notice To Subscribers
Some subscribers have complained that they were mistakenly taken off the mailing list.
If you forward this newsletter, be aware that the recipient could cancel yoursubscription if they click the 'unsubscribe' button at the end of the newsletter.  It is our suggestion that you inform your recipients to just delete the newsletter if they find it objectionable, or simply copy and paste the newsletter removing the bottom portion where 'Unsubscribe' is located.
News You Can Use
Unprecedented Spike in Homegrown Terror Threat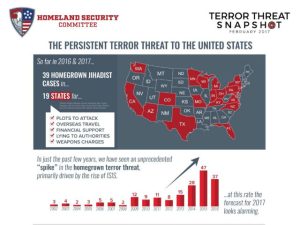 The 2017 terrorism forecast for the United States and the rate at which Americans are being radicalized at home is "alarming," according to a monthly assessment by the House Homeland Security Committee. According to the report, there have been at least 39 homegrown jihadist plots or attacks across 19 U.S. states since the beginning of 2016.  Breitbart
Editor's note:  With the recent Ninth Circuit court decision, some judges have taken upon themselves to decide what constitutes national security.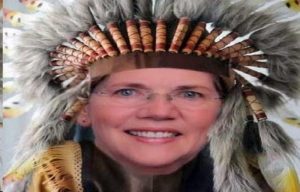 Martin Luther King's Niece Says Elizabeth Warren Is A Trickster
Dr. Alveda King, niece of Dr. Martin Luther King, criticized Senator Warren for using her aunt's and uncle's name to stir up racial emotions so people cannot get the message of peacemaking.  Dr. King called Warren's tactic "the old bait and switch" with the race card being played.  "People will never look at the issues.  People will never see the solutions.  They'll be angry and then [Democrats] can slip [their] agenda in."  Conservative Base
Editor's note: The race card may have worked in the past, but it's now wearing thin with most voters.
Four Arrested in French Raid
French police, on Friday, arrested four people, including a 16-year-old girl in an anti-terror raid and uncovered a makeshift lab with the explosive TATP and other ingredients to make a bomb.  Officials say an attack could have been imminent.  A retrieved video showed the teenager pledging loyalty to the Islamic State.  Fox News, ABC News
Editor's note: France is still under a state of emergency after several deadly attacks in 2015 and 2016.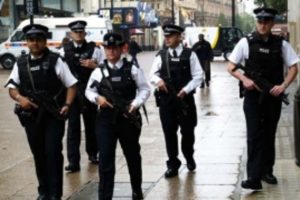 Malaysia Sun
Ninth Circuit Would Allow 9/11 Hijacker to Sue to Come to U.S.  
Analysis: The judgment of the Ninth Circuit, upholding the temporary restraining order against President Trump's recent executive order restricting travel from seven terror-prone countries, would have allowed one of the 9/11 hijackers to sue the government to come to, or stay in, the United States.  Breitbart
Editor's note:  The courts need to understand that yes, the Constitution is a document limiting the powers of the federal government, but it is not a suicide pact.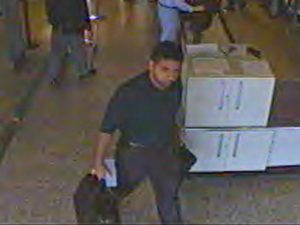 Associated Press
Say What?
Where Are Many Illegals Hiding?
Cities!
New research shows that 20% of illegal aliens live in the cities of New York, Los Angeles and Chicago.  New York is hiding 1,150,000 aliens, Los Angeles is hiding 1,000,000 aliens with Chicago cloaking 425,000 illegals.  Fox News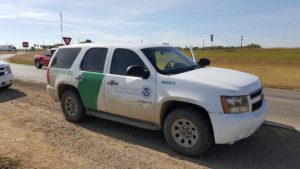 Border Patrol arrested a man trying to smuggle illegal immigrants while using a cloned Border Patrol Chevy Tahoe SUV
In Case You Missed It
Guest Submission
Marine Le Pen Will Make France Great Again
Michael Flanagan
Editor's note:  Marine Le Pen is a candidate for the presidency of France.  She is currently favored in the polls.
Recently, I traveled to France to speak at a Franco-American friendship gathering assembled to celebrate the inauguration of America's forty-fifth president.  On that trip, I had the pleasure of having a private dinner with Marine Le Pen and with Major General (Ret) Paul Vallely.  General Vallely was our host and has long been involved in international affairs as they relate to the United States.
Ms. Le Pen was thoughtful, pleasant, informed and a true daughter of France.  She loves her country in that special way that motivates all of us to support her love affair and emulate it in our own lives and for our own country.
Like many Americans, Ms. Le Pen loves everybody but feels that her country is for her countrymen and not a potential residence for anyone in the world who wants to come.  Like many Americans, she believes that France has the right and responsibility to carefully select those who should live among them and does not apologize for this.
Ms. Le Pen questions and largely rejects the belief that a thin veneer of overlords known as the EU Parliament and its financial backers should make all of the rules for half a billion people located among the most diverse and differing ethnicity on the earth. She believes that the French should govern France, not a collection of other Europeans assembled from these differing ethnicity.
Ms. Le Pen rejects collectivism in economic terms as well as political ones. She embraces the free-market and trade deals among nations close and far.  She would like France to reject the Euro and re-establish the French Franc as Great Britain still uses the British Pound.
Ms. Le Pen also is as perplexed, as many Americans are, that these things are in any way controversial – much less hateful as the left calls them.
Ms. Le Pen is running ahead of the pack in the preliminary elections to be held in April.  That election will be shortly followed by the run-off between the top two vote getters. Ms. Le Pen is a shoe-in to be among the top two – in fact, the first.
Interestingly, the second contender will be the right-of-center traditional party, the Republican candidate,  Francois Fillon.  Because Fillon is plagued with personal controversies, he is fading in the pack.  Le Pen is doing all of the right things, and consequently, her numbers are growing daily.
These two contenders on the Right consume well over half of the expected vote.  Consequently, as was quoted to me repeatedly in France, "the Left is finished."  The last time the national leader of France was as unpopular as Hollande is now, they cut his head off.
Le Pen has been working very hard on her positions and her image, which has been blighted by past sins of her party, the National Front, and by a biased, left-leaning media.  To rebut unfounded attacks on her affection for all Frenchmen, she has secured very favorable statements by Giles-William Goldnadel and by Roger Cukierman, both prominent Jewish leaders in France.
Unlike so many in America, she would be thrilled with an endorsement by our president and believes that his election was the beginning of a long line of leaders all over the world to be cut from the same cloth as President Trump.  The Trump Administration has, so far, been reluctant to get into the mix over there, but their is time, if they are so inclined.  I hope that they seriously consider an endorsement.
Like Trump, she enjoys the support of a cross-section of France.  This may bring out a previously unknown percentage of the vote, until now hidden – a' la Brexit and Trump.
Young people are enjoying a re-awakening of what it means to be French in its grandest tradition and these folks make up a surprisingly large part of her enthusiastic supporters.  The excitement of youth working for something is both infectious and heart-warming.
Marine Le Pen is on the march and I am hopeful for her success in April.  It will be a shock to the EU and will embolden so many others in Europe and around the world to re-embrace the nation-state as the best means for a peaceful coexistence in the world.
Michael Flanagan is a former Congressman representing the 5th District of Illinois in the 104th Congress.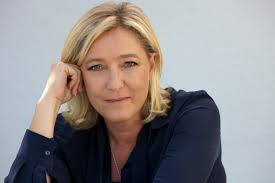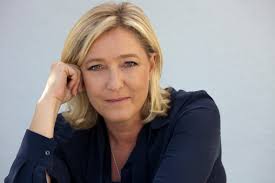 Marine Le Pen
wallpapino.com
Comedy Break…Sort Of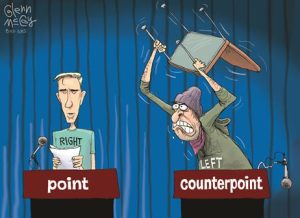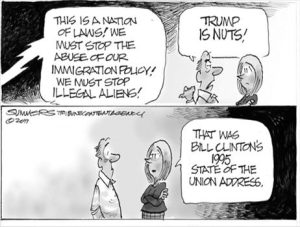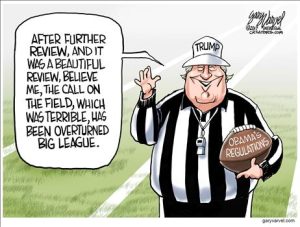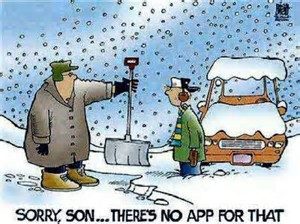 What Say You?
Finally! – 2/4/17
"Great articles, and I love that veterans monument at the end."  JD
"Great stuff, Ray!"   MF
"Thank you, brilliant, positive."  M&BL
If you would like to comment, just respond to this newsletter.
Stand Up America US Foundation



Your donation is important to Stand Up America US Foundation.  It helps us support the many worthy organizations that help restore this great nation.  Thank you!
Timeless Quotes
Anonymous
"Common sense is like deodorant, those who need it the most never use it."
Copyright 2010 -2017 Stand Up America US Foundation, All Rights Reserved
Our Mailing Address is:
P.O. Box 1596, Bigfork, MT  59911