February 4, 2017
Finally!  Why It's All Good
News You Can Use
In Case You Missed It
Say What?
Comedy Break
What Say You?
Soldiers Memorial Fund
Timeless Quotes

Stand Up America US Foundation s a network of patriotic Americans who wish to return America to its Constitutional roots.
General Paul Vallely and the SUA staff are committed to educating their followers and assisting pro-active groups in righting the ship of state.  Your donation is important to us and will assist in this historic effort.  Please join us today.
Editor: Ray DiLorenzo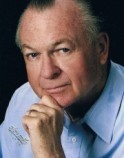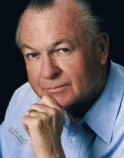 Maj. Gen. Paul Vallely served 32 years in the Army, having retired as Deputy Commanding General, US Army, Pacific.
Finally!
Why It's All Good
Ray DiLorenzo
Finally, we have a president that is doing what he promised and owes nothing to special interests. Finally, we have a president that listens to people rather than lobbyists and speaks plainly, not in platitudes. Finally, we have a president that doesn't take any crap from the mainstream media when they produce fake news.  Finally we have a Republican President and Congress that doesn't cower when confronted by attacking democrats.
We have entered a new era in presidential politics and it's as refreshing as a cold drink on a hot day.  Finally, we have a president that is working hard for the largest voting block in the country–the middle class.
Why it's all good:
 We have a president that is addicted to results.
 We have a president that will not tune-in to lobbysists or special interests. and has instituted a lobbying ban on administration officials from ever lobbying the U.S. on behalf of a foreign government.
 We can now recognize and name our enemies and deal with them appropriately with no phony red lines.
 Poor students will be allowed to escape failing schools.
 Trade policies will put America's interests first with less regulation for small and big business.
 We have a president that understands business.  Jobs will be brought back that were lost decades ago.
 No more spending trillions building nations with no cultural or religious desire for a democratic or republican form of government.
 We will finally get tax reform.
 Immigration reform that dislodges criminal aliens, sends them packing and properly vets new immigrants attempting to come in.
We'll build a wall to keep illegal aliens and drugs out, both being a criminal and financial strain on our institutions and economy.
We will rebuild our military like we have to do after every Democratadministration.
President Trump will nominate Supreme Court judges that will preserve, protect and defend the Constitution rather than re-write it.
The same stale leftist journalists will no longer receive preferential treatment at news conferences.
Trump is the picture of the American dream, the American character and the embodiment of the 21st century.  He insists on winning and he's on our side.
President Trump tells it like it is.  No political speak.
We have a president who loves America.
So, why are liberals, Democrats and Hollywood celebrities so outraged?
They are outraged because they know that if Trump succeeds, many of them will never see another liberal democrat president in their lifetimes.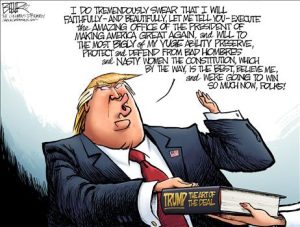 Townhall.com


Stand Up America US Foundation
Depends on your support to help the many organizations that work tirelessly to preserve our nation as founded
Notice To Subscribers
Some subscribers have complained that they were mistakenly taken off the mailing list.
If you forward this newsletter, be aware that the recipient could cancel yoursubscription if they click the 'unsubscribe' button at the end of the newsletter.  It is our suggestion that you inform your recipients to just delete the newsletter if they find it objectionable, or simply copy and paste the newsletter removing the bottom portion where 'Unsubscribe' is located.
News You Can Use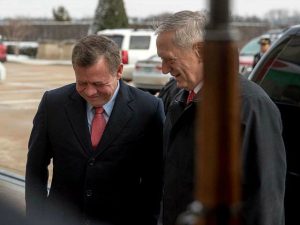 King Abdullah and Secretary of Defense Mattis
Jordan Wants Trump to Get Tougher on Terrorism
Jordan's King Abdullah wants Trump to get tougher on terrorism, especially the Islamic State.  King Abdullah is in Washington this week meeting with President Trump and members of his administration.  Abdullah is said to be "heartened by a new Republican administration whose emphasis on traditional security would be a refreshing change from the former Obama administration's concern over the pace of political reforms, which was seen in Jordan as interference." Breitbart
Editor's note: Maintaining a good relationship with Jordan is crucial since they border Israel to the west, Syria to the north and Iraq to the east. The only bug in the soup is Jordan is totally against the United States moving its embassy to Jerusalem
Dutch Experts Say It's Almost Impossible to Pick Out Terrorists
University of Amsterdam researcers say it is extremely difficult to pick out jihadists from asylum seekers.  The criminologists called on ministers to admit that "no one really knows how to" separate jihadists from asylum seekers.  Breitbart
Editor's note: Even FBI Director Comey, in 2015, admitted in a House Committee on Homeland Security hearing that the federal government does not have the ability to conduct thorough background checks on refugees. So, Trump's temporary ban on immigration from terrorist hot spots until an effective vetting system can be developed is prudent, is it not? We need to view the world as it is, not what we would like it to be.
UAE Minister Says Trump Travel Ban Not Anti-Muslim
United Arab Emirates Foreign Minister, Sheikh bin Abdullah Zayed al- Nahyan, said it was "wrong to say" that the decision by the Trump administration was "directed against a particular religion." The United States made a "sovereign decision" and that it was "provisional" and did not apply to "the large majority" of the world's Muslims. In the defense of the ban, he also said that some of the countries on the blacklist have "structural challenges" on the security front. conservativebase.com
Editor's note: Most of the protests regarding this executive order were strictly knee-jerk, not bothering to reason that if the ban was anti-Muslim, why were so many Muslim countries not on the list? You can't be even reasonable. Anti-Trumpers will be opposed to everything the President does. A new Rasmussen poll finds that 57% of likely voters are in favor of the temporary ban while 33% are opposed, with 10% undecided. Much of the media has ignored the polling, making the protests seem mainstream.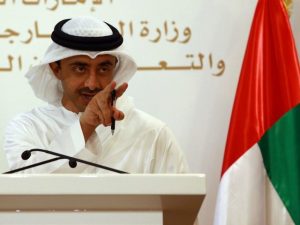 Getty Images
Trump's Approval Rating Is On the Rise
According to a new poll conducted by Politico and Morning Consult, 49% of voters approve of Trump's presidency so far, while 41% disapprove.  This is a far cry from the latest Gallup poll which claims 45% approval with 48% disapproval.  dailycaller.com
Matthew McConaughey Says It's Time to Embrace Trump
Actor Matthew McConaughey sent a sobering message to Hollywood celebrities to get over it and embrace Trump.  "Well, they don't have a choice now.  He's our president…It's time to embrace and shake hands with this guy and be constructive over the next four years."  Fox News, Breitbart, CNN
Editor's note:  Nice to know there's at least one adult in the room.
Trump Meets With Harley-Davidson
President Trump and Vice President Pence met with Harley-Davidson executives on the South Lawn of the White House on Thursday, recognizing an American company for creating Jobs in the United States.  Fox News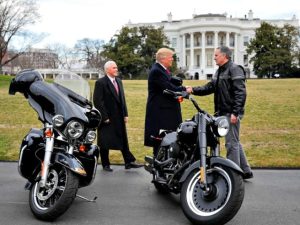 Say What?
Fascists Denouncing Fascists?
Go figure!
Protests At Berkeley and NYU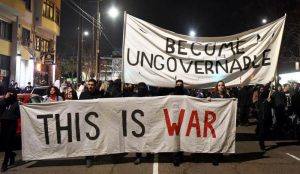 A planned visit to UC Berkeley by Breitbart editor, Milo Yiannopulous, was cancelled after a protest turned violent on Wednesday. Trump supporters were punched, beaten with flag poles and pepper sprayed. Some were stomped while the rioters chanted, "beat his a**!" One sign actually read "This is a Hate Free Zone."  ABC, Fox News, USA Today
President Trump reacted to the protests with a Tweet:
"If U.C. Berkeley does not allow free speech and practices violence on innocent people with a different view – NO FEDERAL FUNDS?
On Thursday, a similar protest took place at New York University in New York City.  Punches were thrown, pepper spray directed on people's faces, including the conservative speaker, all by the usual suspects.
Editor's note: These rioters will use our freedoms against us. They demand the right to shut down anyone they feel is "Un-American," according to their definition.  The rioters want only their speech to be protected.  We have said it before on these pages that there are three groups, much of them supported by globalists, trying to destroy this nation as founded – hard-core liberals/socialists, anarchists and radical Islamists.  They are busy.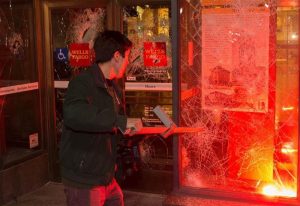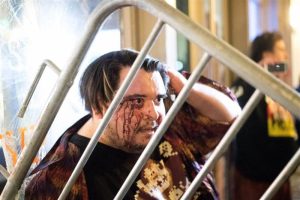 Eddy Brock, a free speech advocate, holds his head after being attacked by demonstrators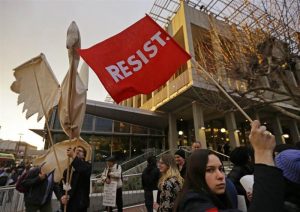 NBC News

NEWSONE
In Case You Missed It
President Trump Makes Unannounced Trip to Honor
Fallen Navy SEAL
President Trump made an unannounced trip Wednesday to honor the returning remains of U.S.Navy SEAL, Chief Petty Officer William Owens, killed in a weekend raid in Yemen.
Trump's visit to Dover Air Force Base, Delaware, was shrouded in secrecy. The president and his daughter, Ivanka, departed the White House in Marine One with a small group of journalists on condition they not report the visit until his arrival.
CPO Owens had been in the Navy since 1998, earning two bronze stars, a Joint Service Commendation and an Afghanistan Campaign Medal among others.  Stars And Stripes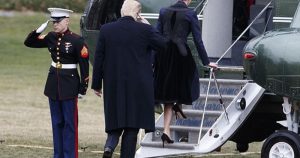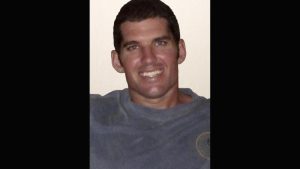 U.S. Navy Photo
Chief Petty Officer William "Ryan" Owens
Comedy Break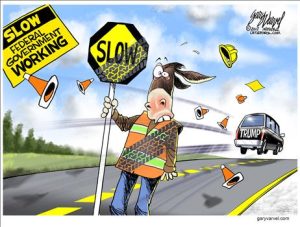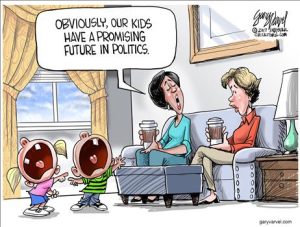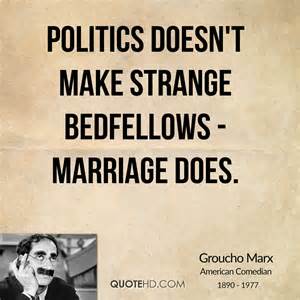 What Say You?
Useful Idiots Unite – 1/28/17
"The NASTY WOMAN, Ashey Judd was purportedly wearing a $40,000 strand of pearls.  Yep, she's just one of them.  Another great read."   AEH
"I wouldn't let my dog live under Sharia law."   MT
If you would like to comment, just respond to this newsletter.
Stand Up America US Foundation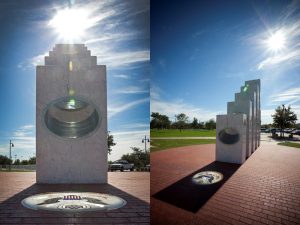 The Anthem Veterans Memorial 
The memorial, located in Anthem, Arizona, is a monument dedicated to honoring the service and sacrifice of the United States armed forces. At precisely 11:11am each Veterans Day (Nov.11), the sun's rays pass through the eclipse of the five armed services pillars to form a perfect solar spotlight over a mosaic of the Great Seal of the United States.


Your donation is important to Stand Up America US Foundation.  It helps us support the many worthy organizations that help restore this great nation.  Thank you!  
Timeless Quotes
President Donald J. Trump
"Small Business is our biggest business."
Copyright 2010 -2017 Stand Up America US Foundation, All Rights Reserved
Our Mailing Address is:
P.O. Box 1596, Bigfork, MT  59911