DISARMED FORCES – OBAMA'S DANGEROUS EMASCULATING OF OUR MILITARY
Ret. Gen. Patrick Brady asks, 'Would I want this man with me in combat?'
By Patrick Brady, Maj. Gen., U.S. Army (ret.) Originally posted at World Net Daily (WND)
In an election climate that reeks of economic chaos, we may be overlooking a greater threat to our future. Economically, President Obama, all by himself, is a target-rich environment. Voters just need to ask a few simple questions. Would I want this man to invest my family funds or run my family business – for another four years? Or would I trust my family's money to Mitt Romney? That should do it – but economics pales in the face of Obama's emasculation, socialization and feminization of our military, which, although related, I believe is a greater threat to our future than economic miseries.
For veterans and those interested in the security of America, the question is: Would I want this man with me in combat? Could he be trusted to lead a military squad let alone be commander in chief? Can you picture Obama in a duck blind – or even holding a gun? Has he ever held a gun? (Be assured he will assault the Second Amendment if he gets a second term.) Can you see him as a fighter pilot a la the Bushes? Or commanding a PT boat as did John Kennedy? This is not a man I would want with me in combat and neither should America.
For me and many veterans, President Obama's military priority was initially evident at his Inauguration. One of the inaugural balls honors veterans, including Medal of Honor recipients. For the first time in memory a president, Obama, snubbed that ball. His ignorance and disdain for the military continued when he put victory in the hands of the enemy in Afghanistan by announcing the date we would quit. Weak leaders often try to project an image of toughness by "kicking ass." Accordingly, he fired a senior commander for a revealing story in that paragon of journalistic integrity – Rolling Stone.
In the meantime, his secretary of defense, Robert Gates, a fellow faculty-lounge lizard and weak ass kicker, fired the surgeon general along with his deputy and the secretary of the Army for a story in the Washington Post on mice and mold at Walter Reed. Gates would then fire another service secretary and the chairman of the Joint Chiefs of Staff who disagreed with homosexual conduct in military barracks – illegal at the time. Gates' chairman of the Joint Chiefs, Michael Mullen, would actually boast of covering for homosexuals in the Navy – illegal at the time.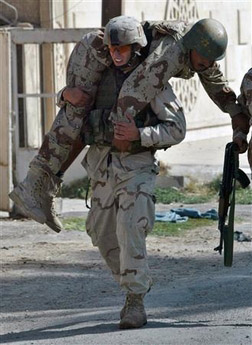 It is easy to see why the leadership of our military is so intimidated and quickly cowered to Obama's demand for a quad-sexual (LGBT) military. Like lemmings they worried that the terrorist massacre at Fort Hood would hurt diversity and even formed an office to promote diversity in the military – which is already as diverse as any organization in America. (It is reported that those people wounded at Fort Hood and the families of the dead are being denied military benefits in an effort to deny it was a terrorist attack but rather work place violence!) Military leaders actually denounce retired military voices who criticize their boss – except Colin Powell, who supports their boss. They are now busy bowing to Obama on women in combat – they want to teach our sisters, daughters and mothers to kill. I wonder if Obama or Gates would want their daughters in a unit half full of women fighting an enemy unit all full of men?
Under the leadership of the Obama/Gates/Mullen trinity, our military has suffered as never before. Gates supervised the waste and fiscal incompetence at the Pentagon (millions of dollars lost). He instituted an insane op tempo (60 out of 80 months deployed is not unusual), causing unprecedented suicide and PTSD rates among soldiers and depression and anxiety in their families. Military pay cuts are coming, and the administration actually lost graves and urns at Arlington. There is an effort to raise health insurance premiums for retirees. The number of stolen top-secret documents is unmatched in our history. On the silly side, Gates' Pentagon actually considered giving medals to soldiers for not shooting!
On the battlefield, they have stripped the premier combat life saver, Aeromedical Evacuation, from the medics. This is the first time a medical resource has been so usurped since the Civil War, and I have heard horror stories from the battlefield on delayed reaction times. (I actually had a soldier from Iraq turn his back on me when I told him I was a Dust Off pilot in Vietnam; he said forces had failed to react in time to save his friend's life.) It may be a surprise to Vietnam veterans that the Congress authorized a program to commemorate the 50th anniversary of the Vietnam War and honor its veterans; but it will be no surprise that Gates drastically cut its funds. We will soon be longing for the "hollow military" of the '70s.
Just as frightening is the lack of military experience or expertise in Congress. When you mix all this with a population that consists of a significant number of liberals and a media that dislike the military and have never served (nor would they), along with the specter of sequestration budget cuts, the jeopardy of our military is evident.
The recent terrorist attack on American soil in Libya and the murder of four Americans, including our ambassador, should be a forewarning of things to come. It is a culmination of the cataclysmic calamity that is the daily currency of a White House governed only by politics. American corpses were barely cold, and the president was off to Las Vegas for a fundraiser. The fundraiser was followed by endless misinformation, distortions and outright lies equaling one of the most scandalous cover-ups in our history. (Obama also went on vacation after committing our military to help liberate Libya. Compare that to President George W. Bush who quit playing golf after we went to war in Iraq.) Watergate pales in comparison with the Benghazi massacre – and a majority of the media are complicit in the cover-up.
Obama's replacement for Gates, Leon Panetta, had an astonishing response in answer to a query concerning why we ignored the plea for help from the Americans about to be slaughtered in Benghazi: "You don't deploy forces into harm's way without knowing what is going on." Excuse me. Did we not know that Americans were under attack and pleading for help? What else do you need to know? By his standard you would never go. In combat and chaos you are never sure of what is going on. Is it the standard of this administration that American should never risk lives to save lives? Risking lives to save lives is the essence of our wars! Our firefighters and police do it every day. In Vietnam, my only experience in combat, Dust Off pilots went every day into harm's way without knowing exactly what was going on – only that some one was hurt and needed help. That should be enough – and refusing to at least give it a shot is scandalous.
America is impotent without a strong military – and so is American policy. Our military strength is the one sure force for peace in the world. It deters the bad guys – not only from attacking us but others as well. Weakness emboldens evil, and ultimately we will be drawn into some disaster whether we like it or not. All the sheep and chickens in the world – and many liberals – would like for everyone to be vegetarians – won't happen, there are too many wolves out there. Yet how could any objective, informed person not see the deliberate dismantling of our military? Obama personally authored sequestration, which will bench us from the field of world affairs. But why?
I believe that Obama has no knowledge of or interest in military matters. Nor does he have the capacity to deal with crisis – the reason for a military – and he knows it. A feeble military would give him cover. A lack of resources is the perfect excuse for doing nothing, an Obama hallmark. And there are no votes in military spending – this man lives for votes. In a world aflame with uncertainty and violence, watch the president's campaign media. You will never hear a word about increasing or preserving our military strength, only that the troops are coming home. Ignorance of military matters is one thing and can be overcome, but ignorance of the importance of military might in promoting peace worldwide and protecting America is deadly.
Get the full account of Gen. Brady's Vietnam rescue operations in his book, "Dead Men Flying," a riveting tale from America's most decorated living soldier – autographed!