PRESS RELEASE – MAY 19, 2014
General Vallely Announces New Movement:  "Women at War for America"
LANSING, MI (May 17, 2014)- General Paul  Vallely, US Army, ret., announced the birth of an extraordinary movement, "Women at War for America," at the MI-CPAC Freedom Summit held at the Ramada Hotel and Conference Center in Lansing, MI.
The Freedom Summit featured National and internationally recognized conservatives, such as Trevor Loudon and Prof. Harry Veryser.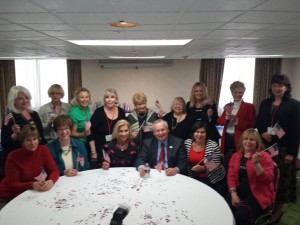 Gen. Vallely, who served in the Vietnam War and Deputy Commanding General, Pacific Command, retired in 1993, is currently the Chairman of Stand Up America US and a member of the citizen's Commission on Benghazi.
Gen. Vallely shared his insights regarding US involvement in the Middle East, and provided unique perspective on Egypt, and its rejection of Mohammed Morsi, as the featured luncheon speaker.
After his address, he remarked how invigorated he became after conservative activist, Arleen Allen introduced him to likeminded women, including Lila Bradley, Karen Faett and Sharon Lollio, all of whom described their efforts to attract other women to conservatism by demonstrating how less government regulation and lower taxes create opportunities for women and their families.
"The 'War on Women' is the Left and the liberal media's latest attempt to create an 'us v. them' mentality among voters.
When speaking to these conservative women today, I recognized that they possessed the passion and conviction to combat this insidious attempt to divide.  It came to me then.
These women would be an army, and their weapon would be truth.
There is no war on these women.  Instead, they would be waging the war as the Women at War…for America!"  declared Gen.  Vallely.
Cleta Mitchell, a high powered Washington D.C. attorney currently representing several Tea Party and conservative organizations targeted by the IRS, and fellow Freedom Summit guest speaker, upon hearing of the movement, remarked, "The men in Washington will tell you how to get something done.  A woman will get it done."
"What a privilege and honor it is to have Gen. Vallely bestow this level of confidence in us, and designate today as the beginning of a movement which will sweep the country," said Karen Faett, President, 21st Century Women's Alliance of Michigan, who recently appeared on Fox 2 Let It Rip Weekend dispelling the War on Women, calling it a fabrication by those seeking political gain.
The first "Platoon" met with Gen. Vallely in Lansing, exchanging ideas about how to carry the bold message that being united as Americans and having less government regulation benefits women and their families.
Its mission is to encourage women to embrace conservative principles, and to help disseminate the truth in order to protect future generations from the dismantling of our Constitution.
To join the movement and form a "Platoon," visit our Facebook Page, "Women at War for America."
Contact
Karen Faett