Editor's Note – This article was originally posted at FoundersCode.Com and has been edited for final posting here. Before reading the article, keep in mind her recurring question: "Where is the FBI" and the law as it is being enforced.
The author refers to the law at 50 U.S. Code § 842 – Proscription of Communist Party, its successors, and subsidiary organizations: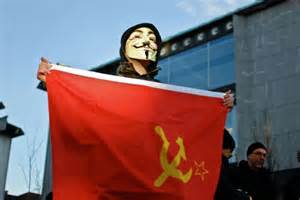 The Communist Party of the United States, or any successors of such party regardless of the assumed name, whose object or purpose is to overthrow the Government of the United States, or the government of any State, Territory, District, or possession thereof, or the government of any political subdivision therein by force and violence, are not entitled to any of the rights, privileges, and immunities attendant upon legal bodies created under the jurisdiction of the laws of the United States or any political subdivision thereof; and whatever rights, privileges, and immunities which have heretofore been granted to said party or any subsidiary organization by reason of the laws of the United States or any political subdivision thereof, are terminated: Provided, however, That nothing in this section shall be construed as amending the Internal Security Act of 1950, as amended [50 U.S.C. 781 et seq.]
Please now read her article here and ask yourself: "Where is the FBI?"
Sedition: Education and Media
By Denise Simon, SUA Asscociate Editor
C'mon parents, your children are being indoctrinated on Islam and Sharia in public schools and at university.  That is bad enough, but do you approve of seditionist infiltration on campus where you pay for tuition for classes taught by Marxists, Leninists, and Communists?

Where is the FBI?
Former President Bill Clinton pushed back against the charge that President Obama and his fellow Democrats are card-carrying members of the Communist Party — telling supporters Monday that "nobody's seen a communist in over a decade" while chastising a freshman Republican for name-calling.
Invoking the specter of Communist-hunter Sen. Joseph McCarthy, Clinton blasted Rep. Allen West (R-Fla.), who in April said that he could identify 80 members of the U.S. House who were Communists — pointing to a caucus of House liberals when pressed for evidence.
Where is the FBI?
Former President Bill Clinton, his wife Hillary and hundreds in the Obama administration who full well know there are communists in the federal government, at universities across the country, and across the spectrum of media. Need more proof?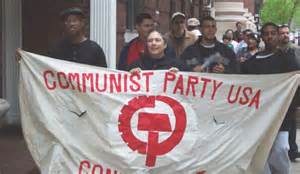 Well, look at Ferguson, Missouri. Leftist organizers are using Ferguson to rehearse the Big Ugly
Scan the signage in the photos taken at Ferguson street protests across the nation and note that a handful of groups' names reoccur.
Among them are REVCOM.US (Revolutionary Community Party USA , A.N.S.W.E.R. Coalition (founded by the pro-Leninist Becker brothers and aligned with the Party for Socialism and Liberation), Peoples Power Assemblies, Socialist Worker.org, and the International Action Center (founded by Jimmy Carter's former Attorney General, Ramsey Clark, in 1992).
There are more.
Standing behind the signs are well-funded 501(c)(3) groups that receive millions of dollars every year through donations and foundation grants, and then allocate monies to promote social change.
It's a one-two-three punch involving community organizers, supported by moneyed enablers, who marshal protesters to the street carrying signs with organizational ties most know nothing about.
All of it is well-organized, well-executed, and well-funded by intelligent, well-rehearsed, highly-motivated, ideologically-driven zealots for fundamental transformation in America, and, for some, the world. It's all perfectly legal.
Where is the FBI?
Where does the money come from that is financially supporting these groups and protests? Organizations that, in recent years, have received direct funding and assistance from George Soros and his Open Society Institute (OSI), For a complete list we suggest you to Discoverthenetworks.org.
But there is more and you need to pay attention as the leadership of these groups get unfettered access to the White House and to media.
Where is the FBI? Who performed the background checks of these people and approved access?
The MacsMind website did some good work as noted below. (Link to Revcom where the above screen shots were obtained and the petition mentioned were originally posted.)
If there were any more reasons Van Jones should step down or be fired. In 2006 he signed a petition by the Radical Black Panther Collective for Social Progress. The petition states, "resist so that we will not be crushed. Our resistance gives other people courage."
Among the supporters, a who's who of socialist/communistic organizations and individuals: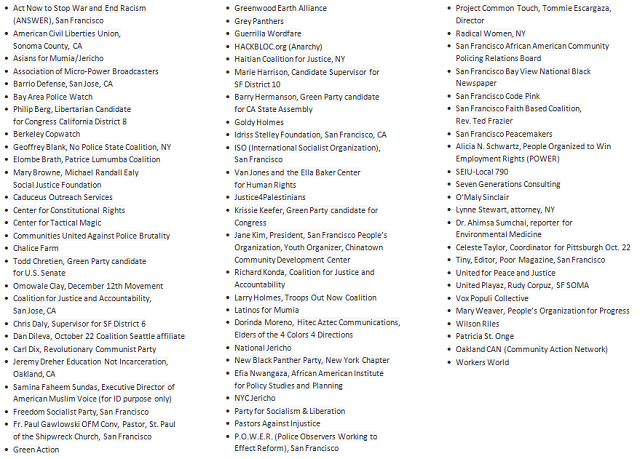 Where is the FBI?
Then in 1954 a law was passed title the Communist Control Act. The spirit of the law is to identify organizations and people attempting to overthrow the system of government including the Federal and State level. Sure in garden variety terms this has not happened, but when it comes to political correctness, edicts, mandates, enforcing law and prosecution, Communism is here and it is effective, as noted by meetings today in the White House and in towns such as Ferguson, Oakland, St. Louis and Chicago.

Where is the FBI?
Where are you parents?
Where is the top leadership at the Department of Education?
Where is the leadership of universities and the donors?