A Republican television executive with no political experience beat his Democratic opponent in a special election Tuesday for the open seat vacated by disgraced former Rep. Anthony Weiner, becoming the first Republican to represent the district in an election watched around the nation.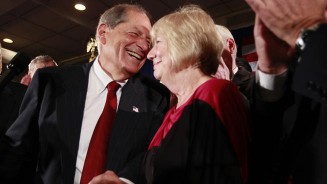 Republican Bob Turner won with 53 percent of the votes to Democratic state Assemblyman David Weprin's 47 percent, with 70 percent of precincts reporting.
Panicked at the prospect of an embarrassing loss, Democrats poured cash into the race and sent in their stars to try to save Weprin, who has been forced to defend President Barack Obama's economic policies even as he tried to stress his own independence and close ties to the community.
Republicans worked to frame the race as a referendum on Obama, even though turnout is usually low in a special congressional election.
On Monday, House Republican Leader Eric Cantor argued that a Turner victory would be an "unprecedented win" and the latest evidence of voter dissatisfaction with Obama.
"That district is not unlike the rest of the country. People are very unhappy with the economy tight now and, frankly, I would say unhappy with the lack of leadership on the part of this White House," Cantor, of Virginia, told reporters in the Capitol.
Turner will hold the seat for just one year. If the district survives a redistricting battle, he will have to run again next year.
GOP coasts to victory in Nevada race
By Josh Lederman
Republican Mark Amodei coasted to victory Tuesday, delivering an all-out defeat to Democrat Kate Marshall in Nevada's first special House election since the state entered the union, according to election results compiled by The Associated Press.
With 70 percent of precincts reporting, Amodei had captured 57 percent of the vote to Marshall's 37 percent in the race to replace former Rep. Dean Heller (R-Nev.), who was appointed to the Senate in April when former Sen. John Ensign (R-Nev.) resigned amid a scandal. Marshall conceded the race two hours after polls closed in Nevada.
The win gave Republicans their second special election victory in one night. Republican Bob Turner captured former Rep. Anthony Weiner's (D-N.Y.) seat earlier in the evening.
Republicans were quick to label their win a harbinger for the 2012 elections, despite unique circumstances inherent to the special election that Democrats said made it an apples-to-oranges comparison.
"Democrats just saw their 2012 playbook fall apart as Nevada voters refused to buy Democrats' Medicare scare tactics and misinformation campaigns," said National Republican Congressional Committee Chairman Pete Sessions (R-Texas). "This election sends Democrats another warning that Democrats up and down the ballot next year cannot escape accountability for their failed economic policies."
All eyes were on what Marshall's loss would mean for Nevada's 2012 Senate race. Heller is running against Rep. Shelley Berkley (D-Nev.) to keep the seat to which he was appointed. The recent PPP poll showed Heller 25 points ahead of Berkley in the second district, with 13 percent still undecided.
The official Democratic response was muted, with Democratic Congressional Campaign Committee Chairman Steve Israel (D-N.Y.) thanking Marshall for her efforts and skirting any attempt to downplay the results. But in the hours before polls closed, Democrats pointed out that Nevada is much bluer as a whole than it is in this district, and swing voters rarely show up for special elections. Whichever party has the larger die-hard base had a bigger advantage this time around than they will next November.
One Democratic strategist in Nevada noted that Senate Majority Leader Harry Reid (D-Nev.), easily the biggest Democratic name in the state, didn't mobilize his forces on Marshall's behalf. In next year's race, with the balance of the Senate at stake, Reid is sure to do whatever he can on Berkley's behalf.
"The Reid turnout machine didn't fire up at all," the strategist said. "It's just wrong to draw comparisons, and even to say there's an enthusiasm gap when Democrats haven't spent one cent."
Even if the GOP's success was a sign of things to come for Democrats in this district in 2012, that didn't necessarily spell out doom for Berkley in the statewide race, wrote Nevada political analyst Jon Ralston. Reid lost the district in his closely watched 2010 reelection race, but still came out ahead of Republican Sharron Angle.
Although Democrats had been hopeful about her chances early in the race, it was an uphill battle for Marshall, Nevada's state treasurer, who ran in a district that has never been held by a Democrat. Republicans hold about a 30,000-voter registration advantage in Nevada's second district, which takes up almost the entire state, save for the densely populated Las Vegas area.
But Democrats hoped they could repeat their success in a May special election in New York, where Democrat Kathy Hochul captured a seat vacated by a Republican largely by campaigning against GOP positions on Medicare.
Marshall's campaign made Medicare a central theme early, but the issue didn't stick the way it did in New York. After Marshall released ads claiming Amodei thought it a good idea to end Medicare, Amodei put his own mother in television ads, shaking her head disapprovingly and saying "that's not true" before the narrator accuses Marshall of lying about him.
Marshall abandoned that line of attack, while Amodei focused his energies on convincing voters that Marshall and Obama were one and the same – at a time when President Obama's approval ratings in the district are in the low 30s. His ads showed Marshall repeating statements Obama had made and pushed the idea that Marshall was beholden to national Democrats and not Nevada voters.
As it became increasingly apparent that the race would be a tough if not impossible win for Marshall, Democrats on the national level declined to risk valuable resources on Marshall's behalf, leaving her to fend for herself against about $1 million spent by GOP campaign committees and outside groups.
A week before the election, Marshall secured the backing of the Blue Dog Coalition, which supports fiscally moderate Democrats, but their support was too little, too late. Amodei was 13 points ahead of Marshall in a poll released Monday by Democratic firm Public Policy Polling. And by the end of early voting Friday, more than 40,000 registered Republicans had cast ballots, versus fewer than 26,000 Democrats.
Ahead the election, Democrats worked to lower expectations and quash the conclusions observers would inevitably draw from the special election.
"You're talking about a very Republican district that we didn't play in to start with," said a Democratic strategist.
But Republicans siezed the opportunity to paint their victories in Nevada – and in New York – as votes of no confidence in Obama, congressional Democrats and their economic policies.
"Tonight, the people of Nevada's Second District sent a strong message that they want to stop runaway Washington spending and get America back to creating jobs again," said House Speaker John Boehner (R-Ohio).