By Denise Simon – SUA Staff
Operation 'Vibrant Response 13' annual exercises are underway – simulating a catastrophic event – and the reponse and coordination training goes on again.
Announced on or about July 25, 2012 an estimated 25 military and urban defense center locations around the country began air and ground exercises for operations as part of a Joint Task Force Civil Support mission in coordination with the Department of Homeland Security and FEMA.
These announcements to the public were intermittent with respect to what the media received in the form of press releases, and if the media reported it at all. This caused some alarm in many locations when events unfolded. They distributed these documents to visitors, some interesting propaganda some might say: (Click on image to view documents)
It was been reported that residents in many areas across the country were in various levels of fear seeing and hearing military operations in their neighborhoods.
From Joint Task Force Civil Support:
CAMP ATTERBURY, Ind. – More than 9,000 service members and civilians from across the United States came to Indiana and northern Kentucky to participate in 200 separate training events at 50 different places during Vibrant Response 13.

The 19-day major incident response exercise brings together local, state and federal agencies, including Department of Defense resources; it is conducted by U.S. Northern Command and led by U.S. Army North. The exercise lasts from July 26 through August 13.

The scenario itself is a daunting one – a (simulated) 10-kiloton nuclear detonation in a major Midwestern city – and is pivotal in its scope. It provides leaders the ability to confirm the training and readiness of the nation's new Defense Chemical, Biological, Radiological and Nuclear Response Enterprise. The exercise required a unique collection of specialized military units, under the command and control of Joint Task Force – Civil Support, based out of Fort Eustis, Va., and under the guidance and operational control of U.S. Army North.
Information regarding these defense drills has been sporadic at best but they are occurring in locations such as Norwood and Worcester, Massachusetts where a UH-60 Blackhawk is at a local airport. Many residents were so disturbed they made calls to police and sheriff's offices.
Here is video from Norwood, Mass.
In Hollywood, Florida has other types of drills were going on including repelling into buildings.
In Kansas:
TOPEKA — The Kansas National Guard's 73rd Civil Support Team (Weapons of Mass Destruction) left for Camp Atterbury, Indiana Friday, to join in an exercise involving nearly 9,000 military members and Department of Defense civilians. Vibrant Response 13 began July 24 and concludes Aug. 13 and is designed to exercise the DoD response to a nuclear detonation in the U.S.

Meanwhile in Indiana, at the Muscatatuck Urban Training Center, a very large operation was underway with as many as 9,000 soldiers taking part, coming from various out of state bases in the United States.
At Ft. Hood we saw this:
Fuelers with the 53rd Quartermaster Company, 553rd Combat Support Sustainment Brigade from Fort Hood, Texas, establish and maintain a fuel point in support of Vibrant Response 13 Exercise at Forward Operating Base Panther North Vernon, Ind., July 31, 2012. Vibrant Response is a Defense Support of Civil Authorities training event. This year's event replicates the military's role in responding to a 10-kiloton nuclear detonation in support of federal, local and state agencies.
From Alabama:
MONTGOMERY, AL (07/12/2012)(readMedia)– Alabama National Guard members will make history next month. Members of the Alabama National Guard will travel by convoy August 5 and 6 to participate in a major field training exercise – Vibrant Response 13. The convoy is the largest domestic convoy in Alabama National Guard history with approximately 500 vehicles and 1,500 Alabama Guardsmen traveling through Alabama, Tennessee, Kentucky and Indiana on its way to Camp Atterbury, Ind.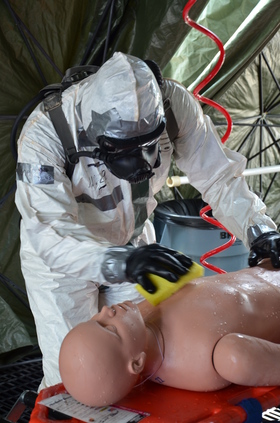 A full SITREP report of the Muscatatuck Urban Training Center from a member of Watchmen of America was coordinated by the POA and reads as follows:
SITREP: 8/2/12 Muscatatuck Urban Training Center
U.S. Army NORTHCOM exercise Vibrant Response 13
Units from 25 states, local, county, and local state 'response' units are taking part in the LARGEST exercise of its type. (9,000+ personnel in training from all services, (active, reserve and NG are involved, also approx 850 'civilian actors'. Not mentioned, but VERY evident was FEMA and DHS).
Two units visible were the 519th MP Bn, and the Mobile hospital from Ft Lewis, Washington. No weapons were visible except from the IN NG. (The explanation was that the NG, being a state asset, were the only ones with police/law enforcement capability, that NO FED units had that ability according to law. He did not mention though about FEMA or DHS.
The mission plan: The disaster occurs, the local responders, (Police, Fire, EMS will start the ball rolling. The county is then called, followed by State emergency management, Police, fire, EMS, NG. Red Cross, DHS, FEMA, Military, etc will then be added to the mix) According to printed info, and the Public Affairs guide we had, (Don Manuszewski, Headquarters, US Army North (Fifth Army, Office of Public affairs (ARNO-PA) 1400 E. Grayson St, Suite 152, Ft Sam Houston, TX 78234-7000) this exercise is the largest of its type ever.
Please note, there is new brick work, chain link fencing, and concertina wire, both around the 'soccer field' and building at this location. We were told point blank, by the PAO, "This is a prison, and this is the exercise yard".
There is a full service hospital, as well as a 'nursing home' on site. We have seen on several different visits to other parts of the facility several hundred trailers w/FEMA stenciled on bumpers, and/or FEMA paperwork taped to the inside of the windows. There is also , approx 2 miles from where this exercise was being conducted, what appears to be a holding facility/camp, newly built, (within the last 8-10 months), with underground utilities.
The local Fairgrounds had a large compliment of soldiers, tents, micro-wave communications, fuel tankers, and the list goes on, (material assets normal for a large, long term occupation).
The local airport has a permanent sign designating it as "Forward Operations base PANTHER". There was a large contingent, same as at the fairgrounds, except the tents were the large company size and larger type, white in color, and several helicopters, found to be flying missions around the clock. The choppers were typical troop transport types, larger, twin rotor types, and Cobra types also. We were told that the evacuation of injured civilians was to be effected by the helos. We did not see any 'civilian' personal being taken to the air port, or any type of transport suitable for such a mission.
U.S. Army NorthCom is the Command and control of the exercise, and also the actual operation, should this become a reality.
It is important for citizens to question these operations for compliance with the law, for what threats the homeland is currently under, or may be facing inside and outside the scope of natural disasters, as well as who has authority under various conditions and risk.