Editor's Note – Is it time to fire someone? Valerie Jarrett? It'll never happen, but for the good of America, she never should have been in such a position of influence in the first place. No, especially since she had so little experience and ability other than being Michelle's best buddy and confidant, and therefore Barack's protector extraordinaire.
When Bill Clinton was running for the White House in 1992, we were told that we were getting a two-for-one deal, himself and his wife Hillary. In 2008, no one told us that voting for Barack Obama was a three-for-one deal. Himself, his wife Michelle, and the "shadow COS" Valerie Jarrett. (COS – Chief of Staff)
In a surprisingly candid and thorough article posted at Politico, Carol Felsenthal takes a very brave and comprehensive look at Valerie Jarrett, she of the "lofty titles," the "kibitzer-in-chief" to Obama, "Night Stalker," "Eric's appeals court," and the reputation for "failing upwards."
Felsenthal does such a good job describing what many of us have been known for a long time, that all we should really say is please read the whole article. It is truly comprehensive and eye-opening way to understand Obama himself, and further points to the one thing he does well, fail.
We just hope Carol Felsenthal has someone trustworthy who will dare to start her car for her every morning.
Carol Felsenthal is author of Power, Privilege & the Post: The Katharine Graham Story. She is also a contributing writer to Chicago and is the magazine's political blogger.
Fire Valerie Jarrett – If Obama really wants to shake things up, his closest adviser should be the first to go.
By CAROL FELSENTHAL – Politico
Almost since the start of Barack Obama's presidency, people who have actual, real duties in the West Wing of the White House—the working, executive part of the government, that is—have been urging him to do something about Valerie Jarrett. Push her into the East Wing, where she can hang out with Michelle Obama and the White House social secretary, or give her an ambassadorship—or something—but for Pete's sake get her out of the way of the hard work of governing that needs to be done.
Now it's really time to do it.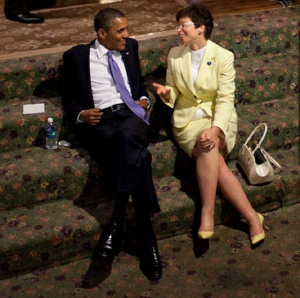 Let's stipulate right away that it would be unfair to blame Jarrett, the longtime Obama family friend and confidante, for the walloping that the president and his party suffered at the polls on Tuesday. And Jarrett will no doubt be needed in the weeks ahead to comfort her old pals, Barack and Michelle.
What happened on Tuesday almost couldn't be worse for Obama personally—not just the Senate's going Republican but all those governorships lost, including Illinois Governor Pat Quinn's defeat in Obama's adopted home state, even after the president and first lady came to Illinois to campaign for him. The morning after the elections, Democrats and their top staffers were hopping mad, blaming Obama and, by extension, his staff for the defeat.
But let's also face facts—and expect the president to do so as well. We're at that point in an already long-toothed presidency when things inside really need to change. In the days before anyone knew how brutally the Democrats would get beaten, politicians and staffers and pundits were urging a shakeup of the White House staff.
This is, after all, a time-honored practice for an administration in trouble. Somebody's got to take the blame other than president, who's not going to resign himself. Past presidents who fared badly in midterm elections have not been shy about making high-level changes—George W. Bush fired Defense Secretary Donald Rumsfeld after the 2006 midterms and also replaced his chief of staff. Presidents Dwight Eisenhower and Ronald Reagan at the same low point in their administrations replaced their chiefs of staff when they failed to perform up to expectations or fell from grace. George H.W. Bush did the same to chief of staff John Sununu.
Jarrett is more than a mere senior staffer to this president, and of course she is not going to be fired outright. Not ever. If her role in this administration reflected reality, Jarrett would be called "First Big Sister" to both Michelle and Barack. And who would fire the kind of big sister who "really dedicated her entire life to the Obamas," as New York Times reporter Jodi Kantor told me when I interviewed her about her intimate look at the first family, The Obamas? "She has thrown her entire life into their cause, and she's made it very clear that she would happily run in front of a speeding truck for them."
Very moving. But the fact is, on balance it appears that Jarrett has been more an obstructer than a facilitator over the past six years when it comes to governing, and it's probably long past time for the president to move her gently into another role.
For starters, even today, nobody knows precisely what Jarrett does in the White House. What exactly do her titles—senior advisor to the president, assistant to the president in charge of the Office of Intergovernmental Affairs, the Office of Public Engagement, the White House Council on Women and Girls—mean? More to the point, Jarrett has often used the aura of authority that these titles give her to stand in the way of talented White House staffers and a smoother-running administration, according to several books that have been written about the Obama presidency, among them Chuck Todd's forthcoming The Stranger.
Take Obama's first-term chief of staff, Rahm Emanuel, who clashed early and often with Jarrett and felt "undermined" by her, as political reporter Jonathan Alter, the author of two in-depth books on the Obama administration, told me in 2013. Emanuel recognized early on that Jarrett was trouble and worried that she could become what former Newsweekcorrespondent Daniel Klaidman, in his book Kill or Capture: The War on Terror and the Soul of the Obama Presidency, called a "shadow COS." Emanuel tried to sideline Jarrett by pressing for her to be appointed to Obama's old U.S. Senate seat, according to Alter: "He wasn't sure that he wanted a competing power base that was closer to the president and first lady than he was." But Michelle Obama wanted Jarrett in the White House, so Emanuel's plan fizzled. He left in the fall of 2010 to run for mayor of Chicago.
Former White House spokesman Robert Gibbs was said to be another casualty of heated friction with Jarrett. In his new book, NBC's Todd describes conflicts between Jarrett and Emanuel and Gibbs, and he adds senior adviser David Axelrod and Obama campaign manager and senior adviser David Plouffe to the list of those who had "run-ins" with Jarrett. All of them failed to persuade the president to nudge Jarrett out of the White House, Todd writes, because Jarrett held a "trump card" that the others did not—her close relationship with the first lady. Todd writes that "one advisor remembers the president sympathizing with a particular critique of Jarrett, but he made it clear that it was important that she be in the room, because it was important to Michelle that Valerie be in the room."
West Wing staffers in general believed that Jarrett didn't handle power well. Mark Halperin and John Heilemann report in their book Double Down that West Wing staffers "were scared to death" of her. Fear can be productive if the person wielding the power is accomplishing great things, but Jarrett was not.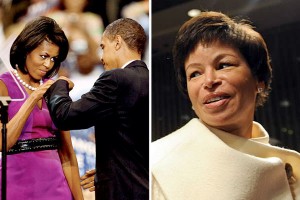 Her undefined role combined with what by all accounts has been almost unlimited proximity to the Obamas has proved a bad mix. She seems to isolate the president from people who might help him or teach him something—and if there's one thing that has become clear about Obama, it's that he doesn't get to hear enough outside voices. (According to Alter, she once declared that the Obamas wouldn't be making "new friends" in Washington.)
Jarrett micromanages guest lists for White House events big and small, hangs out in the private quarters and often joins the Obamas for dinner, says little in meetings, but walks out whispering in the president's ear and leaving nervous staffers in her wake, according to Alter.
She vacations with the first family in Hawaii and Martha's Vineyard. She is often the last one they speak to at night, and according to Alter, White House staffers took to calling her the "Night Stalker."
Last month, none other than Mitt Romney was quoted in a New York Times Magazine article reflecting on the well-established insularity of the Obama White House: "I won't mention who it was, but I met with one of the nation's top Republican leaders, and he said, 'You know, the strange thing is that the president seems to answer to only two people—Valerie Jarrett and Michelle Obama.'"
Jarrett wields real power on personnel matters, but her choices often seem based on whom she particularly likes rather than who might be best suited for the job. She reportedly pushed the president to give a personal favorite, Eric Holder, the attorney general's job, then propped Holder up in the face of harsh (and, to the president, very damaging) criticism over controversies ranging from Holder's "nation of cowards" speech, which accused Americans of racism, to the "Fast and Furious" quasi-scandal involving questionable sting operations run by the Bureau of Alcohol, Tobacco and Firearms. (In doing so she acquired another nickname—"Eric's appeals court.") When Holder delivered his resignation speech earlier this year, he thanked the president, the vice president, his family and Valerie Jarrett.
She is also supposed to be the president's liaison to business, which was "an effort that many in the West Wing believe she failed at," writes Todd. "And yet they didn't get why she didn't pay a price." Jarrett walked into the White House with some impressive looking credentials: CEO of the Habitat Company, chairman of the board of the Chicago Stock Exchange, director of the Federal Reserve Bank of Chicago.
But Chicago business people who knew Jarrett have told me over the years that she was not respected for her business skills. In January 2011, when Bill Daley, the banker and former commerce secretary who had top credentials in both politics and business, was brought in to replace Emanuel as chief of staff and to improve Obama's relations with business, Jarrett was not happy and "frequently shared her unflattering assessments with Obama," Politico's Glenn Thrush wrote in an ebook about the 2012 campaign. Daley lasted barely a year.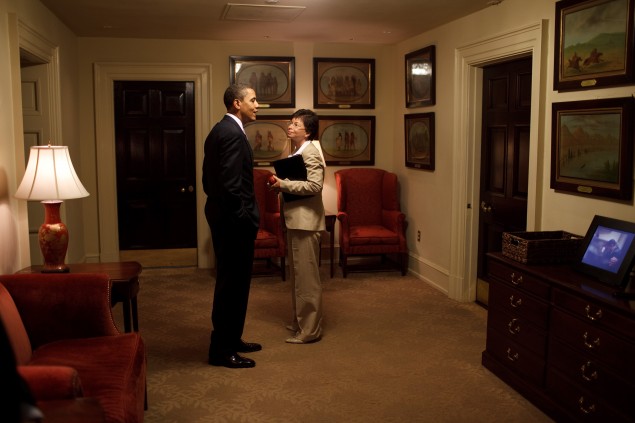 Many Wall Streeters, meanwhile, considered her "a political hack, ineffectual and entitled," Halperin and Heilemann write. And economists who talk to her about policy are sometimes astonished at the things that come out of her mouth, reflecting very little understanding of economic solutions. Although she has no experience in foreign policy either, she regularly travels abroad with the president. "She would frequently take one of the half-dozen seats alongside the president in bilateral meetings," Alter wrote, "which meant one less seat for a policy expert."
It's not that she hasn't accomplished anything. Jarrett, who holds a law degree from the University of Michigan, has public service in her genes and has used the White House bully pulpit to promote the work of the White House Council on Women and Girls, focusing attention on such issues as equal pay for equal work, family leave and affordable child care. Jarrett's council also co-sponsors the White House Task Force to Protect Students from Sexual Assault, charged with "provid[ing] institutions with additional tools to respond to and address [campus] rape and sexual assault."
But along the way, no White House staffer has garnered more distracting and embarrassing press than Jarrett. Most of the stories, in one way or another, portray her as entitled and clueless. There's the New York Times profile in which she flags a four-star general to order a drink. Then there's the "Magic of Valerie" memo that New York Times reporter Mark Leibovich wrote about in his book This Town—said to be intended to counter the negative press on her, but which instead heaped further humiliation on her head with a ham-handed deputy White House press secretary concocting a talking-points list of 33 of Valerie's unsung virtues.
My favorite was the following: "Valerie is someone here who other people inside the building know they can trust. (need examples)." And, of course, there's her round-the-clock Secret Service protection. The Chicago Sun Times gossip columnist Mike Sneed wrote last month that Jarrett "has been criticized for personal use of her Secret Service security detail" and is thought a "double diva for using her bodyguards as personal valets." In too many instances, she seems to be more interested in the trappings of her office (and Obama's) than in the decisions of the office. This fall, she had an "extended cameo" on CBS's "The Good Wife," playing herself and making a cold call to the main character, Alicia Florrick, urging her to run for state's attorney in Chicago.
Jarrett's questionable career inside the White House somehow symbolizes the opportunity cost of the Obama presidency—a wasted chance to make change. From foreign trips to White House policy meetings, she is occupying a critical space that ought to belong to an operator focused on governing and government, someone experienced in the levers of the bureaucracy and playing on the world stage. Now in his sixth year, humbled by the midterms, the president badly needs the best people around him, people who can provide real advice and build a lasting legacy. Instead, he's got the palace guard watching his back—and judging from Obama's poll numbers, they haven't done it well.
Rather than boosting the president, lifting him above the clouds and helping him be—well—presidential, Jarrett appears to drag him down into the weeds. As Thrush wrote in his ebook, staff hated her because she filled his head with negative extraneous stories. Finally, the campaign realized they needed to dispatch Jarrett to her own campaign events to calm him down.
So if Obama is considering a shakeup, why not finally add Jarrett—the lady of the lofty titles, enormous influence on her boss and few actual accomplishments that have helped the shaker-in-chief—to the mix? Well, we know it's not going to be a traditional firing, and it's probably too late to give her an ambassadorship. But if Jarrett's not going anywhere, how to safely occupy her—and keep her out of the way—until she turns off the lights in the White House on January 20, 2017?
I did email Jarrett's spokeswoman, Rachel Racusen, for some thoughts on this question, as well as any comments she might have on all the criticism of her boss. She didn't have much to say about that on the record. But I do have an idea of my own.
There's a role that perhaps Valerie Jarrett was born to fill: The Obama librarian. Having written a book about Bill Clinton's post-White House years, I followed Clinton's work on his library—his legacy—during his final two Monica Lewinsky-scarred years in the White House. The more he felt marginalized—as Obama was during the midterms and increasingly will be in the run-up to the 2016 presidential race—the more Clinton clung to his library plans. His library became the focus of his life, and a kind of comfort as he braved the humiliation of impeachment and the exposure of his sad sex life with an intern.
So, the library. People in Chicago believe Valerie means to run it, whether it's in Chicago—probably at the University of Chicago—in New York at Columbia University, one of Obama's alma maters, or in Hawaii. (I've been told, never for attribution, that Valerie favors Columbia because, she has told the Obamas, it will be so much fun for them all to live in New York.) The president could put her in charge, but alas, given her track record of failing upward, that might not help his endangered legacy either.