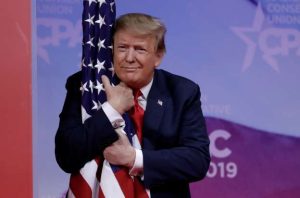 Trump asks if Democrats 'love our country' amid ongoing impeachment hearing
By: Brett Samuels
President Trump on Wednesday questioned whether Democrats love the country in light of the ongoing impeachment inquiry in the House.
The president tore into Democrats during a meeting with the Italian prime minister at a NATO gathering in London. The House Judiciary Committee was simultaneously holding a hearing in Washington on impeachable offenses with constitutional law experts as Trump spoke.
"These people, you almost question whether or not they love our country and that's a very, very serious thing: Do they, in fact, love our country?" Trump asked, criticizing the timing of the hearing.
The president and his allies have expressed frustration over Democrats holding the hearing on the same day he is meeting with world leaders, accusing them of doing so purposely. There is no evidence the overlap was intentional.
"To do it on a day like this where we're in London with some of the most powerful countries in the world having a very important NATO meeting, and it just happened to be scheduled … on this day, it's really, honestly it's a disgrace," Trump said.
Trump bashed Speaker Nancy Pelosi (D-Calif.), House Judiciary Committee Chairman Jerrold Nadler (D-N.Y.) and House Intelligence Committee Chairman Adam Schiff (D-Calif.) — three of the Democrats leading the impeachment proceedings — as "losers" and predicted that many Democrats would vote against impeachment because of political consequences.
He reiterated his belief that the impeachment proceedings will benefit Republicans in the 2020 election, particularly in swing districts. Polling has shown voters are split on whether they support impeaching Trump, though support has dipped slightly among independents.
The House Intelligence Committee on Tuesday issued a report alleging Trump abused his office by pressuring Ukraine to investigate his domestic political rivals. Democrats accused the president of conditioning a White House visit for the Ukrainian president on a public announcement of those investigations.
The report alleges Trump "placed his personal political interests above the national interests of the United States, sought to undermine the integrity of the U.S. presidential election process, and endangered U.S. national security."
The document serves as a roadmap for the House Judiciary Committee, which could draw up articles of impeachment against Trump in the coming weeks.
"I saw it and it's a joke," Trump told reporters when asked about the report, noting that Fox News personalities and "legal scholars" have dismissed the report.
Trump has defended his conduct with Ukraine, insisting his actions did not meet the threshold of high crimes and misdemeanors laid out in the Constitution.
"There was no crime whatsoever, not even a little tiny crime," he said.

…"Stand beside her, and guide her, through the night with A light from above"…