Editor's Note – With only 50 days to go for the first anniversary of the 9-11 Benghazi attack and the 12th anniversary of the 9-11-01 attack we still have no accounting for the four dead heroes of Benghazi.
Stalling, political posturing, non-disclosure statements, lies, obfuscation, hiding witnesses – the list goes on and on in the hopes that the American people will forget is the methodology of the "say anything, do anything" Obama Administration.
We will never forget, but a lot of America will if we do not make sure the correct people are held accountable – this cannot keep getting dragged out – the time is NOW!
Special Forces Veterans, Members of Congress Demand Special Benghazi Investigation
By Matthew Boyle – Breitbart
Several members of Congress joined representatives of the special forces military veterans and grassroots organizations on Tuesday to launch an effort to force the House to have a thorough, public investigation into the terrorist attack at Benghazi, Libya, on Sept. 11, 2012.
Rep. Frank Wolf (R-VA) has introduced legislation to create a special select committee to investigate both the terrorist attack and subsequent actions by President Barack Obama's administration and former Secretary of State Hillary Clinton's State Department. Wolf's bill has 161 co-sponsors. House GOP Leadership has not scheduled a vote on the bill.
Rep. Steve Stockman (R-TX) plans to harness the support for Wolf's bill into a "discharge petition" that would force a floor vote on the bill. The petition would need to be signed by 218 members of the House.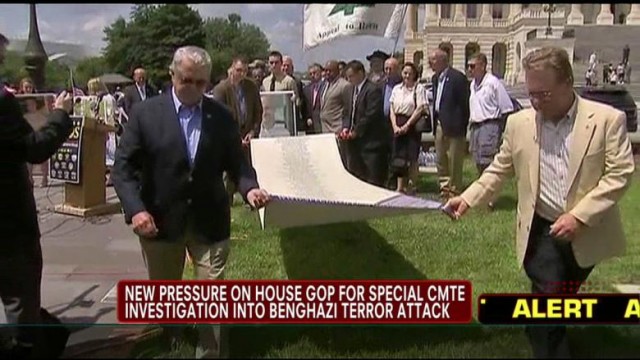 "I'm going to describe what a discharge petition is because a lot of people have asked me questions exactly what it is," Stockman said at the Tuesday press conference outside the U.S. Capitol building. "It's to ask our leadership or actually demand from our leadership that we have a vote on Frank Wolf's bill. [Wolf is] a congressman from Virginia who has a long history of being here and is articulate in demanding that we have an independent investigation."
Stockman added, while gesturing to blown up photographs behind him of the four Americans murdered in Benghazi, "if Congress is silenced," then "the blood of these folks behind us is on our hands."
"We can't be silent any more," he said. "It's been a year going by that we haven't had justice. These folks demand justice. They cry out for justice. Silence is not an option any more. We're going to challenge them. We're going to have a discharge petition. I encourage you to contact your congressman to sign the discharge petition."
Stockman expects most or all of the 161 members on Wolf's bill to support the discharge petition, and at the press conference specifically said House Homeland Security Committee chairman Rep. Michael McCaul (R-TX) is supportive of circumventing House Leadership via the discharge petition.
Retired U.S. Air Force Col. Dick Brauer, the founder of Special Operations Speaks, said the combination of Wolf's bill and Stockman's discharge petition "would be done to fully investigate, something that has not been done to date, the national tragedy in Benghazi, where we lost four great citizens in Benghazi, Libya on September 11, 2012."
"You will hear this from me and others today but we need your help and your friends' help and everybody else's to make this happen because it's our one chance to do something before the anniversary of that tragedy which will occur about seven weeks from now," Brauer said.
At the press conference, Brauer's group unrolled an enormous scroll of a petition that includes the signatures of about a thousand special forces veterans joining the call for this investigation. "What you see on my left is a one of a kind. I don't think it's ever been done before: a four-foot-by-sixty-foot copy of the Special Operations Speaks petition that we sent to the House of Representatives on the Eighth of April asking for this select committee with subpoena power," Brauer said. "The scroll is signed by nearly 1,000 special operations veterans, from the rank of Lieutenant General Three Stars down to every other rank you can imagine, Army, Navy, Air Force, Marines, all of them passionate about what we're trying to do."
Rep. Louie Gohmert (R-TX), a congressman who supports the discharge petition, said at the press conference that he was asked by a reporter recently about Benghazi: "Gee, that was so long ago. Do we really want to pursue this now?"
"I told the reporter that when I was a judge handling felony cases, I had defendants ask me that question – 'that was so long ago, do we really need to get into all this now?' I can tell you when the blood of American patriots cries out, when the blood of individuals who were sent there into harm's way, knowing how dangerous it was in Benghazi, and especially two former SEALs who were even told to 'Stand Down' but they wouldn't have it," Gohmert said. "They went to save lives and that's exactly what they did. They even recruited another State Department man, a former army ranger, to go up there on the rooftop with them. What they knew from the first moment mortars were fired was that this was an organized, well-prepared attack on our people. We need to get to the bottom of it. Their blood cries out for that."
Former Florida Republican Rep. Allen West concurred with the others there, adding: "If it's more important to some people in Washington, D.C., to protect President Obama and to protect former Secretary of State Hillary Clinton, I say shame on you. Every single member of the United States House of Representatives should have their name on this discharge petition. If their name is not on that discharge petition, you are complicit in this cover-up of what happened."
Frank Gaffney of the Center for Security Policy said that if the truth is not uncovered in Benghazi, a terrorist attack like it is likely to happen again. "I believe that this is not likely to be an isolated incident," Gaffney said at the press conference "If we don't learn the lessons of what happened in Benghazi, how we got to there, what we did on the occasion and what has happened in the aftermath, you can be sure there will be other Americans who end with the same fate."
Bob Adams, the president and founder of grassroots group Revive America which has been rallying members of Congress behind the calls for a real investigation into Benghazi, placed the blame for the lack of a real investigation at the feet of House GOP leadership.
"When Revive America first joined this fight back in March, only 48 House Republicans had mustered the courage to stand as cosponsors of this bill," Adams said. "Frankly, the level of support at that time was an embarrassment. But over the next several weeks, after thousands of Americans had deluged Congress with a flood of phone calls, emails and personal visits, support for the House Select Committee soared to what is today 161 cosponsors. That's over two thirds of all House Republicans."
"But today only one person really stands in the way of a full and public investigation of the 9/11 terrorist attack in Benghazi. It's not President Obama. It's really not even Hillary Rodham Clinton, or Eric Holder. That one person is none other than House Speaker John Boehner."