Third series: Iran Divides Syria into Military Zones
MG Paul Vallely, U.S. Army (ret)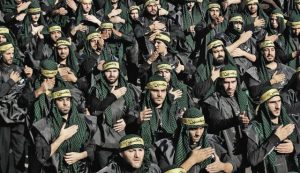 The Iranian Revolutionary Guard divided Syria into five fronts:
The central command center – At a location called the Glass Building adjacent to the Damascus Airport. Between 500 and 1,000 IRGC members are stationed there.
Southern Front
Middle Front
Northern Front
Coastal Front
There are six major garrisons to support the various fronts.
Shibani Garrison is located in the Shibani region northwest of Damascus with a capacity of 6,000 IRGC forces including the commando brigade of the 19th Fajr Division. Afghan and Hezbollah forces are there as well.
Base -18000-Zeinab Garrison is a former university situated about 45 km from Damascus towards Daraa. IRGC armor and Syrian Assad forces are stationed as well logistic units.
Yarmouk Base is a short distance from Base 18000. IRGC and Hezbollah forces there.
Isra Base – near city of Isra with air defense units. Base also for units near the Jordanian border.
Al-Dumayr Airbase – 50 km from Damascus and used by IRGC to assemble forces operating in the middle zone.
Nana al Fawar Garrison is south of Damascus and 15 km from the Golan Heights. 2,000 IRGC and Hezbollah forces are based there.
More intelligence on force locations in the next series.
*"How Iran Fuels Syria War"   NCRI
Paul E Vallely