Editor's Note – With Hezbollah soldiers and IRGC troops already inside Syria, one wonders what will become of Iran's ally Bashir Assad. Should the Assad regime fall to non-Shi'ite control, the Sunnis will likely be the heirs to the halls of power in Damascus. What this means for Israel is that the central power will shift, and not to a good end. This is because the vast armaments of Syria most likely to be whisked away are his missiles, and Iran won't allow them to fall outside their sphere of influence or control, rather, their puppets, or chess pieces in Lebanon will be sure to claim them and Hezbollah has the where-withal to do just that.
It was also reported over the weekend that NATO and US troops were massing on the northern border of Jordan with Syria, near the city of al-Mafraq by Boiling Frogs, but the story was pulled down under what some were told was a news embargo until today. The story however took on a life of its own and sites like RT.com ran with it here. The fact that this was considered significant was perhaps a leap, based on the fact that US troops exiting Iraq did not go home, but landed at bases and installations Jordan.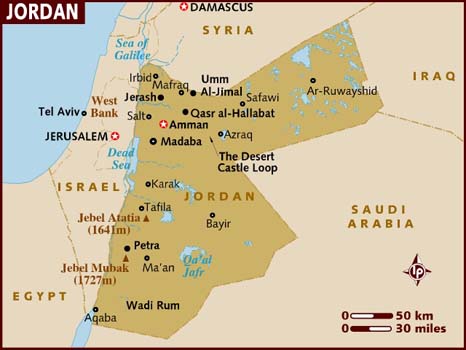 The more likely story though was that because NATO and US troops are frequently inside Jordan, and there are training facilities in that area, it does not indicate an imminent action is planned. However, the world is sitting on a fence stile watching events in Syria with great interest, and because it is so volatile, it is a ripe environment to make connections that may indicate actions are imminent. Stay tuned.
IDF Commander: Hizbullah Will Take Over Assad's Missiles
Northern Commander Yair Golan, unlike Barak and Ya'alon, warns that Hizbullah will gain control of Assad's missiles if his regime falls.
By Tzvi Ben Gedalyahu
The fall of Syrian President Bashar Assad's regime will result in Hizbullah's taking over his arsenal of advanced missiles, warns Major General Yair Golan, head of the Northern Command.
His worried prediction contrasts with comments made by Ministers Ehud Barak and Moshe Ya'alon, both former IDF Chiefs of Staff, that the fall of Assad would be good for the Middle East as a whole, including Israel. His comments were quoted in Defense News in Israel by Globes.
"There is a very real danger that if Assad's regime falls apart, his arsenal of advanced weapons, including ground-to-sea missiles and aerial defense systems, will fall into the hands of Hizbullah and other radical groups," the senior general said.
He said that Israel is better off vis a vis its enemies when there are centralized regimes in authority. Noting that the Syrian border is the quietest of all the fronts the army faces, Golan explained, "Experience has taught us one thing: whenever the central government's authority weakens, there is fertile ground for terror. When terror sprouts in Syria, there is no doubt against whom it will be aimed.
"We have been able to stand against centralized authorities since 1974, and we can get along [with our deterrence capabilities]. But when this authority is turned over to irresponsible leaders, there is no check on what is going on."
He pointed out that there is no unified opposition leader in Syria, and the fall of Assad will "be very troublesome." Golan said that Hizbullah will gets its hands on Assad's arsenal regardless of whether it is handed over to them or not.
Golan also took issue with the common view that Lebanon and Syria are a single front. The internal dissension in Syria requires a different frame of mind that views the two as separate fronts, he said.
Minister Ya'alon told foreign journalists on Monday that the fall of Assad would put and end to the Iranian-Syrian-Hamas-Hizbullah terror axis.
Defense Minister Barak said on Sunday that the downfall of Syrian President Bashar Assad would be a "blessing to the Middle East."
Hizbollah is the terrorist organization operating out of Lebanon that fought against Israel in the 2006 Second Lebanon War.