Editor's Note – Bill Ayers and Bernadine Dohrn are not the only domestic terrorists the Democratic Party, the left, the Socialists, the Communists and the Obama Administration are notoriously allied with. Convicted terrorist Brett Kimberlin and his tax-exempt non-profit Justice Through Music Project (JTMP) are clearly in the mix.
The JTMP is financed by none other than George Soros-connected Tides Foundation, the Fidelity Investments Charitable Gift Fund, the Barbara Streisand Foundation, and the Heinz Family Foundation, connected to Democrat Sen. John Kerry's wife.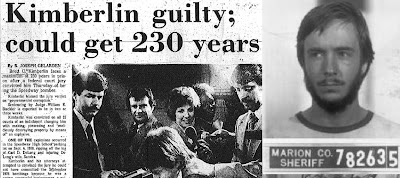 Its long, but well worth the read. There are other ties revealed as well.
Domestic Terrorist Now Using 'Lawfare'?
Convicted Felon Kimberlin's 501(c)3 Raised $1.8 Million in Six Years – 'Convicted of Perjury'
Federal tax forms filed by convicted terrorist Brett Kimberlin's tax-exempt non-profit Justice Through Music Project (JTMP) show that the 501(c)3 group collected $1.8 million in gifts, grants and other contributions during its first six years of operation. An analysis using database research indicates that more than $300,000 of that sum came in the form of grants from tax-exempt foundations, including the George Soros-connected Tides Foundation, the Fidelity Investments Charitable Gift Fund, the Barbara Streisand Foundation, and the Heinz Family Foundation, connected to Democrat Sen. John Kerry's wife.
Convicted of multiple federal felonies in connection with a string of 1978 bombings in Indiana, Kimberlin's activities recently have come under renewed scrutiny due to his attempt to press criminal charges against attorney Aaron Walker, a blogger who says Kimberlin tried to "frame" him as part of a campaign of harassment and intimidationagainst conservative New Media activists.
JTMP's 2009 IRS Form 990 (link is to PDF document) declares the "program service accomplishments" of Kimberlin's organization: "Civil rights, social action and advocacy programs. We have created DVDs with musicians to educate youth about their voting and civil rights to get them to register and vote. We created a website to do the same, and we have held voter drives to educate youth and register them to vote." On page four of the IRS form (question 43), the organization denied having engaged in "direct or indirect campaign activities on behalf of or in opposition to candidates for public office."
Walker's complaint against Kimberlin — the subject of a 28,000-word account posted Thursday morning at the blog Allergic to Bull — sparked new interest in the convicted felon's online activities. Kimberlin's connections to influential non-profit charities, leading progressive bloggers and Democrat Party operatives expose what many observers believe is a coordinated effort to silence conservative activists online through intimidation and harassment. Less than six months before his death, New Media enterpreneur Andrew Breitbart warned about Kimberlin's activities.
The most recent IRS Form 990 available for Kimberlin's JTMP (click here to view the PDF document) shows that the non-profit 501(c)3 group reported contributions of $223,739 in 2010. Combined with cumulative totals of contributions of $1,561,066 shown on the Maryland-based organization's 2009 IRS filing, this means the Justice Through Music Project collected $1,784,805 from its founding in 2005 through 2010.
So-called "lawfare" harassment and other intimidation tactics by Kimberlin's apparently well-funded network, including Democrat campaign consultant Neal Rauhauser, have alarmed those who see these efforts as a key component of a larger election-year strategy by liberal activists determined to dominate media coverage.
The Lonely Conservative blog has called for "an Army of Davids" to help expose Kimberlin's activities, invoking the title of a book, An Army of Davids: How Markets and Technology Empower Ordinary People to Beat Big Media, Big Government, and Other Goliaths by Professor Glenn Reynolds, who has shown interest in the Kimberlin case at his popular Instapundit blog.
Non-Profit Cash for the 'Speedway Bomber'
The Justice Through Music Project's tax form lists only two officials: Kimberlin as director, with a full-time salary of $20,250 in 2009, and Bethesda, Maryland, attorney Jeffrey C. Cohen, who reported receiving no compensation for his role as the non-profit's executive director. The tax-exempt organization's IRS form lists its revenue for five years:
2005 — $121,450
2006 — $428,815
2007 — $255,635
2008 — $558,543
2009 — $196,623
JTMP's tax-exempt funding, including grants from major philanthropic foundations, is remarkable considering Kimberlin's notorious record for violent crime and drug smuggling, as well as his convictions for perjury and impersonating federal officials. His 1978 terrorism spree — which earned him the sobriquet "Speedway Bomber" for the Indiana town where Kimberlin's violent rampage occurred — included one blast outside a high school that maimed two people. Authorities said that, while awaiting trial, Kimberlin plotted to kill both the federal prosecuting attorney and one of the witnesses against him.
According to information available through online databases, it appears that JTMP's funding by tax-exempt foundations peaked in 2006. That was the year Kimberlin's non-profit received a $60,000 grant from the Tides Foundation, which has become controversial because of its funding from left-wing billionaire Soros. An analysis of database records appears to show the following foundation grants to JTMP: (See inset right)
Kimberlin's infamous criminal past could scarcely have been a secret to those who funded his organization. Kimberlin became a national political celebrity during the 1988 presidential campaign because of his claim, made while he was still serving time in federal prison, that he had once sold marijuana to Dan Quayle, who was then the Republican candidate for vice president.
Kimberlin offered no proof for that unsubstantiated allegation, but it drew the attention of award-winning journalist Mark Singer. A reporter for the New Yorker, Singer was initially sympathetic to Kimberlin, and the two men split an advance for a book deal to tell Kimberlin's story. Singer ended the co-authorship deal after he became disillusioned by Kimberlin's habitual dishonesty. In 1996, Singer published Citizen K: The Deeply Weird American Journey of Brett Kimberlin, which exposed Kimberlin as a "world-class liar" and "first-class con man."
In fact, according to both Singer and Indianapolis Star reporter Joseph Gelarden, prosecutors suspected a particularly sinister motive for the Speedway Bomber's terroristic rampage: To distract law enforcement officials who were investigating the July 29, 1978, murder of Julia Scyphers, the grandmother of a pre-teen girl toward whom, Gelarden wrote in 1981, Kimberlin had "strange affection . . . questionable relationship."
'Things That Are Not True'
Despite abundant evidence of Kimberlin's criminality, within five years of his release from federal prison in 2000 — after serving only 17 years of a 50-year sentence — the convicted terrorist was able to receive major funding for his 501(c) tax-exempt activities. Hundreds of thousands of dollars of contributions continued to flow into Kimberlin's Justice Through Music Project, even after a January 2007 report by Time magazine's Massimo Calabresi recounted Kimberlin's past and concluded that Kimberlin was still routinely lying:
In e-mails and Web postings from Kimberlin's two organizations, Justice Through Music and Velvet Revolution, he intersperses occasionally useful pieces of information about the problems of e-voting with a hefty portion of bunk, repeatedly asserting as fact things that are not true. Kimberlin, in short, is an unlikely candidate to affect an important issue of public policy.
Calabresi's carefully reported account of "Kimberlin's grandiosity" and "lack of credibility"apparently did nothing to deter progressive donors and tax-exempt charitable foundations from contributing to Kimberlin's non-profit, for which 2008 was its best-ever year in terms of revenue. JTMP told the IRS that it was not involved in "campaign activities," but as Calabresi recounted, Kimberlin gained fame (and attracted major donations) by claiming that Republicans "stole" the 2004 election for President George W. Bush:
The turning point for Kimberlin came with an idea to attract attention. Before the 2004 presidential election, hecontacted the wealthy head of a foundation in Ohio who practiced transcendental meditation with Kimberlin's sister. After the vote, with a pledge from the benefactor, Kimberlin posted on justicethroughmusic.org a $100,000 reward for any evidence that the election had been stolen.And things took off. First, the reward attracted blogger Brad Friedman, who then co-founded the netroots voting-reform website VelvetRevolution.us with Kimberlin and serves as his face man. The reward attracted other donors (including a politically active relative of mine who last year introduced me to Kimberlin). And it produced several people who claimed to have information on problems with electronic voting. They were prominently displayed on Friedman's site, BradBlog.com Leveraging his website's popularity, Kimberlin made contact with congressional staff members and other activists, launching coordinated netroots campaigns for the cause.
In what has since become a consistent pattern in his highly partisan online activism, Kimberlin's accusations of vote fraud by Republicans yielded no substantial result and his headline-generating $100,000 reward offer was never paid. However, Kimberlin gained credibility and prestige because of his partnership with Brad Friedman, who was one of the progressive bloggers most prominently mentioned in a 2005 New York Times article by Jonathan D. Glater, "Liberal Bloggers Reaching Out To Major Media."
Having failed to prove their repeated assertions that Republicans "stole" the 2004 election, Friedman and Kimberlin moved on to new targets, displaying a canny eye for exploiting liberal obsessions through their claims of "exposing" criminal wrongdoing by high-profile right-wing scapgoats. After a 2009 undercover "sting" by young conservative journalists James O'Keefe and Hannah Giles showed that the left-wing group ACORN was willing to abet prostitution, the Friedman-Kimberlin non-profit Velvet Revolution called on Maryland officials to file felony charges against O'Keefe and Giles.
The Freidman-Kimberlin group's July 2010 attack on two young reporters — whose work successfully launched Breitbart's BigGovernment.com site in September 2009 — drew attention from another Breitbart project, BigJournalism.com. In October 2010,journalist Mandy Nagy (writing as "Liberty Chick") filed a 3,600-word account of Kimberlin's criminal career, which concluded by asking:
While the left-wing media spends countless hours of its production time trying to create the picture of impropriety around topics like American Crossroads and Andrew Breitbart, why not spend even just one hour researching the groups accusing such impropriety?
Will anyone come out and repudiate their association with a convicted terrorist?
Nagy's heavily-documented article evidently inspired an 1,110-word report by Ed Barnes of Fox News a week later:
Using two popular leftist blogs, the 56-year-old from Bethesda, Md., has raised hundreds of thousands of dollars from the public and left-leaning foundations by promising to put conservatives he disagrees with in jail, often with offers of large rewards. So far — without success — he has called for the arrest of Karl Rove, Andrew Breitbart, Chamber of Commerce head Tom Donohue, Massey Energy Chairman Don Blankenship and other high-profile public figures.
A review of tax filings for Kimberlin's blogs, "Velvet Revolution" and "Justice Through Music," raises troubling questions about whether his "nonprofit" operations are dedicated to public activism — or are just a new facade for a longtime con artist.
The reports by Nagy and Barnes, however, were evidently ignored by most major national news organizations, and even most conservative journalists — who in October 2010 were focused on the mid-term election campaign — seemed to overlook the significance of Kimberlin and Friedman's activities. Yet several bloggers, including the Patterico site where Walker spent a year as co-blogger under the penname Aaron Worthing, continued monitoring Kimberlin's activities, including his legal actions against conservative New Media activists.
Read more about: Criminal Kimberlin and 'Hacker' Rauhauser
UPDATE:
Suspicion that the "Breitbart Unmasked" site is operated by Kimberlin is inspired by the site's apparent obsession with bloggers who criticize Kimberlin. In one such post (no link, for reasons that should be obvious) "Breitbart Unmasked" makes this assertion:
Patterico and Andrew Breitbart . . . started a years long campaign to destroy Mr. Kimberlin using a 34 year old criminal case against him when he was a young man, despite Mr. Kimberlin changing his life and working for charitable causes for decades.
Kimberlin was 27 years old when he was convicted of multiple federal felonies which, as the Indianapolis Star reported at the time, carried a maximum penalty of more than 20o years in prison.
The only "charitable causes" for which Kimberlin has worked, so far as I am aware, are those in which he himself has a financial interest. As he has only been out of federal prison since 2000, the claim that Kimberlin has been engaged in "charitable causes for decades" would seem self-evidently false.
In fact, Kimberlin's persistent penchant for falsehoods is another coincidental similarity to the "Bretibart Unmasked" site, whose Twitter account has denied being operated by Kimberlin. As Indianapolis Starreporter Joe Gelarden, who covered the "Speedway Bomber" case, toldTime magazine's Massimo Calabresi in 2007:
I remember a few things about Brett that give me great pause.
First, he was convicted of perjury — in federal court — before he got out of high school. Think about that for a moment.
A notorious criminal, who was called a "top-flight con man" by award-winning journalist Mark Singer, Kimberlin has gotten $1.8 million in tax-exempt contributions since 2005.