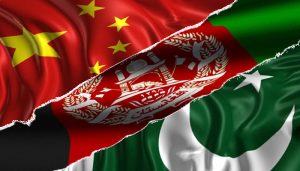 The Emerging China-Iran-Pakistan Alliance Is Directed DECIDEDLY Against The United States
By:
LAWRENCE SELLIN
Retired Colonel, U.S. Army Reserve
2:07 AM 05/23/2018
In a January 10, 2018 Daily Caller article titled "China May Have Just Brokered An Iran-Pakistan Accommodation," I outlined the extensive diplomatic and military initiatives underway in the past year to foster reconciliation between Iran and Pakistan, orchestrated behind the scenes by China.
That strategy supports the Belt and Road Initiative (BRI), China's blueprint for global hegemony. It is a development plan, a program of infrastructure projects and a network of commercial agreements designed to link the world directly to the Chinese economy through inter-connected land-based and maritime routes.
As French Asia expert, Nadége Rolland noted, BRI is soft power projection with an underlying hard power component, a comprehensive China-centered economic, financial and geopolitical web with far-reaching, cascading consequences affecting American national interests. It is not just resource acquisition or utilization of China's industrial over-capacity, but projects specifically designed to ensure economic and, in parallel, military dominance.
As China expands commercially, the Chinese military, in particular its navy, will advance concomitantly to protect China's growing economic empire, as did the British in an earlier era. Chinese intent is to gain access to a number of harbors and airports to create a chain of mutually-supporting military facilities.
China's plans to expand its naval footprint in Pakistan have accompanied signs of increasing military cooperation between Tehran and Beijing over the last several years.
In June 2017, Iranian warships joined a Chinese naval flotilla conducting exercises in the Persian Gulf. The Chinese ships also made an official visit to the Iranian port city of Bandar Abbas after having earlier docked in Karachi, Pakistan. One Chinese military affairs expert, speaking at the time, said China was poised to increase its military presence in the Middle East to support BRI and would involve itself more in the affairs of the region.
Chinese efforts towards Iran-Pakistan cooperation have also borne fruit. In recent months, there has been a flurry of agreements in trade, defense, weapons development, counter-terrorism, banking, train service, parliamentary cooperation and — most recently — art and literature.
Secret security-related discussions among the Chinese, Pakistanis and Iranians military officials have been ongoing for at least a year. Early this March, for example, sources reported a nighttime meeting held at the Iran-Pakistan border near the strategic Pakistani port of Gwadar.
A major stimulus for those discussions has been the planned construction of a Chinese naval base on Pakistan's Jiwani peninsula, immediately west of Gwadar near the Iranian border, a report confirmed here and here. It is not just its proximity to Iran, but that the Iranian navy is building one of its most sophisticated intelligence collection facilities right across the Jiwani Bay in Pasabandar, Iran. Combined, they would have enormous strategic significance.
A China-Iran-Pakistan alliance would have sweeping ramifications for U.S. foreign policy. For starters, it would render our current efforts in Afghanistan untenable, most likely provoking an American exit under conditions dictated by the Chinese and Pakistanis. It would initiate the beginning of an anti-access, area denial strategy against the U.S. Fifth Fleet in the Persian Gulf and Arabian Sea region, similar to what the Chinese have attempted to implement against the U.S. Pacific Fleet in the South China Sea. Even the mere contemplation of such an alliance could give the Iranians considerable leverage in the face of American sanctions.
Nevertheless, China's expansion will inevitably expose geopolitical vulnerabilities, which can be employed to thwart its plan for regional domination.
Strategic disruption of Chinese ambitions would involve traditional diplomatic dexterity and power projection capabilities of containment policy, coupled with covert measures exploiting nation-state conflicts, the Sunni-Shia divide, ethnic separatism and the splits among Islamic extremist groups — all features present in the region.
Lawrence Sellin, Ph.D. is a retired US Army Reserve colonel and a veteran of Afghanistan, northern Iraq and a humanitarian mission to West Africa.
Important SUA Update:
SUA has received a lengthy report from a Pashtun living in Waziristan, Pakistan. He described the intimate relationship between the Pakistani military and the Taliban. The Taliban are not only being supplied by the Pakistani military, but some members of Pakistani Army and Pakistani intelligence are dressing up as Taliban and operating with them to suppress the new Pashtun freedom movement (PTM) and any political parties in Waziristan deemed hostile to affect the election outcome at the end of this month., Pakistan announces to the international media that these operations are anti-terrorism operations, but they are not. The so-called Peace (Aman) Committees are Taliban and the Taliban are freely moving in urban areas, collecting taxes from businesses and enforcing Sharia under the very noses of of the Pakistani authorities. The Taliban are noticeably wealthier than the other inhabitants and have confiscated schools as their local headquarters.These are also the same Taliban groups that are operating in eastern Afghanistan.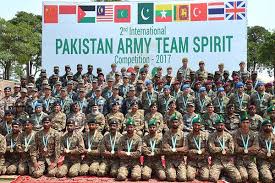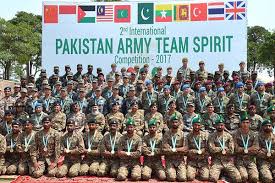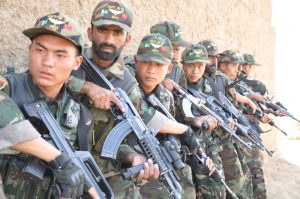 a