Editor's Note – Many think that the Council on American-Islamic Relations, and its local unit in California (CA-CAIR), uses our nation's legal system against itself in a practice called 'lawfare' in many ways.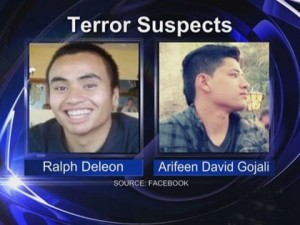 Usually it uses the court to silence its critics, but in this recent instance, it appears to be using it to identify a secret informant in a terrorism trial in Riverside, California. However, the identity is being closely held so even 'lawfare' is not working.
Therefore, they have made a plea to the public to help reveal the informant through their own contacts and acquaintances. In fact, if they find out who the informant is, they will not commit not to release the identity.
Their claim that the identity of the informant is crucial in achieving a fair trial fails on its face. If it is so important to their defense, why will they not commit to keep it secret? Don't answer that, it was a rhetorical question of course.
It gets better though, the defendant identified by the DA as the leader of the conspiracy has a federal public defender who is not working in cooperation with CAIR. But that does not stop CAIR from injecting itself.
There are four suspects are accused in the case:
Three of the men — Ralph Deleon, Arifeen Gojail and Miguel Santana Vidriales — previously pleaded not guilty, but they had to re-enter their pleas when prosecutors added a Southern California man suspected of being the ringleader of the plot to the indictment.

The government accused Sohiel Omar Kabir of Pomona of inviting his co-defendants to visit his native Afghanistan and meet with terrorists. Gojali, Deleon and Santana were arrested the day they were suspected of leaving to meet Kabir in Afghanistan.
What is clear to critical thinkers and those who watch CAIR closely, this is merely a ploy to send a message – they want to silence their critics, and obviously silence those in their community that may reveal their allegiances, practices, secrets, and nefarious goals.
Remember, CAIR was an unindicted co-conspirator in  the Holy Land Foundation case and supports(ed) Hamas and the Muslim Brotherhood. The Investigative Project on Terrorism confirmed this in 2010:
… a letter circulating on Capitol Hill affirming federal law enforcement's belief that the Council on American-Islamic Relations (CAIR) is the product of a Hamas-support network in the United States.

Assistant Attorney General Ronald Weich sent the letter last month to four members of Congress who asked for details last fall on how CAIR was named an unindicted co-conspirator in the terror-finance trial against the Holy Land Foundation and its former officials.
CAIR tries so hard to manipulate our system, and produces prodigious amounts of propaganda across the country. They know how to manipulate the low-information populace but every time they are confronted, the fail miserably, ask Allen West.
See Video at the end of the following article for a good look at how facts ruin CAIR arguments at every juncture:
COURT: New twist in terror case
As trial gets underway, Islamic rights group seeks information on the FBI informant who sparked the case to ensure defendants get a fair trial
BY RICHARD K. De ATLEY – Press Enterprise
An Islamic rights organization has asked for the public's help in gathering information about a secret FBI informant whose claims led to a homegrown terrorism conspiracy indictment, with trial set to start Tuesday, Aug. 12, in Riverside for two Inland men charged with plotting to meet with the Taliban and al-Qaida and murder Americans overseas.
An attorney for the Greater Los Angeles area office of the Council on American-Islamic Relations said Monday the organization "can't say we won't" expose the identity of the informant, if it comes across verifiable information.
"It will come down to what is in the best interest of our community," said Fatima Dadabhoy, senior civil rights attorney for the Los Angeles office of CAIR.
The organization asked for those with information to call its Anaheim office's civil rights hotline, or call the federal public defender investigator's office in Riverside.
The federal public defender investigator's office is not working in cooperation with CAIR, said Jeffrey A. Aaron, the deputy federal public defender who is one of the attorneys representing Sohiel Omar Kabir of Pomona, whom prosecutors have identified as the leader of the conspiracy.
Dadabhoy said her organization believes the FBI has used confidential informants to entrap people, and that a majority of terrorist plots are fabricated or provoked by the FBI.
"We want to make sure that our community is aware," she said. "When the FBI sends in people with this criminal background into our community, we want to know how they are acting and who is vulnerable to them. Our best way is to identify this and the tactics that are being used."
U.S. Attorney spokesman Thom Mrozek declined to comment Monday. The FBI also declined to comment Monday, citing the pending case.
In court papers, defense attorneys have described the FBI informant as a "convicted drug trafficker" who has been paid "'over' a quarter million dollars" and was being allowed to stay in the United States, although he should be deported for his felony conviction.
The CAIR-Los Angeles news release issued Sunday said the amount paid to the informant is now $356,645 and that the informant's conviction was for trafficking pseudoephedrine, a decongestant used to make methamphetamine.
Whether the informant – referred to as a "confidential human resource" in court papers – will testify during the anticipated 20-day trial is unknown; like many documents in the case that started in late 2012, the government's witness list is sealed.
Dadabhoy said she knew of no existing positive identification of the informant. "There is no picture of him. If there is information, then maybe we will put together an advisory for the community about who this person may be," she said.
The case broke in November 2012 with the arrests of Kabir in Afghanistan and three others – Ralph Deleon of Ontario, Arifeen David Gojali of Riverside and Miguel Santana of Upland, who authorities said were about to leave for the first leg of their trip from the United States to Afghanistan.
The government's case brief says the defendants' alleged conspiracy was underway before they met with the informant in February 2012, when one of them told him of a plan to travel overseas "to engage in violent jihad."
"We are concerned about this case," Dadabhoy said. "If there was entrapment in this case, we want to make sure these guys are ensured a fair trial.
________________
%CODE%