Editor's Note – Daily reports and intelligence tell us there is much more mayhem occurring in Syria than the main stream media reports. Two such reports are listed below that have yet to be covered in the main stream media outlets. Claims are made that Iran and Russia supervised the use of the gas, and condoned their use.
Of course, upon hearing reports on the use of poison gas, Russia is vehemently denying the story. They are supposedly "outraged" at the allegation.
Syrian Dissident: Assad used poisonous gas under Iranian, Russian supervision
By Al Arabiya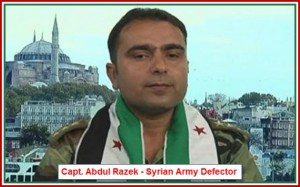 A Syrian dissident military officer, Capt. Abdul Salam Ahmed Abdul Razek, said the Syrian regime is using internationally prohibited poisonous gas against protestors under the supervision of both Iran and Russia.
"The Syrian army used nerve gas to facilitate the invasion of Homs and was planning to do the same in Jebel al-Zawia and al-Zabadani," Abdul Razek told Al Arabiya.
According to Abdul Razek, who worked in the Syrian army's Chemical Warfare Division, the army has in its possession large quantities of a poisonous asphyxiating substance that is banned internationally.
Mass extermination
"A little amount of this is enough to carry out a mass extermination," he said. The gases, Abdul Razek added, are used under the supervision of both Russia and Iran. "Russia is the source of those gases and Iran provides advice on how, when, and where they are to be used," he said.
Abdul Razek explained that prohibited gases were made available only for the Fourth Battalion of the Syrian army and the Presidential Guard. The use of those gases and other brutal measures taken against civilians, Abdul Razek said, demonstrate that the Syrian army has one purpose in mind: killing the Syrian people. "For example, what happened in Rif Dimashq was genocide."
This, he added, is what drives many officers to defect. "Now security forces are very alert and they watch closely anyone suspected of not being loyal to the regime," Abdul Razek said. "Some officers have not been given one day off for the past few months for fear they would defect."
Other officers, he said, were interrogated just for watching satellite channels that cover the ongoing protests in Syria, such as Al Arabiya. Abdul Razek said that his plight has been made easier because of the help offered to him by the Free Syrian Army. "They transferred me safely from Damascus to the Syrian borders."
(Translated from Arabic by Sonia Farid)
Opposition: Syrian war planes blow up oil pipeline in Homs
Strat Risks from CNN
A massive plume of thick, black smoke billowed from the city of Homs on Wednesday, punctuating the chaos that has plagued the opposition stronghold for months. According to the Local Coordination Committees of Syria, an opposition activist group, government war planes flew over Homs and blew up an oil pipeline.
The Syrian government did not immediately issue a statement on the situation in Homs. Meanwhile, after repeated U.N. failures to formally denounce the Syrian regime, the latest U.N. draft resolution condemning Syria could be voted on in the General Assembly as early as Wednesday.
But action is long overdue, say opposition activists, who reported 49 deaths across Syria on Tuesday. Though a General Assembly vote would not be binding, it would mark the strongest U.N. statement yet on the violence. Russia and China have vetoed attempts to condemn Syria for the crackdown by the U.N. Security Council, whose resolutions are binding. The draft resolution calls on Syria to end human-rights violations and attacks against civilians immediately, and condemns "all violence, irrespective of where it comes from."
Bracing for war in Syria
The people killed Tuesday included three defected soldiers, the LCC said.
Child rescued from crossfire in Syria
Deaths took place in Idlib, Homs, Daraa, Aleppo, Deir Ezzor, Hama, Damascus, the Damascus suburbs and Latakia, the group said.
Increased intelligence activity in Syria
Fear and horror paralyzed residents of Homs, which was struck by heavy shelling; snipers prevented people from walking in the streets, opposition activists said.
UN to vote on new Syria resolution
"The snipers are even targeting those who intend to get bread from the bakeries," said one activist, who uses the pseudonym Abu Omar. "They are shelling randomly — why, I don't know," said another activist, identified only as Omar for security reasons. "There is no place here in this city that is a safe house or shelter or a basement. You have to be lucky to stay safe." Tuesday's shelling was among the heaviest in the past five days, the opposition Syrian Observatory for Human Rights said.
Syrians 'dismissive of diplomacy'
While United Nations diplomats reiterated their denunciations of the Syrian regime for the mounting bloodshed, residents wondered what lay ahead. "Everyone we've been talking to … believes that the country is heading toward, or already is in, a full-blown war, and recovering from that is going to be incredibly challenging," said CNN's Arwa Damon, who reported from inside Syria on Tuesday.
She spoke from an opposition safe house. CNN is not disclosing her location because of concerns for her safety. Logistical challenges are challenging; some living rooms are serving as makeshift triage clinics, she said. "Villagers have tried to gather medical supplies and blood to move them into these hard-hit areas and for days have been unable to do so" because of the government crackdown, she said.
Members of the opposition believe it is a fight to the death and, if they fail, the government will kill them, Damon reported. Many, she said, would be willing to accept assistance even from Israel, a sworn enemy. Her reports came a day after the U.N. high commissioner for human rights denounced the Syrian government's "ongoing onslaught" against its citizens. Navi Pillay spoke before the U.N. General Assembly, which could issue a formal condemnation of the Syrian regime.
"The nature and scale of abuses committed by Syrian forces indicates that crimes against humanity are likely to have been committed since March 2011," Pillay said. Syria posted a banner on state TV Tuesday saying its foreign affairs ministry "absolutely rejects all the new allegations in the new report by the human rights high commissioner."
The Syrian government said on the state-run Syrian Arab News Agency that 13 "army and law enforcement martyrs" were buried Tuesday. "The martyrs were killed in the line of duty by armed terrorists groups in Damascus Countryside, Homs and Idlib."
European Union diplomats said they expect new EU sanctions on Syria by February 27, targeting the Syrian Central Bank and imposing a ban on exports of precious metals and phosphates. Victoria Nuland, a U.S. State Department spokeswoman, said Tuesday that increasing pressure and sanctions on President Bashar al-Assad's government was crucial.
French Foreign Minister Alain Juppe announced a national decision to establish an emergency relief fund for Syria, according to a statement posted on the website of the permanent mission of France to the U.N. The fund, with an initial sum of 1 million euros, will "fund the actions of all organizations and associations wishing to help the Syrian people."
France will propose the creation of a similar fund at the international level at the first "Friends of Syria" meeting in Tunis on February 24, the statement said. Well over 700 people have been killed over the past 11 days in Syria, mostly in Homs, the Local Coordination Committees said.
A YouTube video shows tanks and civilians standing next to each other in a Damascus suburb. An opposition activist has said government forces are using detained civilians as human shields, placing them on tanks to prevent the opposition Free Syrian Army from fighting back.
CNN cannot independently confirm details of the events in Syria because the government has severely limited the access of international journalists. Damon said every person she interviewed had a horror story to tell. "One man we met, he had four members of his family executed as government forces, he said, were raiding their village," she said.
She said some members of the opposition believe the regime will fall, but don't know how many more lives will be lost before that happens. "If there is military intervention, then yes, there will be a lot of bloodshed, but it's going to be over a lot quicker," one activist said. "If there isn't military intervention, there is going to be even more bloodshed, and it's going to take a lot longer to bring down the regime."