Editor's Note – The Syrian conflict continues to spill over the borders, stay alert, anything could happen now that our elections are over.
Syrian shells hit town in Northern Israel
From Israel Today
Three mortar shells fired by Syrian forces landed near and in the Golan Heights community of Alonei Habashan early Thursday morning. One shell landed in a local neighborhood, but caused no injuries or damage.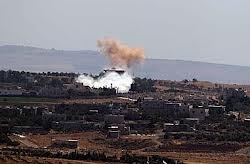 Officials said they believe the shells were misfires from a battle between Syrian government and rebel forces just over the border.
But the frequency of cross-border attacks lately, and the growing accuracy, suggests the Syrians may be purposely targeting Israel.
Earlier this week, an Israeli army patrol jeep came under fire from the Syrian side of the border, and last week three Syrian tanks briefly entered Israel.
Israeli forces in the north of the country were placed on high alert following the border breach, and Israeli army chief Lt.-Gen. Benny Gantz warned that "the Syrian affair could turn into our affair."
The IDF division stationed in the northern Golan "is ready for any moment in which the shooting will change direction and will be turned on us," an Israeli army spokesman was quoted as saying by The Jerusalem Post.
Israel remains concerned that either side in the Syrian conflict could at any time try to draw Israel into the fighting for its own political and military gain. Should that happen, there is little doubt Lebanon's Hizballah terrorist militia would enter the fray and launch its missile arsenal at northern Israel.