As Aleppo battle rumbles, hospitals and graveyards fill up
By Erika Solomon – Reuters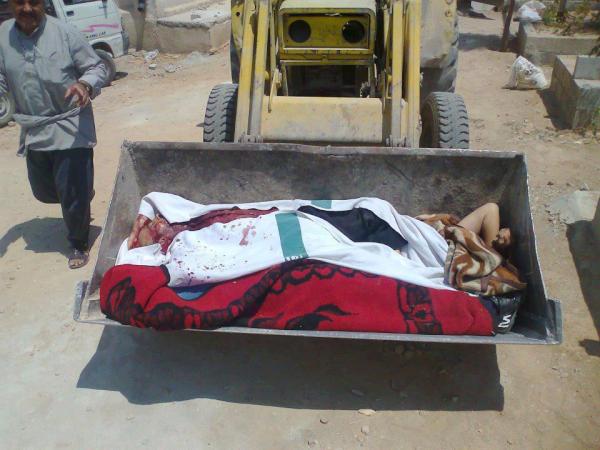 (Reuters) – Abdelrahman left school at 17 to join the Syrian rebels in Aleppo. His parents never heard he had reached the city until they got the call to pick up his body.
By evening, his father was in the city, standing on a hillside crammed with white tombstones and fresh graves. Abdelrahman's comrades used their bare hands to seal his final resting place, their clothes stained with mud and the boy's blood.
After 17 months of revolt against President Bashar al-Assad's rules, rebel fighters have finally advanced into Syria's largest city. But fighting in the historic northern stronghold grinds on in a seemingly endless loop of army shelling and rebel ambushes. Each side claims victory, but neither seems to gain much ground.
Only the number of dead and wounded marches steadily on. "He was shot once in the head and once in the chest. I had no idea he had already left. I only heard because they called to tell me he was martyred," said Abdelrahman's father, a tall man with a grey beard and a yellow robe. He shakes his head slowly, still unable to believe what has happened.
"He was half way through tenth grade but he emptied his whole life to devote it to the revolution." The hands of a dozen fighters and local residents reach out to comfort the father, Abdelqader, who only gave his first name. "He was the first to go in the fight," shouts one. "The martyr is the beloved of God," the mourners chant, waving the green, white and black independence flag of the Syrian rebels. "God, we have no-one but you."
In the distance, the watchtower of a government army post is silhouetted by the setting sun. It is within easy range of the tiny hillside funeral, but not a shot is fired. The soldiers may be wary of rebel forces in the area, but no one knows for sure.
With the battle for Aleppo raging and no clear winner in sight, both sides seem keen to avoid showing their dead. Most are quickly sent home to their families, denying journalists the chance to film their funerals. But the pain-racked wounded at the opposition's tiny hospital in Aleppo are testament enough to the sufferings of a population at war with itself.
Read the rest at Reuters.
___________________________
Assad Urges Syrian Troops to Fight 'Crucial' Battle
By DAMIEN CAVE and ALAN COWELL – NY Times
BEIRUT, Lebanon — In rare public remarks apparently designed to marshal government forces seeking to suppress a 17-month revolt, President Bashar al-Assadof Syria urged his forces on Wednesday to show "more readiness and continued preparations" to confront "internal agents" seeking to destabilize his battered country, according to the official SANA news agency.
The call to arms was described by analysts as the first public appeal by Mr. Assad since a bombing in mid-July killed some of his most senior aides and spurred speculation about his whereabouts. His comments, marking the 67th anniversary of the founding of the Syrian Army, were carried by SANA but there was no immediate broadcast on state-run television.
Mr. Assad was speaking a day after Syrian rebels said they had taken control of at least two important police stations in central Aleppo, Syria's commercial heart, maintaining their hold on several neighborhoods on Tuesday despite air assaults and shelling by government troops.
Nearly two weeks have passed since the fighting began for control of Aleppo, Syria's largest city, and both sides seem to be digging in for an extended battle. On Wednesday, United Nations observers said they had witnessed Syrian fighter jets opening fire in Aleppo, with rockets and heavy machine gun fire. Observers added that the rebels now had tanks and other heavy weapons.
Opposition groups on Wednesday also spoke of fighting before dawn in a Christian area of central Damascus.
Mr. Assad said Syria's "battle with the enemy takes multiple forms" and "determines the destiny of our people and nation." According to some news reports, he referred to a "crucial and heroic battle."
He said Syria's enemies "exploited internal agents as a bridge to destabilize the homeland, undermine the citizens' safety and drain our economic and scientific capabilities" to prevent the country from "improving our society to the level of developed countries."
Mr. Assad did not identify the so-called internal agents further. But his government has long accused outside powers, including several Western and regional countries, of fomenting the violence that has washed over Syria with increasing virulence since the uprising began in March, 2011.
His characterization of the fighting seemed to indicate that, while dismissing his adversaries as "terrorist gangs," Mr. Assad also acknowledged the high stakes surrounding his political survival. But he insisted that his forces had stood their ground, despite the steady spread of armed opposition through Syria's major cities in recent weeks.
"You wrote the greatest epic of heroism and pride and proved through facing the war waged against our country and confronting the criminal terrorist gangs that you are entrusted with the values of our people to whom you belong and faithful to their history and civilization," Mr. Assad said, according to SANA's English-language edition.
"You represent the aspiration of our people in defending their dignity and honor and restoring stability and security of the homeland due to your determination to implement your sacred duty towards the homeland," Mr. Assad said. On Wednesday, SANA also published the text of a letter sent by the Syrian Foreign Ministry to the United Nations, renewing accusations that "armed terrorist groups" backed "openly with funds and weapons by Saudi Arabia, Qatar and Turkey committed horrifying crimes against innocent civilians in Damascus and Aleppo and are still doing so in Aleppo."
Read the rest here.
___________________________
Algerian Government Investigates Movement of Jihadists Into Syria
By Al Monitor – "The pulse of the Middle East"
By Mohamed Ben Ahmad
On July 3, security forces in Illizi province arrested an individual suspected of working for a cell that transfers Algerian jihadists into Syria via Libya. Security forces are pursuing this suspected cell, which is accused of smuggling Algerian fighters into Syria in coordination with Syrian, Egyptian, Libyan, Turkish and Lebanese agents.
According to our sources, security forces managed to arrest an Algerian who tried to enter Libya through its desert border. Security forces have linked this case to the disappearance of at least seven other Algerians under circumstances that are probably related to the Syrian crisis. Investigations show that the missing Algerians have infiltrated Tunisia or Libya. In early July, investigators in Illizi heard the testimony of an Algerian who was arrested while sneaking into Libya from the desert. Large-scale investigations are under way to arrest members of the network that is smuggling Algerian fighters into Syria. The accused, who has been released and is awaiting an appearance in court, is an unemployed 27-year-old man who lived in Ghardaia and Algiers. He was arrested while trying to sneak into Libya. The man told investigators he had lost his passport; however, it is believed that the infiltrator handed over his passport to a group of activists who smuggle Algerian fighters into Syria. Investigators found evidence of several calls to Libyan numbers in the man's cellphone. This case has all the hallmarks of jihadist organizations' attempts to infiltrate Salafist fighters into the "Land of Jihad," after confiscating the fighters' passports.
Investigations are being conducted in eight provinces: Algiers, Tlemcen, El Ouadi, Illizi, Tebessa, Biskra, Ghardaia and Djelfa. Investigators believe Algerian jihadists snuck into Libya with the support of Moroccan and Tunisian activists, after being recruited through online forums administered by two Islamist movements. The first was the Salafist movement, which issued a fatwa emphasizing the necessity of the fight against the Baath regime in Syria. The second movement was a jihadist Salafist movement with close ties to al-Qaeda and al-Nusra Front in Syria. The suspected cell, which includes approximately 10 members, coordinates communication between Algerian jihadists and jihadists in Libya. The cell assists in smuggling jihadists into the Libyan desert, where they then meet with cells that help Algerian, Moroccan or Tunisian activists infiltrate into either Jordan, Lebanon or Turkey. The destination changes every three days to one week, based on the circumstances.
Read the rest here at Al Monitor.