Editor's Note – From the "Liberals will do anything file" – Call in a bogus 911 emergency, sit back and watch the local SWAT team come in, and disturb a family at dinner, at gun-point.
This is the civility we can expect the rest of this election season. Death threats against Wisconsin's governor, arresting peaceful ex-marine demonstrators and 'SWAT-ing'!
SUA expectation – Holder and the Department of Justice will do nothing, just like the voter intimidation case against the New Black Panthers.
Senator Asks DOJ to Investigate SWAT-ting Attacks on Conservative Bloggers
By Arlette Saenz – ABC News
A number of conservative bloggers allege they have been targeted through the use of harassment tactics such as SWAT-ting (fooling 911 operators into sending emergency teams to their homes), in retaliation for posts they have written, and now Sen. Saxby Chambliss, R-Ga., has stepped into the matter. He has sent a letter to Attorney General Eric Holder urging him to investigate the SWAT-ting cases to see if federal laws have been violated.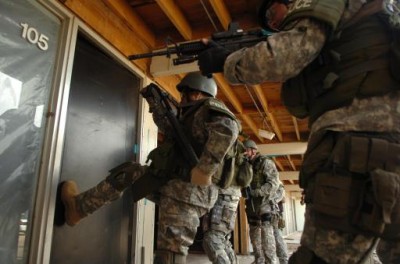 "I am writing with concern regarding recent reports that several members of the community of online political commentators have been targeted with harassing and frightening actions. Any potentially criminal action that incites fear, seeks to silence a dissenting opinion, and collaterally wastes the resources of law enforcement should be given close scrutiny at all levels," Chambliss wrote in the letter.
"Regardless of any potential political differences that may exist, threats and intimidation have no place in our national political discourse. Those who choose to enter into that political discourse should not have to worry about potential threats to their or their family's safety," Chambliss continued.  "While I am certain that local law enforcement is reviewing each of these instances, I am asking you to please look into each of these cases as well to determine if any federal laws may have been violated. Future targets of SWAT-ting, whether engaged in political speech or not, may not be so fortunate as to escape physical harm."
ABC News spoke with two prominent conservative bloggers who were victims of SWAT-ting, a hoax tactic used by some hackers to infiltrate a victim's phone system, often through voice over IP (VOIP) technology to make calls appear as if they are coming from a residence. The perpetrators call police to report a violent crime at that home to which the police respond, sometimes with SWAT teams.
Just after midnight on July 1, 2011, Patrick Frey, a deputy District Attorney in Los Angeles and a conservative blogger who writes under the name "Patterico," heard a pounding at his door as sheriff's deputies arrived to investigate a call from Frey's home about a man who claimed he had killed his wife. But no one in Frey's home had been killed, and no one had made a phone call to the police.
"It's a phone call that could have gotten me killed," Frey wrote on his blog about the incident.
Frey was cuffed by police while they woke up his wife, who was asleep in their room, and questioned her about the safety of the children.  Helicopters swarmed overhead with searchlights as the sheriff's deputies investigated.
Frey told ABC News he received email threats prior to the SWAT-ting incident.
Late last month, Erick Erickson, the editor of the conservative site RedState.com, was the victim of the same type of targeting. He had written about Frey's case just a few days before.
Erickson sat at home in Macon, Georgia with his family while his children played outside over Memorial Day weekend when two sheriff's deputies drove to the house after receiving a phone call about Erickson allegedly shooting his wife.
"My first thought was, 'What have the kids done?'" Erickson said after seeing the police car outside his home.  "The police officer approached me in the driveway and said it was a call about an accidental shooting.  According to the 911 call, the person claimed I had killed my wife."
Erickson, who said he has received other types of threats in the past, had alerted the sheriff's department after Frey's experience in case he became the victim of a similar occurrence.
The Bibb County District Attorney's office in Georgia currently is investigating the case and could not offer comment on it.  Asked who he suspected was responsible for the phone call to police, Erickson declined to speculate.
But several conservative bloggers have been vocal about who they believe is responsible for the SWAT-tings and other forms of harassment — Brett Kimberlin, a man who was convicted of a series of bombings in Speedway, Indiana in the 1980s and made headlines in 1988 when he claimed to have once sold marijuana to then-vice presidential candidate Dan Quayle.
The group of conservative bloggers organized "Everybody Blog About Brett Kimberlin Day" on May 25, during which they urged the blogging community to write about the actions of Kimberlin.
Kimberlin, who is now the director of a non-profit organization called Justice Through Music, told ABC News that he did not commit or ask anyone to conduct the SWAT-ting hoaxes that were perpetrated against Erickson and Frey.
"Of course not, it's ridiculous.  It's totally irresponsible for them to even say this," Kimberlin told ABC News.   "There is no truth to anything about the SWAT-ting."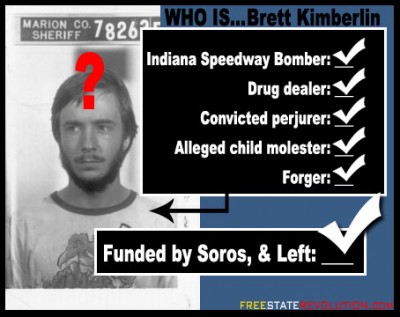 But some conservative bloggers contend Kimberlin and his associates are responsible for other forms of harassment as well.  Robert Stacy McCain, a contributor to the American Spectator and founder of The Other McCain Blog, wrote about Kimberlin, and shortly after, his wife's place of employment received a phone call from Kimberlin accusing McCain of harassment.  Based on Kimberlin's ability to find his wife's employer, McCain became concerned Kimberlin also knew the location of his home, so the McCain family relocated to an undisclosed location.
"If I was going to continue doing this story, I couldn't do it from my home," McCain told ABC News. "This kind of intimidation — it's a threat to protected first amendment expression."
"It's being treated as these are just bloggers playing around on Twitter, but this is serious business.  It's much more serious I think than most people now realize," McCain said.
Ali Akbar, the president of the National Blogger's Club, an organization established to support bloggers, recently was targeted by an anonymous website which posted the address of his mother's home in Forth Worth, Texas, along with a picture of the house. Akbar and other bloggers believe the website, "Breitbart Unmasked," is linked to Kimberlin.
The National Blogger's Club recently started a relief fund to help ease the financial woes of bloggers who are undergoing lawsuits, including one lawsuit by Kimberlin against blogger Aaron Walker, and Akbar believes the anonymous post of his mother's home address was a response to the creation of this fund.
"They decided to take this from a discussion about me trying to help some members of my club, and they tried to disable us," Akbar said.
Akbar and his mother are cooperating with the Tarrant County District Attorney's office regarding the incident.
Kimberlin denied he was responsible for the post, even saying that he does not maintain any online presence and said he and his family have been victims of threats themselves and accused the bloggers of constructing a "false narrative" about him.
"I don't blog, I don't comment, I don't tweet on any blogs at all.  This is a right-wing attack on me and my organizations and it's a smear job. It's a swift boat action against us," Kimberlin said. "What they're doing is an obstruction of justice and it's defamatory.  We're cooperating with the authorities in this matter.  They have engaged in a massive smear campaign against us that has resulted in death threats to me and my family and to others associated with us."
The FBI has investigated a number of SWAT-ting incidents in the past.  In 2009, Carlton Nalley was sentenced to nine years in federal prison after pleading guilty to offenses related to a SWAT-ting conspiracy in Fort Worth, Texas.