Dreams From My Father – The Movie on DVD
A Story of Reds and Deception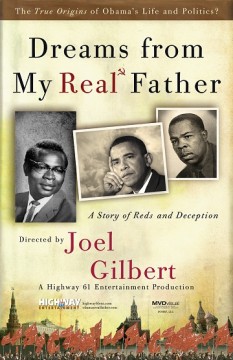 At age 18, Barack Obama admittedly arrived at Occidental College a committed revolutionary Marxist. What was the source of Obama's foundation in Marxism?
Throughout his 2008 Presidential campaign and term in office, questions have been raised regarding Barack Obama's family background, economic philosophy, and fundamental political ideology.
Dreams from My Real Father is the alternative Barack Obama "autobiography," offering a divergent theory of what may have shaped our 44th President's life and politics.
In Dreams from My Real Father, Barack Obama is portrayed by a voiceover actor who chronicles Barack Obama's life journey in socialism, from birth through his election to the Presidency.
The film begins by presenting the case that Barack Obama's real father was Frank Marshall Davis, a Communist Party USA propagandist who likely shaped Obama's world view during his formative years. Barack Obama sold himself to America as the multi-cultural ideal, a man who stood above politics.
Was the goat herding Kenyan father only a fairy tale to obscure a Marxist agenda, irreconcilable with American values?
This fascinating narrative is based in part on 2 years of research, interviews, newly unearthed footage and photos, and the writings of Davis and Obama himself. Dreams from My Real Father weaves together the proven facts with reasoned logic in an attempt to fill-in the obvious gaps in Obama's history.
Is this the story Barack Obama should have told, revealing his true agenda for "fundamentally transforming America?" Director Joel Gilbert concludes, "To understand Obama's plans for America, the question is 'Who is the real father?'"

Click on the button to order your copy today.
$14.95
________________________________________________
Or by MAIL. Add Shipping and Handling:
USA $4, International $6
Highway 61 Entertainment
365 E. Avenida de Los Arboles
Suite 1000
Thousand Oaks, CA 91360
________________________________________________
Books Published by Stand Up America
Stand Up America's founder, MG Paul E. Vallely US Army (Ret.) himself a published author and the staff at SUA have published many books from a variety of authors. These include educational volumes, novels, historical works, and titles based upon current events. I fyou have a book you are seeking to be published, SUA may be the answer for you. In this day and age of self-publishing, we can also guide you through the process and help you understand how it works.
As we continue our work on upgrading our site, we ask your patience until we finalize the store site to purchase the great items soon to be available listed below. Check back with us frequently as we will announce the full opening of the SUA Store.
Apparel/Hats
SUA  apparel includes hats, t-shirts, and more! Items are being added all the time, and we want you to be able to wear your patriotic gear boldly. Excellent gift ideas for the patriot in your family, or in your circle of friends, co-workers, and acquaintances.
Flags/Banners
Show everyone what you think by flying the SUA banners, flags, bumper stickers, pins, and more.