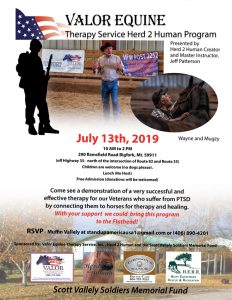 Stand Up America U.S. Foundation and The Scott Vallely Soldiers Memorial Fund are now supporting The Valor Equine Therapy Service Herd 2 Human Program for our veterans and first responders.
Equine Assisted Therapy has shown to be very effective in treating patients, including combat veterans and first responders, with PTSD, depression, anxiety, attention-deficit/hyperactivity disorder, as well as behavior disorders.
Valor Equine Therapy Services, Inc. (V.E.T.S.) is a Montana based 501(c)(3) not-for-profit corporation established to help veterans and first responders suffering from post-traumatic stress disorder (PTSD) and/or traumatic brain injury (TBI).
Statistics show that horses calm the nerves, lower blood pressure and, in general, relieve stress.  Our veterans and first responders will be under the watchful eyes of trained equine professionals.
The goal for VETS is to establish a peaceful, serene atmosphere on a bucolic ranch situated in Northwestern Montana.  This will enable the veterans and first responders to "get away from it all" and relax in a rural setting, enjoying the benefits of a one-on-one relationship with a special horse.  Veterans and first responders will be housed on the ranch for a period of time to allow them to "de-stress" from all of life's challenges.  VETS will offer programs such as, but not limited to, woodworking, furniture making, ornamental welding, photography, gardening, cooking, and financial counseling.
Mission Statement
To provide a resource for the ever-growing demand for professional assistance in mitigating the damaging effects of post traumatic stress disorder (PTSD) and/or traumatic brain injury (TBI) suffered by military veterans, law enforcers, firefighters and EMT responders.  Equine Therapeutic Programs (ETPs) are supervised by professional equestrian instructors who teach wounded veterans and first responders how to interact, react, and care for a horse.
NONPROFIT TAPS INTO HEALING POWER OF HORSES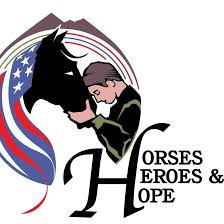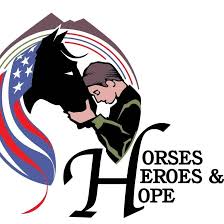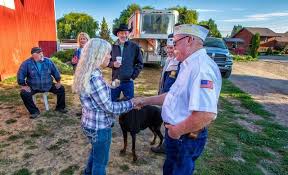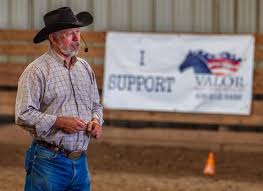 Equine Assisted Therapy Research Abstract