Special Edition – Time To Declare War
Part of the Problem
ISIS Takes Responsibility  
Who Is Omar Mateen?
ISIS Strikes Paris Again
Say What?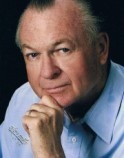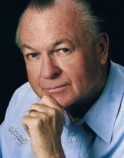 Maj. Gen. Paul Vallely served 32 years in the Army, having retired as Deputy Commanding General, US Army, Pacific.
Stand Up America is a network of patriotic Americans who wish to return America to its Constitutional roots.
General Paul Vallely and the SUA staff are committed to educating their followers and assisting pro-active groups in righting the ship of state.  Your donation is important to us and will assist in this historic effort.  Please join us today.
Editor: Ray DiLorenzo
Enough Is Enough
Time To Declare War!
America's Call To Action
"Islamic attacks are now beyond normal police actions.  Congress must declare war and use all necessary military and police resources to destroy the Caliphate at home and abroad.  Enough is enough of political correctness."
Maj. Gen Paul Vallely, Ret.
Spare us the candle light vigils, the bromide speeches, the phony acts of outrage.  We are at war.  Whether we accept it or not, war is upon us.  No more excuses, no more reaching out, no more TV psychologists in prime time giving their analysis of the latest killer's mental state.
Millions of Islamists in the world want us DEAD and they are not on the run, they are on the move
A Major Part of the Problem
Liberals have reached their zenith in our nation.  They are morally, spiritually, economically and politically bankrupt.  Their words are hollow.  They have nothing more to say to us.
We will not surrender our freedoms to them.  We will not hand over our nation to them. Under the false promise of safety and economic security, they have gutted our military, nearly bankrupted us and continue to watch helplessly as our people are being murdered wholesale under the guise of political correctness.
Their Marxist cousins will no longer hold sway with our culture or institutions.
With stealth and cunning they have taken over our schools, our universities, our once independent media, our great political parties.
We will decide what is real by what we see, not by what we hear.
We will determine our future by way of our cherished Constitution, not their ever-changing destitute values.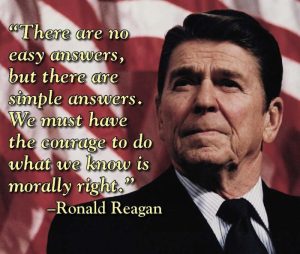 Stand Up America depends on your support to help the many organizations that work tirelessly to preserve our nation as founded.
News You Can Use
ISIS Announced Its Intention To Attack Florida
According to Shoebat.com, three days before the massacre, ISIS announced its intention to attack the U.S., saying "We will attack Florida."
What We Know About Omar Mateen:
Omar Mir Seddique Mateen, born 11/16/86 to Afghan parents, lived in Ft. Pierce, St. Lucie County, Florida.  He registered as a Democrat on 7/19/2006, voter ID #114484524.  His race was listed as 'Other.'
Mateen's father is Mir Seddique aka Saddique Mateen, a supporter of the Afghan Taliban and a candidate for the presidency of Afghanistan.
Omar Mateen had a Security Officer License #D2723758 and a Statewide Firearms License #G 2704169.  We do not believe this is a concealed firearm permit.  This is a license to open carry only when on duty as a security guard. We do not know if Omar had a concealed carry permit.  Florida concealed carry permits are not public record.
Mr. Mateen traveled to Saudi Arabia on two occasions, in 2011 and 2012, both as an Islamic pilgrimage. The FBI investigated Mateen for 10 months in 2013 because of inflammatory statements that he made to colleagues and claiming "family connections to Al Qaeda."  The FBI interviewed him twice, spied on his communications and followed him.  The FBI ceased investigations deciding he had no terror connections.
During the shooting, Officers flooded the club while Mateen eventually retreated to a bathroom where he took several club-goers hostage.  Fifteen other people were hiding in an adjacent bathroom.  Negotiations got underway as a SWAT team took position in the adjacent bathroom.  Mateen was described as cool and calm while dealing with negotiators.  Three hours later the scene had stabilized as police spoke to Mateen.  When Omar began mentioning bombs and explosives, the police made their move.  After an explosive device by police proved ineffective, the police rammed the wall with an armored vehicle.  Hostages began pouring out with Mateen following. Mateen was shot dead by 11 cops.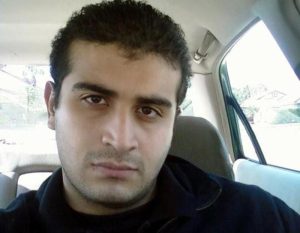 Just In – ISIS Strikes Paris Again
Last night, an Islamic extremist wielding a knife, shouting Allah Akbar, butchered a police chief and his wife.    The chief was stabbed nine times at his front door.  After stabbing the policeman, the assailant forced his way into the home. Luckily, the couple's three year old boy was spared after police stormed the house and shot and killed the assailant.  It has been reported that the terrorist was planning many more killings on that same night.  ISIS has claimed responsibility for the attack.  The murders took place in the Paris suburb of Magnanville.   Allen B. West, Top Right News
Editor's note:  So far, nobody is blaming the knife.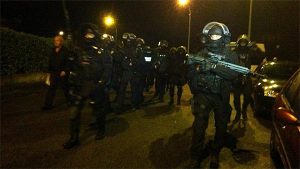 French police patrol Muslim area after police chief and his wife were murdered
Say What?
Orlando Massacre –
Obama, Once Again, Blames It On the Guns
Again and again, Obama refuses to blame Islamic terrorism for another Islamic mass murder in America and instead blames guns.   Fox News
Editor's note:  Obama makes a habit of speaking without knowing what he is taking about.  Never mind the terrorist had a license to open carry weapons throughout the state of Florida.   Never mind the killer was yelling Allah Akbar (Allah is greater) during the horrific incident.  Never mind the FBI interviewed him several times. Instead, Obama used the Orlando murders to score cheap political points.  Nothing less than an outrage.   Obama's buzzwords, as usual, ring hollow.  
"You never let a serious crisis go to waste."
Rahm Emanuel (D)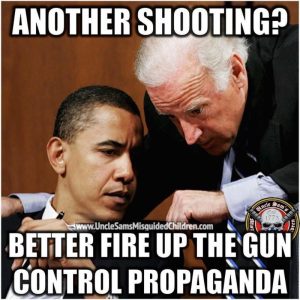 Donate here
Your donation is important to Stand Up America.  It helps us support the many worthy organizations that help restore this great nation.  
Thank you!   
"Islamic terrorism is the handiwork of people who've heeded, not hijacked, Islam."
IIana Mercer
Our Mailing Address is:
P.O. Box 1596, Bigfork, MT  59911