Editor's Note – Once again, the White House and the State Department are misleading the public over Ebola. Many believe they are flat out lying, but you be the judge. One thing is certain, the story always changes with this administration. The State Department denied that there was any plan to bring non-citizens here for treatment but there was a problem with that statement.
This time, there is a paper trail and it comes from the top – did they not think we would see it eventually, or did they think they could bring non-American Ebola patients to the USA and then spring it on us after they were already here taxing our system and endangering us all?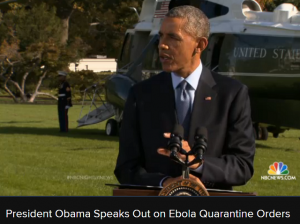 Here is the PDF of that memo: State Dept Ebola Memo
There is some interesting reading on the timing as well from the WHO. There is a primer on the disease and its progression from as far back as March 24, 2014. One important excerpt tells us more here:
The current outbreak in west Africa, (first cases notified in March 2014), is the largest and most complex Ebola outbreak since the Ebola virus was first discovered in 1976. There have been more cases and deaths in this outbreak than all others combined. It has also spread between countries starting in Guinea then spreading across land borders to Sierra Leone and Liberia, by air (1 traveller only) to Nigeria, and by land (1 traveller) to Senegal.

The most severely affected countries, Guinea, Sierra Leone and Liberia have very weak health systems, lacking human and infrastructural resources, having only recently emerged from long periods of conflict and instability. On August 8, the WHO Director-General declared this outbreak a Public Health Emergency of International Concern.
We wonder why the press does not just walk out on people like Jen Psaki at State and Josh Earnest at the White House. They always use some denial tactic, or artifice, or they twist and torture words to tell us one thing, knowing it is untrue or misleading.
They always give themselves some wiggle room because they craft the lies so well and the MSM will just yawn. Who really thinks they will ever be held accountable? You can watch Obama's words on the Ebola crisis here as well. Pay special attention to how he describes the Military protocols versus the public.
If they do bring patients here, how are we supposed to trust they will not endanger us; even our own nurses and doctors coming back home can be trusted. Who trusts the CDC anymore as well? Credibility gap? It's not a gap, it's bigger than the Grand Canyon, and where is that vaunted savior, the Ebola Czar?
Internal memo pushes bringing non-citizens to US for Ebola treatment; State denies plan
By Mike Emmanuel – Fox News
A memo obtained by Fox News indicates the Obama administration has been considering allowing non-American Ebola patients into the U.S. for treatment – though a State Department official on Tuesday denied any such plans.
The document was obtained by Fox News from a Capitol Hill source, who said it is a memo prepared by the State Department. The top of the document is marked "sensitive but unclassified – predesicional (sic)."
The "purpose" of the memo states: "Come to an agreed State Department position on the extent to which non-U.S. citizens will be admitted to the United States for treatment of Ebola Virus Disease."
The document goes on to discuss – and advocate for — devising such a plan. The memo recommends that "State and DHS devise a system for expeditious parole of Ebola-infected non-citizens into the United States as long as they are otherwise eligible for medical evacuation from the Ebola affected countries and for entry into the United States."
Explaining that recommendation, the memo says the U.S., for instance, has an "obligation" to help non-citizen employees of U.S. agencies and U.S.-based private firms. It says the U.S. "needs to show leadership and act as we are asking others to act by admitting certain non-citizens into the country for medical treatment for Ebola Virus Disease (EVD) during the Ebola crisis."
The memo was obtained after House Judiciary Committee Chairman Bob Goodlatte, R-Va., wrote to Secretary of State John Kerry and Homeland Security Secretary Jeh Johnson a week ago asking if either department was formulating a plan to allow non-U.S. citizens with Ebola to come to the U.S. for medical treatment.
Goodlatte also told Fox News Monday night that his office had received "information from within the administration" that such plans were being developed. So far, only American Ebola patients have been brought back to the U.S. for treatment from the disease epicenter in West Africa.
Goodlatte warned that expanding that policy could put the country at more risk.
"Members of the media, my office have received confidential communications saying that those plans are being developed," Goodlatte said Monday night. "This is simply a matter of common sense that if you are concerned about this problem spreading … we certainly shouldn't be bringing in the patients."
The administration, though, has denied planning to do so.
A State Department official said Tuesday that they're only talking about letting other countries use U.S. planes to transport Ebola patients to their own home countries.
"There are absolutely no plans to MEDEVAC non-Americans who become ill from West Africa to the United States," the official told FoxNews.com. "We have discussed allowing other countries to use our MEDEVAC capabilities to evacuate their own citizens to their home countries or third-countries, subject to reimbursement and availability. But we are not contemplating bringing them back to the U.S. for treatment.
"Allegations to the contrary are completely false."
And on Tuesday, White House Press Secretary Josh Earnest was asked about the matter and said "that certainly hasn't happened so far — I don't know of any plans to do that."
A Goodlatte aide told FoxNews.com that "someone in one of the agencies" initially contacted their office with the tip.
In his letter last week, Goodlatte asked whether the administration is crafting such a plan, seeking details and communications among their employees.
The conservative watchdog group Judicial Watch also reported, shortly before Goodlatte sent the letter, that the administration was "actively formulating" plans to bring Ebola patients into the U.S., with the specific goal of treating them "within the first days of diagnosis."