Editor's Note – Where is the coverage by the western media, especially the televised main stream on these incidents? They are certainly live with video during illegal flotillas' attempts to break blockades. Where is the condemnation of Hamas for launching against civilians? If an IDF retaliatory strike causes the death of a civilian, you will see that in moments. Utter hypocrisy.
Gaza terrorists fire 22 rockets at Sderot area, hitting school and factoryAir Force strikes two terrorist cells in Gaza; IDF chief calls for urgent meeting to consider military's next steps
By TIMES OF ISRAEL STAFF and AP
Gaza-based terrorists fired 22 rockets into southern Israel on Saturday, causing damage to a school and factory. The latest attacks bring the total number of rockets and other projectiles fired from the Strip to approximately 150 over the past six days.
The majority of the rockets launched Saturday were aimed at the southern city of Sderot, but several landed in other parts of the Eshkol, Hof Ashkelon and Shaar Hanegev Regional Councils, which border the Strip.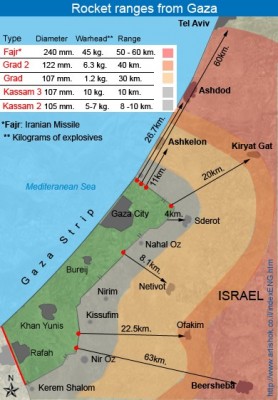 One of the rockets exploded in Sderot's industrial zone, causing moderate-to-severe injuries to one man and damaging a factory.
According to Magen David Adom paramedics who arrived at the scene, the 50-year-old man was hit in the neck by shrapnel from the explosion.
Another rocket caused damage to a school in Sderot, but there were no reports of injuries. The school had been reinforced against rocket fire.
Several area residents were treated for shock.
Iron Dome shot down five of the incoming rockets, according to Israel Radio.
Six of the rockets landed around neighboring Netivot.
The IDF has instructed local residents to remain no more than 15 seconds away from a safe, enclosed space.
IDF Chief of Staff Benny Gantz called for an urgent meeting of senior officials to discuss the military's next steps.
Sderot mayor David Buskila convened a special meeting Saturday morning with police and Home Front Command officials. He demanded that the government restore calm to his city.
"We have known this reality for 11 years already," Buskila said. "We demand that quiet be restored to the city. At least the relative calm, which has allowed us to do many good things."
The mayor called on the government to act, and said that the city's center for victims of stress and anxiety was open and had already received several residents.
During a visit to Sderot and neighboring towns surrounding the Gaza Strip on Saturday, Home Front Defense Minister Matan Vilnai said "Israel cannot remain silent following the events in the South in recent days."
He said Israel holds Hamas fully responsible for everything happening around the Gaza Strip, and that Israel will continue to use a heavy hand against anyone who tries to escalate the situation.
In an afternoon strike, the Air Force targeted and killed a terrorist in northern Gaza near Jabaliya who was making final preparations for a rocket launch. Later, the IAF bombed a second terrorist cell en route to launching rockets outside Gaza City. Palestinian sources reported one dead, 10 injured, and damage to nearby buildings.
Israeli Air Force jets bombed three Hamas military bases in the Strip early Saturday morning. Palestinian sources reported that at least 20 people were injured in the airstrikes.
The IDF Spokesperson said the strikes against targets in northern and central Gaza came in response to the ongoing firing of rockets at Israel over the past several days.
Gaza health official Ashraf Al Kedra said that a boy was killed in an airstrike Saturday morning in Khan Younis, but the IDF responded unequivocally that it did not attack that part of the Strip. Palestinian rockets often misfire and explode inside Gaza.
Palestinian terrorists fired a total of six rockets at Israel on Friday, causing no damage or injuries. Twelve rockets hit Israel on Thursday, according to the spokesperson's office.
Multiple IAF strikes carried out Friday against terrorists operating in the Strip killed two and injured at least four others.
According to Palestinian sources, the IAF targeted a motorcyclist in one of the airstrikes, who was driving northwest of Gaza City, killing him.
Earlier on Friday, a terrorist was killed and two others injured as they prepared to fire rockets into Israel near the al-Bureij refugee camp in the Strip, reported the IDF Spokesperson.
Palestinian officials in Gaza reported that the terrorist killed in the strike on al-Bureij belonged to a pro al-Qaeda, fringe Salafist Islamist group, which Israel holds responsible for a deadly cross-border attack from Egypt's Sinai on Monday, in which an Israeli civilian was killed.
Israeli airstrikes on Gaza terrorist targets have killed at least six Palestinians since Monday.
A Hamas spokesman said on Friday that his organization would respond severely to any aggression on Israel's part and rejected reports that a ceasefire had been reached between the sides.
On Thursday, Israeli Ambassador to the UN Ron Prosor lodged a formal complaint with the Security Council and UN Secretary General Ban Ki-moon regarding the recent barrage of attacks from the Strip. He called on the international community to recognize Israel's right to self-defense.
"So long as there are no quiet towns in southern Israel, Gaza won't be quiet either," Prosor said. He also protested what he said was the fact that Israel's compliance with UN demands to allow aid into Gaza is met with rocket fire.