Editor's Note – How do you sell a loser program? Get kids and librarians to push the product, try to get the NFL, NBA and Hollywood to advocate it, and we are sure these are not the last ploys the administration is going to try and employ to sell the Obamacare 'swamp properties" to America.
Fortunately the NFL said no, flatly:
On Friday, the NFL indicated that the league had no desire to help the Obama administration sell and implement Obamacare this fall. NFL spokesman Brian McCarthy emailed the Washington Examiner's Philip Klein to say the NFL had no plans to help promote Obamacare:

We have responded to the letters we received from members of Congress to inform them we currently have no plans to engage in this area and have had no substantive contact with the administration about PPACA's implementation.
It is very disconcerting to many Americans that two years after ramming the PPACA down our throats, we are seeing what Nancy Pelosi inadvertently indicated we would, "what's in it"! The "what's in it" is a train wreck, and expensive wreck and come this October Americans are all going to see what it means to them, especially as they file their tax returns in 2014.
The administration knows this all too well and the Secretary of HHS, Kathleen Sebelius has already been caught pressuring the very industry she regulates and grants are flowing in many states, including California and its kids.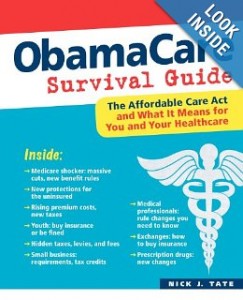 Lest we forget amidst the several other scandals currently blowing up in the Obama administration's face (it is rather difficult to keep up), last Friday we learned that Health and Human Services Secretary Kathleen Sebelius has been hitting up health-care industry executives and groups, directly asking them to make donations to the non-profits that are working to enroll uninsured Americans and increase public awareness of ObamaCare's benefits. (Read more here.)
And then there are the librarians:
The nation's librarians will be recruited to help people get signed up for insurance under President Barack Obama's health care overhaul. Up to 17,000 U.S. libraries will be part of the effort to get information and crucial computer time to the millions of uninsured Americans who need to get coverage under the law. (Read more here.)
If it is so good for America, why do they have to sell it to America since its already law? The answer is easy, its a lemon and no one wants it. Its just so telling when a book named "ObamaCare Survival Guide", not a very supportive book, was number one on the best sellers list.
L.A. schools use your tax dollars teaching students to sell ObamaCare at home
By Andrew Malcolm – Investors.com
With great excitement, the Los Angeles Unified School District has designed a nearly $1 million program to train teenagers to promote the glories of ObamaCare to parents, relatives and friends at home.
The state's health insurance exchange, Covered California, is handing $990,000 to LA schools, along with federal grants totaling 36-million more U.S. taxpayer dollars to districts around the most populous state.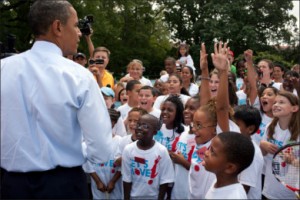 The goal is to train millions of student messengers statewide to sell the idea of government-subsidized health insurance to parents and relatives at home and to get more people enrolled in ObamaCare.
Taxpayer-paid public school staff will also be used to phone students' homes urging enrollment under Obama's Affordable Care Act. And they will be used to consume precious class instructional time to teach the students all about the healthcare program that the Democrat Congress did not read before passing in 2010.
The use of California school children to peddle ObamaCare is part of a broad, desperate promotional effort by the Obama administration to combat the controversial healthcare program's declining support in the public and among Democrats, especially those facing reelection efforts next year.
One of ObamaCare's key congressional architects, Sen. Max Baucus of Montana, now calls the plan "a huge train wreck." He decided against seeking reelection next year.
A Fox News Poll this week found sizable majorities fear the act's impact on their family and a record number now want the entire measure repealed. Results showed 39% (a new high) favor total repeal while another 19% want parts killed. Only 19% find the act about right.
A new Gallup Poll reports nearly half of Americans (47%) believe ObamaCare will make the country's healthcare worse.
Previous columns here have reported the steep climb to near-record levels in the nation's temp job sector as employers shed full-time workers to avoid the massive fines and new costs of ObamaCare. Additionally, the law's 30-hour work-week cutoff is apparently driving thousands of businesses to cut employees' work schedules to 29 or fewer hours.
Los Angeles' immense indoctrination effort has absolutely nothing to do with what many Americans have long associated with the real job of taxpayer-funded public high schools, attempting to teach subjects such as math, history, trades or even, say, reading at a level above eighth grade.
Officials at Covered California said enforcement of the grants would be strict with monthly, quarterly and annual reports required on something. They added that if unspecified targets measured by unidentified means are not met, then additional reports on something would be required.
A spokeswoman for the LA school district proudly said the student ObamaCare scheme was actually a pilot program to see how well teenagers serve as messengers of government-sponsored information.
The goal, she said, is to determine "whether young people can be trained as messengers to deliver" a broad array of school and government-sponsored messages to family and friends. Now, there's a student indoctrination idea that sounds like some country other than the United States.
If they prove proficient at influencing their own families to believe material sent home from schools, she said, the teens will be used to deliver numerous other official messages to adults in their home and neighborhoods. (Read more here.)