Campaign Contexts: The Kitchen Table Issues
By JED BABBIN – American Spectator
We know the mess Obama has made of them. But what about Romney's understanding?
We've heard a lot about "context" lately. It's the first refuge of a scoundrel: what I said doesn't mean what you think I said if you take it in context with everything else I said, whenever I said it.
But there's a second part of the "context" issue, and it's more important than the first. The second part is the context placing what politicians say into the issues that are in voters' minds. How far apart is the rhetoric from what people really care about?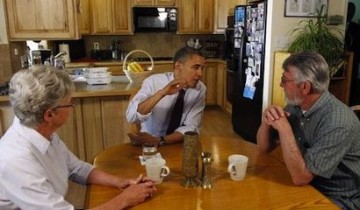 No longer does anyone claim the "context defense" for Joe Biden. When Mr. Biden he speaks, there is either no context at all, or there are so many unrelated concepts strung together that no one can keep track of them. Biden plays with words like a musician who changes the key he's playing in three times in the course of one song.
Case in point: last week, Joe started with an accusation that Romney and Ryan would "unchain Wall Street" and ended the same phrase (sentence? paragraph? Who knows?) by telling an audience (about of which half were black), "…they'll put y'all back in chains." Only Joe would string together an accusation the first half of which is class warfare and the second half is the threat of a return of slavery. Rudy Giuliani had it about right in saying Biden evidently lacks the mental capacity to serve as vice president or president.
The context defense is the media's favorite to explain away Obama's "you didn't build that" comment, which is the sum total of his total faith in government and his rejection of free market capitalism. For the record, here's the entire quote:
There are a lot of wealthy, successful Americans who agree with me — because they want to give something back. They know they didn't — look, if you've been successful, you didn't get there on your own. You didn't get there on your own. I'm always struck by people who think, well, it must be because I was just so smart. There are a lot of smart people out there. It must be because I worked harder than everybody else. Let me tell you something — there are a whole bunch of hardworking people out there.

If you were successful, somebody along the line gave you some help. There was a great teacher somewhere in your life. Somebody helped to create this unbelievable American system that we have that allowed you to thrive. Somebody invested in roads and bridges. If you've got a business — you didn't build that. Somebody else made that happen. The Internet didn't get invented on its own. Government research created the Internet so that all the companies could make money off the Internet.
The full quote doesn't change the meaning of the excerpt. Obama clearly said that government, not smart, hard-working business people, is responsible for the success of businesses large and small. This is a kitchen table issue. Small business owners, such as Mr. Chris McMurray of the "Crumb and Get It" bakery in Radford, Virginia, understand that. Mr. McMurray declined a visit by Mr. Biden and his entourage because of Obama's "you didn't build that" remark, noting that his wife had just worked twenty-four hours straight.
Mr. McMurray understands that people expect that America's economy is supposed to reward hard work and initiative. It's an issue that is worrying a lot of Americans this year and not only because of Obama's remark. Our economic system has been fundamentally changed in the past three and a half years by Obama's spending, by the enactment of Obamacare (which gave the government control of about 16% of our economy) and by the over-regulation of our economy by Obama's federal agencies.
Kitchen table issues such as that are the real context of the presidential race. And neither candidate has boiled his messages down to explain how they will solve these issues.
It's not simply "the economy." The economy is an amorphous concept that people think about only in terms that affect themselves. To boil it down the candidates have to reduce it to those terms: how to bring unemployment down, how to revive the housing market, how to make gasoline and other forms of energy cheaper and how to make Social Security and Medicare solvent.
And the kitchen table issues go beyond the economy. They are about how to preserve personal freedom that is under attack by the government everywhere from the entry gates at airports to the ability of businesses, both small and large, to function in the overburdening regulatory environment. They're about how all Americans will be able to afford and obtain the best medical care. They're about how sequestration may cost one million defense industry jobs and why Obama's Justice Department is suing Ohio to block early voting for military members. And it's about voters' growing distrust of the gatekeeper media who are spending each day proselytizing for Obama.
Romney says the answer to unemployment is to spur economic growth by relieving the regulatory burden and reducing tax rates for business and individuals. But he hasn't explained how that will work, or explained the many economic studies supporting his idea. Obama attacks Romney's plan, but hasn't presented any new ideas. He's still insisting on more spending, more debt, and that tax hikes are the answer.
We know — from the Social Security and Medicare Trustee's report — that Medicare Part A is bankrupt now and Part B will be bankrupt as early as next year. Social Security will be bankrupt about ten years later. Both Obama and Romney are now arguing about whether senior citizens will be hurt by Romney's plan, which is written to prevent anyone over 55 from suffering any reduction in benefits. No one — except Paul Ryan — is talking about how to make Social Security and Medicare solvent.
Romney spent most of last week trying to differentiate his economic plans from Paul Ryan's specifics. Going into the Republican Convention next week, he needs to be able to explain a unified, simple plan that he and Ryan can run on. He needs to say, specifically, how he will balance the budget by the end of his second term. Both men need to stay on the attack against Obama's commitment to government solutions to every problem we have.
In an August 12 editorial the New York Times wrote of Paul Ryan's budget, "By cutting $6 trillion from federal spending over the next 10 years, he would eliminate or slash so many programs that the federal government would be unrecognizable." But isn't that the point of this campaign? We'd love it if the government as it now stands were cut back to the point that the liberals didn't recognize it.
That's a promise to make, and to keep.