More retired U.S. generals and admirals line up for Trump
By John Stryker Meyer/JNS.org
The number of retired U.S. military generals and admirals endorsing Donald Trump in an open letter has grown from 90 to 162, says the only Holocaust survivor signing it, retired Green Beret Maj. Gen. Sidney Shachnow, a key proponent behind the effort.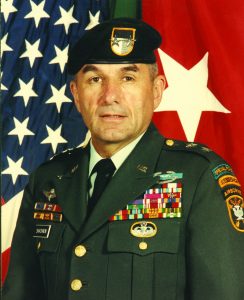 Shachnow and retired Rear Admiral Charles Williams organized the letter and signature collection earlier this month, citing Trump's commitment to rebuilding the military, securing the borders, defeating Islamic supremacy and restoring law and order.
Fourteen Medal of Honor recipients are among the 72 new signatories, Shachnow told JNS.org from his North Carolina home.
Shachnow, a 40-year Army veteran, who spent 32 of those years with U.S. Army Special Forces – the Green Berets, said he took the "unprecedented" step to get the Trump support letter written and circulated publicly because he felt obligated to speak up. "Historically, I've felt that we're soldiers and we should keep our nose out of politics," he said. "Today, however, we have two candidates who can affect our country for a generation or more, with the balance on the Supreme Court and rebuilding our military being major issues to our national security."
His deep concern for the future of America is reflected in Shachnow's compelling life story.
Holocaust Survivor
During WWII, he was imprisoned in a Nazi concentration camp in his native city of Kovno, Lithuania from age 7 to 10. Only five percent of the people in the Kovno concentration camp survived the war. He and his family endured a 2,000-mile, six-month trek across war-torn Europe to eventually land in Salem, Mass.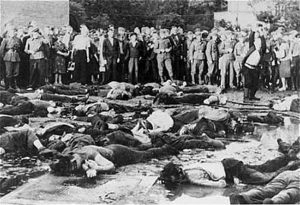 The massacre of 68 Jews in Kovno Ghetto in June 1941. Credit: Wikimedia Commons.
As a Green Beret, he was assigned to the ultra-top-secret Detachment "A" (classified designation: 39th Special Forces Detachment) beginning in 1956 through 1984, when it was called the Physical Security Support Element, Berlin (classified designation: 410th Special Forces Detachment).
Shachnow, now 82, participated in clandestine missions behind enemy lines and later commanded secret missions conducted by Green Berets from Det. "A" and the 410th.
One of his favorite stories while serving in Det. "A" as a young major, stems from an unauthorized mission that he and a few non-commissioned officers took into the subterranean network of underground tunnels and sewers to get the upper hand on East German police.
"We were told the subterranean system was off limits, but I decided in my infinite wisdom that we'd go down there anyway…it was like a desert in that there were no points of reference," he said. "We ended up using the Hansel and Gretel method of keeping track of where we had been."
The unauthorized mission brought them into East Germany, and also brought Shachnow before the top commanding general for West Germany, where he was reprimanded for the mission. The reprimand, however, didn't slow down his service nor his promotions.
Shachnow was the classic Special Forces officer, said retired Chief Warrant Officer James Stejskal, who served two tours of duty with Det. "A" and is the author of the soon-to-be-published book, "Special Forces Berlin: Clandestine Cold War Operations of the U.S. Army's Elite, 1956-1990."
Stejskal said the Det. "A" missions were "classic OSS (WWII's Office of Strategic Services, the predecessor to the CIA) Jedburgh missions, run deep behind enemy lines.
Cold War Command
"Keep in mind," he said, "during the Cold War, there were only a hand full of us stationed in West Berlin surrounded by more than a million Russian and communist East German military and police in the Warsaw Pact, on a wartime footing."
Stejskal continued, "General Shachnow came up through the system, survived unreal dangers, both from the Nazis and the Soviets, he took that knowledge and turned it into a successful career where he never forgot his men, his mission and he respected his men, listened to them and let them do their jobs."
Shachnow was the commanding general of the Berlin Brigade when the Berlin Wall, which the Communists began building in 1961, began to be torn down on Nov. 9, 1989, and it's where he had a clarion moment in his life.
He was sitting with his Russian counterpart from the Soviet Army and senior KGB officers. "There was a moment when they were laughing and I asked what was so funny," Shachnow said. "The general pointed out the personal irony for me then. I was a Holocaust survivor living in the villa that Hitler's Finance Minister, General Fritz Reinhardt, owned and which was Hermann Goering's headquarters, and I was having dinner with my Russian counterpart and senior KGB officers. The general said, 'Here you are, a Jew. You were liberated by us, by the Russians (from the Kovno concentration camp). Now you are defending the Germans who had incarcerated you and committed atrocities against your people while you are getting ready to fight us, your new enemy.' I'll never forget that."
Shachnow remains humble to this day. In his book "Hope and Honor," he wrote about having worked with Communists to transition from a military-seize footing in East Germany to an open society. When he was awarded the Distinguished Service Medal for his exceptionally meritorious leadership during that period, from December 1989 to August 1991, from Army Gen. John M.D. Shalikashvilli, Shachnow wrote: "I stood proudly as General Shalakashvilli awarded me the Distinguished Service Medal. But, I was even more grateful for the next award" when he presented the Army's Outstanding Civilian Service Medal to his wife, Arlene, for her devotion and care of military members serving in Germany during those tumultuous years.
John Stryker Meyer is a combat veteran, who served two tours of duty during the Vietnam War with Special Forces serving in the secret war in Laos, Cambodia and N. Vietnam under the Military Assistance Command Vietnam – Studies and Observations Group (SOG). He's the author of Across the Fence: The Secret War in Vietman and co-author of On the ground: The Secret War in Vietman.
America First Million Member Sign-Up
Please join us in our commitment to promote American exceptionalism, freedom, our Constitution,  our American way of life, and our safety and security by making a donation and subscribing to our periodic newsletters and messages by donating below.