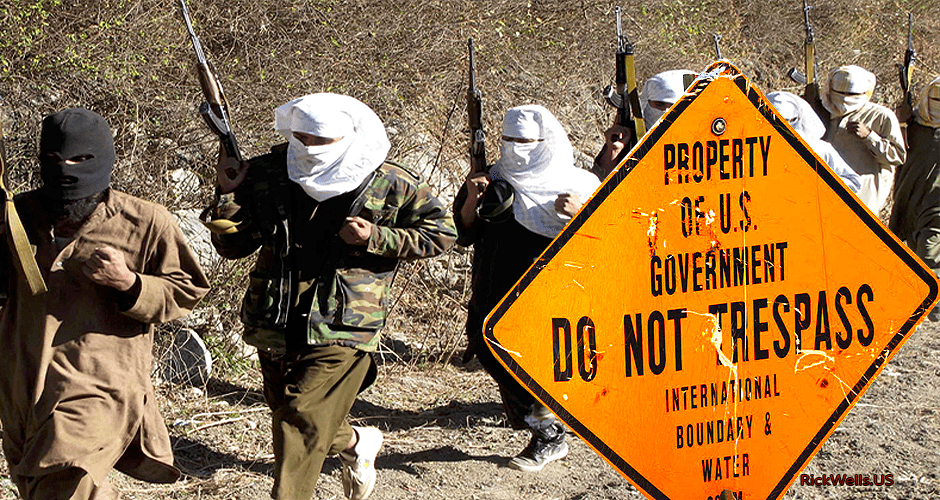 Stand Up America Foundation has intel from its extensive network on the smuggling of long guns into the United States from Mexico just before the 2018 Congressional elections as well as more intelligence concerning the safety and security of the United States and its citizens.
From our friends at Breitbart. A reminder.
Report: Illegal Migrants from Terror-Linked Countries Surging at Southern Border
U.S. officials are trying to establish closer cooperation with various Latin American nations to combat an increase in the number of illegal migrants from Asia, Africa, and the Middle East attempting to sneak into the United States.
Between October 2015 and May 2016, the Customs and Border Protection (CBP) agency, a component of the U.S. Department of Homeland Security (DHS), detained 5,350 African and Asian migrants along the U.S.-Mexico border, according to Reuters.
The apprehensions of illegals from Africa and Asia during that period marks an increase from those that took place in all of 2015 (4,261) and 2014 (1,831).
In its report, Reuters highlighted attempted entries into the U.S. by individuals from Pakistan, Syria, and Afghanistan, which the U.S. considers to be terrorism-linked countries.
Most countries considered by the U.S. government to be linked to terrorism are located in Asia, Africa, and the Middle East. American border authorities are trying to stop the illegal migrants at the Mexico border with Guatemala, before they reach the United States.
Reuters reports:
U.S. agents deployed to an immigration facility on Mexico's southern border have vetted the more than 640 migrants from countries outside the Americas who have been detained at the center since October 2015, according to U.S. Department of Homeland Security (DHS) documents reviewed by Reuters…

The U.S. agents' findings come as Mexican immigration data show 6,342 Asian, African and Middle Eastern migrants were apprehended trying to enter Mexico in the first six months of this year. That was up from 4,261 in all of 2015, and 1,831 in 2014.

U.S. border apprehensions point to the same trend. Between October 2015 and May 2016, U.S. agents apprehended 5,350 African and Asian migrants at the U.S. Southwest border. That's up from 6,126 in all of fiscal year 2015 and 4,172 in all of fiscal year 2014.
"The reality is that the vast majority of the people that Mexico encounters that are extra-continental will eventually end up on our border," an unnamed official from CBP, told Reuters.
The Reuters report came soon after Central American authorities dismantled a human trafficking network dedicated to smuggling illegal migrants into the United States from terror-linked countries in Africa, Asia and the Middle East.
Moreover, the top American military official in Latin America and the Caribbean, U.S. Southern Command (SOUTHCOM) chief Navy Adm. Kurt W. Tidd, recently warned that there are various networks in his area of responsibility that specialize in trafficking illegals into the United States from countries affiliated with terrorism.
He noted that both the Shiite Lebanese terror group Hezbollah, an Iranian proxy, and the Sunni Islamic State (ISIS/ISIL) are known to operate in the region.
Reuters points out:
Washington is seeking closer coordination with several Latin American countries to tackle a jump in migrants from Asia, Africa and the Middle East who it believes are trying to reach the United States from the south on an arduous route by plane, boat and through jungle on foot…

The migrants often fly to Brazil, obtain fake passports there, and are smuggled to Panama before heading through Central America to Mexico's porous southern border, according to transcripts of 14 interviews conducted at the center and other internal briefing documents seen by Reuters…

U.S. concerns about potential security risks from migrants using the unusual and circuitous southern route have been growing in recent years, following a string of Islamic State-inspired attacks in the West and the surge in Syrian refugees fleeing that country's civil war.
Breitbart Texas previously released leaked documents from CBP showing that hundreds of individuals from 75 countries outside the Americas, including some compromised by terrorist organizations, were attempting to sneak into the United States through the southern border.