United We Stand 911.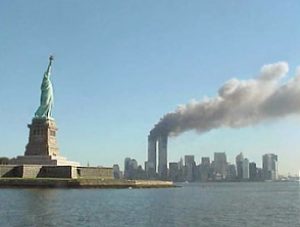 Editor's Note: Preamble and article from our great friend and regular SUA contributor Michael Cutler, a retired Senior Special Agent of the former INS (Immigration and Naturalization Service) whose career spanned some 30 years. He has testified before well over a dozen congressional hearings, provided testimony to the 9/11 Commission as well as state legislative hearings around the United States and at trials where immigration is at issue.
From Michael Cutler, Special Agent INS :
As a New Yorker, on that horrific day, my country and my home town were attacked.  On that day the ashes from the conflagration at what would come to be known as "Ground Zero" fluttered down on my neighborhood in Brooklyn and contained, in part, the ashes of my neighbors.
I had participated in a Congressional hearing about the vulnerabilities that visa fraud and immigration benefit fraud create for the United States at a House Immigration Subcommittee hearing on May 20, 1997, roughly four and a half years prior to the attacks of 9/11.  That hearing was one of a number of hearings that were predicated on two terror attacks conducted on American soil in 1993 by radical Islamist aliens who had gamed the visa process and the immigration benefits program- including the amnesty of 1986.
 The rage I experienced on 9/11 has not dimmed in the years that followed because those very same vulnerabilities are not still an issue- but have actually been exacerbated by the failures of our government to secure our nation's borders and effectively enforce our immigration laws.
In fact, the 9/11 Commission, to which I provided testimony, made it clear that failures of the immigration system, including the adjudication of visa applications and the adjudication of applications for immigration benefits enabled terrorists to enter the United States and embed themselves.
Those processes and other components of the immigration system still fail abysmally to protect America and Americans.
These failures are my focus today.
I ask that if you like my commentary that you forward it – and this e-mail, to as many folks as you can.
As Americans, irrespective of race, religion or ethnicity, we are in this battle for survival together.  This is not about being a Democrat, a Republican, a Conservative or a Liberal.  It is not about being an Independent.  
This is about being an American!
Those who advocate for the effective enforcement of our immigration laws are not "Anti-Immigrant" but are "Pro-Enforcement."  To be "Pro-Enforcement" is taking a "Pro-Immigrant"
 position because under our current immigration laws our nation admits more lawful immigrants than all of the other countries on this planet.  Our immigration laws are utterly blind as to race, religion and ethnicity and must finally be effectively enforced!
Tactics of intimidation and deceptive use of language are the stock and trade of the open border anarchists. Anyone who would dare to suggest that our government must exercise caution in admitting aliens in the United States to protect the safety and security of America and Americans are quickly branded "racist" and "nativist". Their objective is to shut down debate and discourse – the hallmarks of true democracies.
Americans must be willing to stand their ground and not be intimidated by false accusations – far too much hangs in the balance! Many people have come to complain that we have become too "Politically Correct" to speak the truth about important issues. My view is that the artful use of language that has been described as examples of political correctness are in fact, examples of Orwellian "Newspeak".
Editor's Note: Michael's reminder about what happens with weak access control:
Reflections on 9/11's Vulnerabilities
The failures that proved key factors in the attacks — and how Obama has exacerbated them.
September 9, 2016
Michael Cutler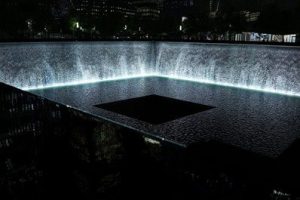 It is hard to believe that 15 years have passed since the terror attacks of September 11, 2001.
What may be overlooked as the news media discusses the attacks of 9/11 is that in 1993, more than 23 years ago, terrorists from the Middle East also carried out two deadly attacks in the United States.
On January 25, 1993 a Pakistani citizen, Mir Aimal Kansi stood outside CIA Headquarters with an AK-47 and opened fire on the vehicles of CIA officials reporting for work.  When the smoke cleared, two CIA officer lay dead and three other were seriously wounded.  Kansi fled the United States and was ultimately brought back to stand trial.  He was found guilty and executed for his crimes. He had applied for political asylum.
Kansi's strategy of fleeing the United States after the attack is one often used by alien terrorists and criminals to evade U.S. law enforcement authorities.  These foreign nationals have a sort of "trap door" they can escape through and all too often, this tactic is successful. In the case of Kansi, however, because of the nature of his crimes, our government took the extraordinary measures of tracking him down and capturing him in Pakistan.  He was apprehended by American law enforcement agents who were assisted by Pakistani officials. The New York Times reported on his capture in an article published on June 18, 1997, "U.S. Seizes the Lone Suspect In Killing of 2 C.I.A. Officers."
On February 26, 1993, a bomb-laden truck was parked in the garage under the World Trade Center complex and detonated. The blast killed six innocent people and injured more than one thousand and inflicted an estimated one-half billion dollars in damages to that complex of buildings just blocks from Wall Street.
That attack was also carried out by alien terrorists who managed to not only game the visa process in order to enter the United States and get past the inspections process at ports of entry, but game the immigration benefits program as well.
On May 20, 1997, I participated in my first congressional hearing. That hearing was conducted by the House Subcommittee on Immigration and Claims and was predicated on those two terror attacks.  The topic of that hearing was "Visa Fraud And Immigration Benefits Application Fraud."
There were a number of additional hearings conducted by the House of Representatives and the United States Senate about the terror attacks of 1993 and fact that aliens seeking to launch terror attacks had been easily able to gain entry into the United States.
On February 24, 1998, just two days shy of the fifth anniversary of the 1993 bombing of the World Trade Center, the U.S. Senate's Committee on the Judiciary, Subcommittee on Technology, Terrorism and Government Information conducted a hearing on the topic, "Foreign terrorists in America : five years after the World Trade Center."
That transcript and the transcript of other hearings have apparently been gathering dust. The hearing made it clear that failures of the immigration system were leaving our nation vulnerable to terrorists from foreign countries and yet, nothing of consequence was done about it.
It is notable that during the hearing Senator Dianne Feinstein hammered failures of the immigration system more than three years before the attacks of September 11, 2001 and included in her testimony this statement:
I am also concerned that we need to strengthen further our immigration laws and procedures to counter foreign terrorist operations. I have grave reservations regarding the practice of issuing visas to terrorist supporting countries and INS' inability to track those who come into the country either using a student visa or using fraudulent documents through the Visa Waiver Pilot Program.
Now, however, when Donald Trump proposes blocking the entry of aliens from countries that sponsor terrorism, he is roundly accused of being an "extremist" by the media and by the Democrats.
Yet Senator Diane Feinstein's comments about the wisdom of issuing visas to aliens from such problematic countries raised no such complaints in 1998.
Feinstein went on to state, in part:
The Richmond Times recently reported that the mastermind of Saddam Hussein's germ warfare arsenal, Rihab Taha, studied in England on a student visa. And England is one of the participating countries in the Visa Waiver Pilot Program, which means, if she could have gotten a fraudulent passport, she could have come and gone without a visa in the United States.
The article also says that Rihab Taha, also known as "Dr. Germ," that her professors at the University of East Anglia in Norwich, England, speculate that she may have been sent to the West specifically to gain knowledge on biological weaponry.
What is even more disturbing is that this is happening in our own backyard.
The Washington Post reported on October 31, 1991, that U.N. weapons inspectors in Iraq discovered documents detailing an Iraqi Government strategy to send students to the United States and other countries to specifically study nuclear-related subjects to develop their own program. Samir AJ-Araji was one of the students who received his doctorate in nuclear engineering from Michigan State University, and then returned to Iraq to head its nuclear weapons program.
The Washington Institute for Near Eastern Policy found in September 1997 that many terrorist-supporting states are sending their students to the United States to get training in chemistry, physics, and engineering which could potentially contribute to their home country's missile and nuclear, biological, and chemical weapons programs.
If you think these issues have been addressed to protect us, you would be wrong.
On November 20, 2013, ABC News reported, "Exclusive: US May Have Let 'Dozens' of Terrorists Into Country As Refugees."  This is not a new problem. On July 13, 2011 the Washington Times published a truly disturbing article, "Visas reviewed to find those who overstayed / Aim is to find any would-be terrorists."
Consider that on September 2, 2014 ABC News reported, "Lost in America: Visa Program Struggles to "Track Missing Foreign Students."
Here is how this report began:
The Department of Homeland Security has lost track of more than 6,000 foreign nationals who entered the United States on student visas, overstayed their welcome, and essentially vanished — exploiting a security gap that was supposed to be fixed after the Sept. 11, 2001 terror attacks. 
"My greatest concern is that they could be doing anything," said Peter Edge, the U.S. Immigration and Customs Enforcement official who oversees investigations into visa violators. "Some of them could be here to do us harm." 
Homeland Security officials disclosed the breadth of the student visa problem in response to ABC News questions submitted as part of an investigation into persistent complaints about the nation's entry program for students. 
ABC News found that immigration officials have struggled to keep track of the rapidly increasing numbers of foreign students coming to the U.S. — now in excess of one million each year. The immigration agency's own figures show that 58,000 students overstayed their visas in the past year. Of those, 6,000 were referred to agents for follow-up because they were determined to be of heightened concern. 
"They just disappear," said Sen. Tom Coburn, R-Okla. "They get the visas and they disappear." 
Coburn said since the Sept. 11, 2001 terror attacks, 26 student visa holders have been arrested in the U.S. on terror-related charges. 
Tightening up the student visa program was one of the major recommendations made by the 9/11 Commission, after it was determined that the hijacker who flew Flight 77 into the Pentagon, Hani Hanjour, had entered the U.S. on a student visa but never showed up for school. 
It was clear to everyone that multiple failures of the immigration system enabled all of those terrorists to enter the United States and launch their deadly attacks in 1993.  Yet while some laws were enacted to address the vulnerabilities of the immigration system, those laws were of scant value because the former INS did not get any additional agents or other enforcement personnel.  In fact, the Clinton administration implemented a program, Citizenship USA (CUSA), which enabled an estimated 1.2 million aliens to acquire U.S. citizenship via the naturalization process.
That process required that the applications be moved so quickly that thousands of aliens were granted citizenship before their fingerprints were run through the system.  Moreover, to make certain that the bureaucratic machinery was able to move at "warp speed," Doris Meissner, the Commissioner of the INS back then, decided to streamline the process for conferring citizenship to the point that many applications were adjudicated without even a face-to-face interview.
U.S. citizenship provides the "keys to the kingdom" and is a serious matter.
The failures of the Clinton administration to address the vulnerabilities of the immigration system literally and figuratively left the door wide open for the terror attacks of 9/11.
On December 6, 2014 Fox News published a report, "Saudi-born US naval engineer allegedly gave undercover agent info on how to sink carrier" that focused on how Mostafa Ahmed Awwad was educated in the United States, became a resident alien and then acquired U.S. citizenship, and later agreed to provide an FBI undercover agent with the plans of the Gerald R. Ford, a 13-billion-dollar aircraft carrier that is still under construction and has brand-new unique innovations. Allegedly Awwad even told the undercover agent where the ship would be most vulnerable to being sunk by a missile strike.
I addressed the significance of the naturalization process in terms of national security in my article, "The Immigration Factor – Naturalized U.S. Citizen Added to FBI's Most Wanted Terrorists List."
The "War on Terror" grinds on and numerous additional terror attacks were attempted by radical Islamists within our borders and in countries around the world.  Fortunately not all of the attempted attacks were successful and our law enforcement officers were able to identify some terror plots before they could be carried out.  Yet some attacks, such as the Boston Marathon bombing of April 15, 2013 and the attack in San Bernardino on December 2, 2015, caused death, injuries and mayhem.
Once again, immigration failures were behind the ability of the terrorists to carry out these and other attacks.  Yet the administration continues to admit Syrian refugees who cannot be vetted, and so-called "sanctuary cities" go unpunished for harboring and shielding illegal aliens from detection by the federal government, in clear violation of our immigration laws and the findings and recommendations of the 9/11 Commission.
The 9/11 Commission Staff Report on Terrorist Travel detailed numerous examples of instances where terrorists committed visa and immigration benefit fraud — including political asylum fraud — to enter and embed themselves in the United States.
Page 54 of the report contained the following excerpt under the title "3.2 Terrorist Travel Tactics by Plot":
Although there is evidence that some land and sea border entries (of terrorists) without inspection occurred, these conspirators mainly subverted the legal entry system by entering at airports.
In doing so, they relied on a wide variety of fraudulent documents, on aliases, and on government corruption. Because terrorist operations were not suicide missions in the early to mid-1990s, once in the United States terrorists and their supporters tried to get legal immigration status that would permit them to remain here, primarily by committing serial, or repeated, immigration fraud, by claiming political asylum, and by marrying Americans. Many of these tactics would remain largely unchanged and undetected throughout the 1990s and up to the 9/11 attack.
Thus, abuse of the immigration system and a lack of interior immigration enforcement were unwittingly working together to support terrorist activity. It would remain largely unknown, since no agency of the United States government analyzed terrorist travel patterns until after 9/11. This lack of attention meant that critical opportunities to disrupt terrorist travel and, therefore, deadly terrorist operations were missed.
In my recent commentary, "Hillary Clinton's Immigration Goals Would Irrevocably Undermine National Security," I focused on how the fatally flawed adjudications process conducted by USCIS (United States Citizenship and Immigration Services), which has provided terrorists with political asylum and even United States citizenship, would require the beleaguered employees of USCIS to provide unknown millions of illegal aliens with lawful status under the aegis of Clinton's amnesty program.
There would be no ability to conduct in-person interviews or field investigations, hence no way to verify their identities, backgrounds or possible affiliation with criminal or terrorist organizations.  There would be no way to determine when, where or how they actually entered the United States.
Ms. Clinton has certainly not learned the lessons of 9/11.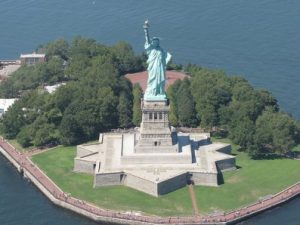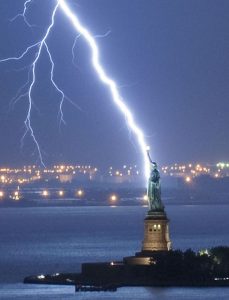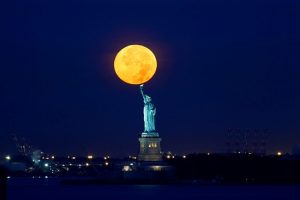 America First Million Member Sign-Up
Please join us in our commitment to promote American exceptionalism, freedom, our Constitution,  our American way of life, and our safety and security by making a donation and subscribing to our periodic newsletters and messages by donating below.
A is fore.