Editor's Note – Good detective work, a real win for the FBI. Good job!
Suspected Anonymous Hacker Busted By FBI — Thanks To A Racy Photo
The evidence that the Federal Bureau of Investigations gathered against an alleged Galveston hacker didn't come from a techno-chase through the expansive Internet. Instead, the FBI used the information embedded in a photograph of his girlfriend's breasts.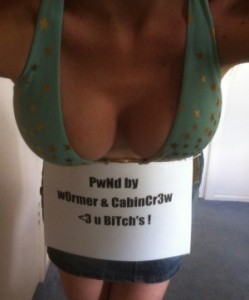 Higinio O. Ochoa, 30, is a Linux administrator by day, but by night he's accused of being part of the group "CabinCr3w," an affiliate of the hacktivist organization Anonymous.
According to Gizmodo, Ochoa allegedly used the Twitter handle @Anonw0rmer to link to a site boasting personal information on law enforcement officials, along with a picture of a young women in a low-cut shirt that read, "PwNd by w0rmer & CabinCr3w."
The FBI found the image in February and checked the exchangeable image file format, or EXIF data, for evidence. EXIF data is information that a digital camera imprints onto an image.
This particular image's EXIF data revealed that it came from an iPhone near Melbourne, Australia, which then led the FBI to Ochoa's Facebook page.
The page featured other images of the girl, who turned out to be his girlfriend.
On March 20, the FBI stormed Ochoa's apartment and arrested him. He was held at the FBI's Houston branch a $50,000 bail was posted.
The FBI alleges that, in addition to the violation of police officer's privacy, Ochoa also hacked the County of Houston's website.
"[He] created fake events on their online, posted images representing Anonymous and CabinCr3w, deleted the entire administrator accounts except the one created by the attacker," the FBI detailed to Gizmodo.
The FBI also said that Ochoa also leaked personal information of Goldman Sachs executives last September.