Editor's Note – Since John Boehner announced his resignation effective October 31st, the idea that Planned Parenthood would lose its funding this year is remote at best. But that does not mean the flames are diminishing since Boehner announced the formation of a Select Committee to investigate the organization.
Boehner vowed Sunday that there will be no government shutdown at the end of the month — adding that he will impanel a select committee to investigate Planned Parenthood after "undercover" videos renewed outrage among conservatives about government funding for the women's health provider. (See moire at WaPo.)
The heat will certainly rise more as supporters' arguments decrying the infamous videos are being debunked. Today was a good indicator of that heat as the investigation began with Cecile Richards testifying and in a short time her testimony was proven wrong.
She called the videos heavily edited and retouched, but a Daily Signal article shows that to be wrong. Kate Scanlon wrote and filed her story as Forensic Analysis: Planned Parenthood Videos Are 'Authentic':
A forensic analysis of undercover videos about Planned Parenthood's abortion practices are "authentic and show no evidence of manipulation or editing," according to a report released Tuesday by Alliance Defending Freedom.

The analysis was completed by Coalfire, a digital security and forensics firm that has worked on civil and criminal investigations. The firm had access to all audio and video investigative footage recorded by the Center for Medical Progress.

"The Coalfire forensic analysis removes any doubt that the full length undercover videos released by Center for Medical Progress are authentic and have not been manipulated," said Casey Mattox, senior counsel at Alliance Defending Freedom. "Analysts scrutinized every second of video recorded during the investigation and released by CMP to date and found only bathroom breaks and other non-pertinent footage had been removed."

According to the report, the videos only omit footage irrelevant to the allegations such as bathroom breaks.

"Planned Parenthood can no longer hide behind a smokescreen of false accusations," Mattox said, "and should now answer for what appear to be the very real crimes revealed by the CMP investigation."

"American taxpayer money should be redirected to fund local community health centers and not subsidize a scandal-ridden, billion-dollar abortion business," Kerri Kupec, legal communications director for Alliance Defending Freedom said in a statement.

"Planned Parenthood is an organization that cares about one thing: making a profit at the expense of women's health," she added. "The investigative videos, whose authenticity was confirmed by the report, show that Planned Parenthood is an abortion-machine whose top executives and doctors haggle and joke about the harvesting and selling of baby body parts. Women deserve far better."

Spokespersons for Planned Parenthood have denied illegal conduct. Last month, the organization commissioned their own analysis of the videos which claimed that the "edited" videos "have no evidentiary value in a legal context and cannot be relied upon for any official inquiries."

The Daily Signal previously reported that the firm hired by Planned Parenthood, Fusion GPS, has ties to the Democratic Party, including an effort to expose a group of eight private citizens who donated to a super PAC supporting former Massachusetts Gov. Mitt Romney's 2012 presidential campaign.
It gets worse though, her claims in testimony on the issue of mammograms was also less than truthful.
This was first reported in August of 2015 in National Review where a "map pinpoints the 665 Planned Parenthood locations and health-care clinics in the United States, compared side-by-side with the 13,540 clinics clustered across the country that are currently offering comprehensive women's health care, according to the two groups' data."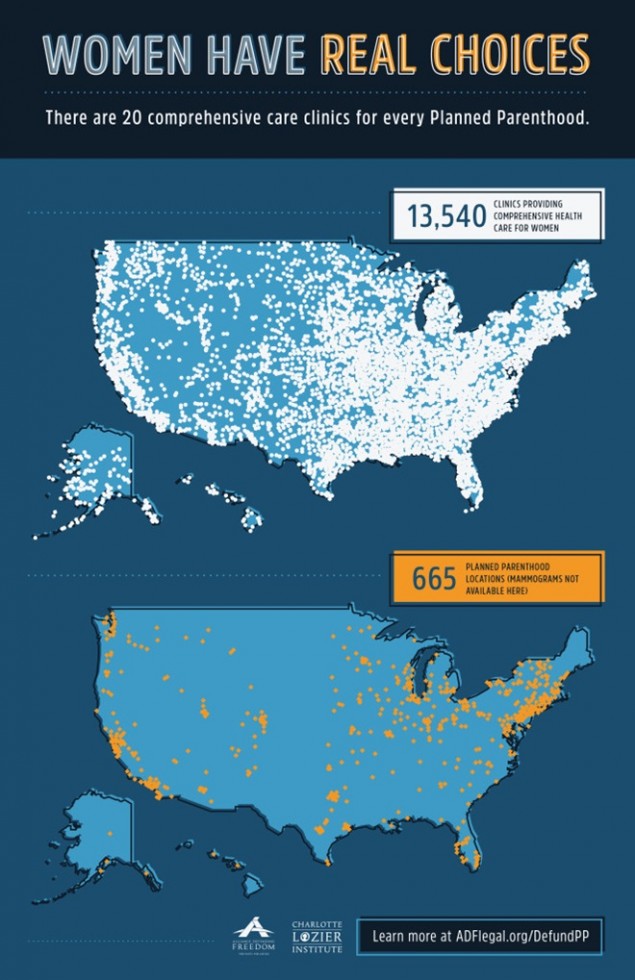 Read on and watch these videos from Shoshanna Weisman at the Weekly Standard:
Today, President of Planned Parenthood Federation of America Cecile Richards, testified before the House Oversight and Government Reform Committee on PPFA's use of taxpayer funding. During testimony, she falsely asserted that, "we've never stated that we did" provide mammograms.

"An affiliate isn't a health center. I think I spoke earlier, we do not have mammogram machines at our health centers. And we've never stated that we did. As was mentioned earlier, for women who who go for a breast exam, if you need a mammogram, your referred to a radiological clinic."
%CODE%
However, in 2011, Richards said on CNN that if federal funding is cut off to her organization "millions of women are going to lose access, not to abortion services, to basic family planning, you know, mammograms…."
%CODE2%
Ohio Congressman Jim Jordan grilled Cecile Richards and is a must see video as well:
%CODE3%