Editor's Note – We are in deep trouble electronically and our national security is at stake. This we have seen and heard many times, but when the Pentagon security systems fail 'catastrophically', with repairs expected to be finished by January 2015, it is time to find a new level of worry.
The cause is unknown to date but we ask, why did it take so long for this to be released to the public? The event began on January 3rd, here we are in May.
Pentagon Police Agency Hit by 'Catastrophic' Network Outage
By Bob Brewin – NextGov.com
The agency that manages the Pentagon Police Department and also runs networks and computers used the by the  Office of the Secretary of Defense experienced a "catastrophic network technological outage" on Jan. 3, and it could take until January 2015 to complete the repairs, an obscure document on the Federal Business Opportunities website revealed.

That document, posted on May 2, disclosed that the outage experienced by the Pentagon Life Safety System Network and Life Safety Backbone left the Pentagon Force Protection Agency "without access to the mission-critical systems needed to properly safeguard personnel and facilities, rendering the agency blind across the national capital region."
The Force Protection Agency provides security and services to 100 military buildings in Washington, Maryland and Virginia.
The agency estimated it would take six to 12 months to "effect repairs and to upgrade the network core to mitigate future outage risks." Repairs include recovery of data after the catastrophic network technological outage and upgrade and replacement of switches and routers.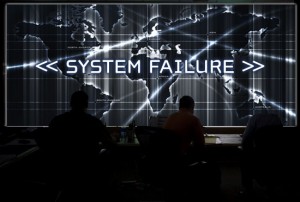 SRA International Inc. won a $56 million contract for the Life Safety System Network in 2008 that expired on April 30.
The Force Protection Agency falls under the Washington Headquarters Service, which extended the SRA contract through Oct. 31, with a value of $7.3 million, and a four month option through Feb. 28, 2015, with a total value of $11.4 million.
The sole source contract extension with SRA called for refreshed hardware and software for the Life System Safety Network, a new network design that minimizes single point failure, including dual homing, which reduces the risk of failure.
As the incumbent on Life Safety System Network contract, "SRA is the only known vendor who has expert security-cleared personnel that can immediately accomplish this urgent upgrade given their existing knowledge of the specific LSB technical and architectural challenges, and in-depth knowledge of the existing infrastructure to include the known and potential failure points of an extremely complex environment," the Washington Headquarters Service said.
The Pentagon has not yet responded to a query submitted Sunday on the general cause of the outage nor to a query earlier Tuesday morning on whether or not it was caused by a hacker.