Editor's Note – It was all so encompassing and as we learned much, we were exposed to so much more "Sgt. Schuktz" testimony. But we may see much more tomorrow as Lois Lerner has been deemed to have waived here fifth amendment rights.
Here are the 7 most explosive and Informative moments from today's IRS Hearing
The U.S. House of Representatives, for the second time since the Internal Revenue Service scandal first broke, held a hearing on the agency's targeting of conservative groups.
But unlike yesterday's Senate hearing on the same topic, Wednesday's House Oversight and Government Reform Committee hearing was packed with explosive and enlightening exchanges between U.S. lawmakers and the government officials directly involved in the IRS scandal.
So without any further introduction, here are the seven most riveting moments from Wednesday's hearing on the IRS scandal [in no particular order]:
7. I DID NOTHING WRONG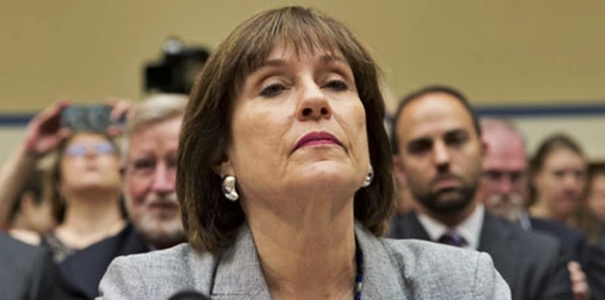 Lois Lerner, the IRS official who first acknowledged the scandal two weeks ago while responding to a planted question from Washington-based tax lawyer, announced this week that she would invoke her Fifth Amendment right to remain silent.
She appeared before the House committee on Wednesday determined to defend herself while refusing to answer questions.
"I have done nothing wrong," she said in her opening statement. "I have not broken any laws. I have not violated any IRS rules or regulations and I have not provided false information to this or any other committee."
Lerner then repeated that she would invoke her right to avoid incriminating herself.
"One of the basic functions of the Fifth Amendment is to protect innocent individuals, and that is the protection I am invoking today," she said.
%CODE%
However, her opening statement, coupled with her refusal to talk, did not go over so well with certain members of the committee.
Rep. Trey Gowdy (R-S.C.) demanded that Lerner testify, adding that she waived her constitutional privilege by delivering her defensive opening statement.
"You don't get to tell your side of the story and not be subjected to cross-examination. That's not the way it works. She waived her right to Fifth Amendment privilege by issuing an opening statement, she ought to stand here and answer our questions," Gowdy said, earning applause from the audience.
%CODE2%
Despite Rep. Gowdy's objections, Lerner refused to answer questions from committee chairman Rep. Darrell Issa (R-Calif.) and was eventually excused from the hearing.
As of this writing, there is still some discussion about whether the IRS official waived her rights by delivering an opening statement and whether Rep. Issa can make her talk.
It's unclear whether that argument will stick.
6. BIPARTISAN AGREEMENT: THIS SCANDAL STINKS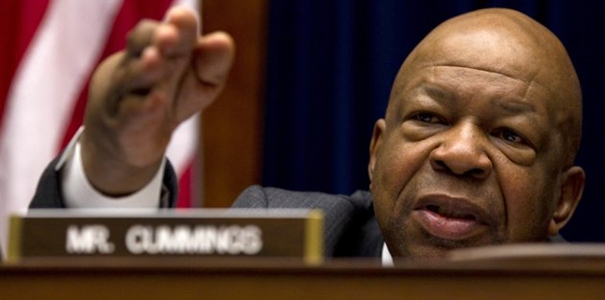 Though he generally disagrees with his Republican colleagues, Rep. Elijah Cummings joined with his GOP counterparts on Wednesday in reprimanding former IRS Commissioner Doug Shulman for his dereliction of duty.
And he pulled no punches:
%CODE3%
5. THERE WILL BE HELL TO PAY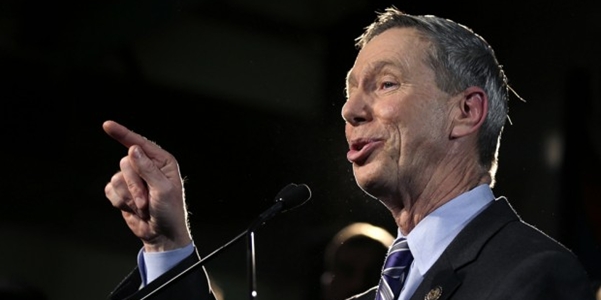 Speaking of criticism from the left, here's Democrat Congressman Stephen Lynch promising Doug Shulman that "there will be hell to pay" if IRS officials can't truthfully answer questions regarding the agency's targeting of conservative groups:
%CODE4%
And here's a clip of Rep. Lynch raking Shulman over the coals for saying in 2012 that there was "absolutely no" targeting of conservative groups by the IRS:
Click here for CSPAN Video.
Ouch.
4. THE IRS HELD MAY 2012 INTERNAL PROBE FROM U.S LAWMAKERS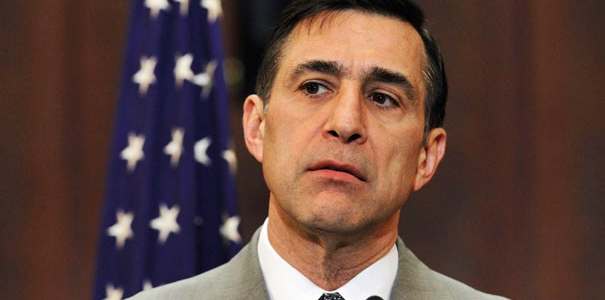 The IRS performed an internal investigation of its targeting practices one year before the Treasury Department Inspector General report was completed, according to Rep. Darrell Issa.
The agency hid its findings from Congress.
"Just yesterday the committee interviewed Holly Paz, the director of exempt organizations, rulings and agreements, division of the IRS," Congressman Issa said.
"While a tremendous amount of attention is centered about the Inspector General's report, or investigation, the committee has learned from Ms. Paz that she in fact participated in an IRS internal investigation that concluded in May of 2012 – May 3 of 2012 – and found essentially the same thing that Mr. George found more than a year later," he added.
So, yes, the IRS knew of the political targeting in May – but agency official apparently didn't think it was worth mentioning to Congress.
"Think about it,' he added. "For more than a year, the IRS knew that it had inappropriately targeted groups of Americans based on their political beliefs, and without mentioning it, and in fact without honestly answering questions that were the result of this internal investigation."
Click here for CSPAN Video.
3. TREY GOWDY GOES SCORCHED EARTH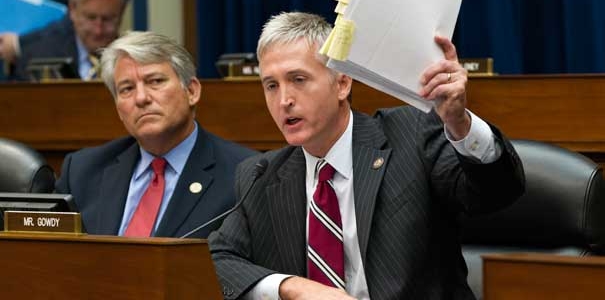 South Carolina Congressman Trey Gowdy wasn't interested in listening to a former IRS official mince his words — so he went right for the throat.
"Why was the culture such under your watch that an employee felt comfortable targeting conservative groups?" Gowdy asked. "Did you investigate that?"
"From my reading of the report, um, I can't tell if it was political motivation or if it was tone-deaf, somebody trying to expedite a way –" Shulman started.
"You still don't know that this was political?"
"Excuse me?"
"You still don't know that this was political?"
"I defer to the inspector general."
"Well, I'll tell you this, Mister Shulman, your predecessor said that he wasn't sure if it was partisan and that requires the listener to be as stupid as the speaker."
%CODE5%
2. OH, REALLY? YOU DON'T ACCEPT RESPONSIBILITY?
Shulman said Tuesday that he is not responsible for the IRS' targeting of conservative groups.
"I certainly am not personally responsible for creating a list that had inappropriate criteria on it," Shulman told Texas Senator John Cornyn. "What I know, with the full facts that are out is – from the Inspector General's report – which doesn't say that I'm responsible for that."
Shulman on Wednesday repeated the claim, arguing that he shouldn't have to bear the burden of responsibility even if he was IRS chief at the time of the targeting.
Illinois Congresswoman Tammy Duckworth, a U.S. Army veteran who lost both her legs in Iraq, wasnot impressed with Shulman's dodging and decided to give it to him with both barrels:
Click here for CSPAN Video.
1. EASTER EGG ROLL?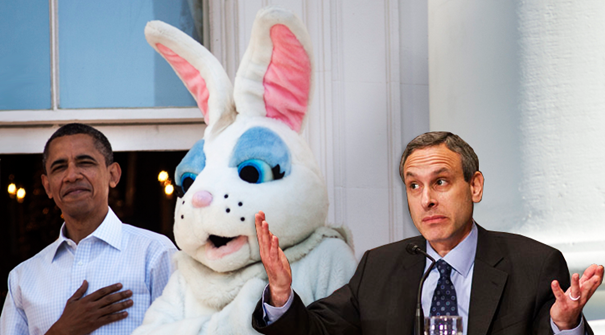 Between 2010 and 2011 (i.e. during the height of the IRS' political targeting), Shulman visited the White House 118 times.
And when he was asked why he visited the White House 118 times, the former IRS chief paused for a moment and responded by citing the annual Easter Egg Roll:
%CODE6%
Unsurprisingly, Shulman couldn't say whether he discussed the IRS' targeting of conservatives or the implementation of Obamacare during those 100+ visits.
But he does remember the Easter Egg Roll.