Editor's Note – Chad Kolton, representing OpSecteam.org, has released the following statement from Scott Taylor, President of OPSEC:
OPSEC: Threatened prosecution of a war hero but reluctant investigation of Senior Administration officials on leaks is a dishonorable double standard

WASHINGTON, D.C. – Scott Taylor, president of OPSEC, issued the following statement in response to media reports that the Department of Defense had threatened to prosecute a former SEAL Team 6 member and author of No Easy Day:
"The author is an American hero but the rules about disclosing sensitive information have to be applied to everyone. OPSEC was among the first to call for action to prevent the book's publication until it could be properly cleared.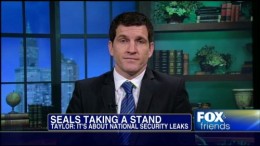 "However, the Obama Administration is applying a dishonorable double standard with a lightning quick threat to prosecute a five-time winner of the Bronze Star while dragging its feet in identifying and charging senior administration officials who have purposefully leaked classified information.
"A culture of leaks has developed over the past few years because it has become very clear that President Obama and his senior team not only will tolerate leaks and politicization of Intelligence and Special Operations missions, they will actively engage in them if it serves a political purpose.
"From showing satellite photos to media, to disclosing the existence of a double-agent in AQAP, to publicizing classified or sensitive details of the OBL raid, senior Obama Administration officials have repeatedly violated their commitments on classified or sensitive data with impunity.
"If President Obama is going to pursue an immediate and vigorous prosecution of American war heroes he should hold his senior aides to the exact same standard."
_______________________
Here is the letter sent by the General Counsel: Letter to Mark Owens