Editor's Note – James O'Keefe and his Project Veritas team were in Bigfork, Montana speaking at MG Vallely's Glacier Forum series, a Stand Up America US project on Thursday, September 10th and brought the house down revealing his latest undercover work released earlier.
Staying at the General's home, O'Keefe explained how Project Veritas succeeded in exposing what looks to be fraud in the Hillary Clinton campaign in Nevada.
O'Keefe gave an exclusive interview to Breibart  today from the Vallely home and confirmed that Christina Gupana is already being investigated by the state of Nevada.
Top election officials in the state of Nevada are investigating the Hillary Clinton campaign official who was snared in the latest James O'Keefe video, Breitbart News has exclusively learned.

Nevada attorney Christina Gupana, who is managing voter-registration efforts for the Clinton campaign in the key state of Nevada, was the unwitting star of O'Keefe's undercover sting video this week. Gupana was caught on film apparently conspiring to violate election laws. (Read the rest at Breibart)
Jim Wheeler, a Republican Nevada Assemblyman told SUA that "It seems like some people in the Democratic Party will do whatever it takes to win. Even break the law. This should tell you something about their motives."
Nevada is a crucial State because it is one of the earlier caucus/primary states, with its Closed Democratic Caucus scheduled for February 20, 2016; only 19 days after the Semi-Open Iowa Caucus, and less than two weeks after the New Hampshire Semi- Open Primary.
It is also only a week before the South Carolina Open Primary. 39 Democrat Party delegates are at stake in Nevada.
With the Clinton Campaign fast approaching a must-win situation with poll numbers dropping for Hillary, it seems Assemblyman Wheeler is spot on.

O'Keefe Strikes Again:
Undercover Video Purports to Show Hillary Clinton Campaign Violating Election Law
By John Nolte, Breitbart News
An undercover video published Thursday by James O'Keefe's Project Veritas purports to show Nevada-based Hillary Clinton campaign staffers and volunteers ignoring and knowingly violating Nevada's voter registration laws. 
Moreover, the video appears to show that this conduct is being condoned and encouraged by a local attorney who works for the Clinton campaign.
According to the video, it is a felony in the state of Nevada for anyone involved in the voter registration process to "solicit a vote for or against a particular question or candidate; speak to a voter on the subject of marking his or her ballot for or against a particular question or candidate."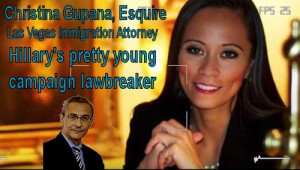 The video appears to show that numerous Hillary Clinton campaign staffers are well aware of the law.
Nevertheless, the video shows them laughing at the law and repeatedly bragging about violating it by promoting Hillary Clinton verbally and with campaign literature as they attempt to register potential voters. 
The Project Veritas video further appears to show that the Clinton campaign staff solicits voter registration in close proximity to state offices, which may also violate Nevada law
According to the video, when the attorney in question, identified as Christina Gupana, was told about this alleged lawbreaking, she advised the staffers to, "Do whatever you can. Whatever you can get away with, just do it, until you get kicked out like totally."
More than one staffer says that the campaign's motto towards these laws is "Ask for forgiveness, not for permission." 
%CODE%