Editor's Note – "Elections have consequences," remember that Obama quote? Apparently only when he and his team win!
Obama just doesn't get how things must work by law and Constitution – either consciously or by complete disregard. It has always been his way or the highway where negotiation is never done in an honest manner and compromise means "I will sign it, if it meets my needs." People keep echoing that Congress must do the work of the people, but it is Obama who is in the way.
Last Tuesday America voted – completely repudiating his policies – yet Obama traipses on as if he was the one who received the mandate. In this lame-duck period in Congress, he expects sweeping, comprehensive legislation on immigration, yet America voted otherwise and does not want the current Senate to control this 'end times' effort.
So what does Obama threaten – yes, Executive action. America, this is a very well-crafted article and worthy of a complete read. It spells out what Boehner and the House was always up against – a stone wall.
Boehner Warns Obama Against Unilateral Action on Immigration
The House Speaker and the President Held a Year of Confidential Talks on Immigration That Ended in Failure This Summer
By CAROL E. LEE and PETER NICHOLAS – WSJ Online
Two days after his party's midterm romp, House Speaker John Boehner became the second leading Republican to warn that unilateral action by President Barack Obama on immigration would "poison the well" for any cooperation with the new GOP Congress.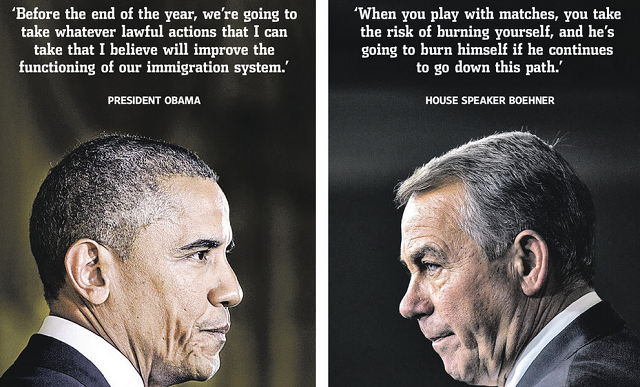 Among the causes of the standoff: a year of previously unreported talks between Messrs. Boehner and Obama over a legislative compromise to fix the balky immigration system.
The two men started talking after the 2012 election, according to detailed accounts provided by several aides on both sides. The discussions ended this summer with the two sitting stony-faced around a white wrought-iron table outside the Oval Office.
"When you play with matches, you take the risk of burning yourself," Mr. Boehner said Thursday of possible unilateral immigration action by the president. "And he's going to burn himself if he continues to go down this path."
Sen. Mitch McConnell , the Kentucky Republican who is expected to lead the GOP's new Senate majority, made similar admonitions a day earlier, setting the Republican legislative and Democratic executive agendas on a collision course. The immigration issue stands to imperil what had looked like a rare opportunity offered to find common ground on trade and business taxes, among other matters.
Mr. Obama vowed in his Wednesday postelection news conference to move ahead on immigration by himself, making changes that people close to the process say could give safe harbor to perhaps a few million people in the U.S. illegally.
At the White House, the question isn't whether Mr. Obama will act but how sweeping his order will be. He is under intense pressure from immigration activists, who worry he will back down because of the election results or to avoid antagonizing the GOP.
The White House isn't ruling out an immigration deal with Congress before the next president takes office in 2017, and one remains possible. But in the eyes of many of those involved in the talks, the Obama-Boehner discussions were the last, best chance to reach an agreement.
Mr. Obama promised on Wednesday to rescind any executive action if Congress later passes legislation. Few think it is likely to. In outlining their plans for the year, neither Mr. Boehner nor Mr. McConnell put immigration on the agenda. In fact, if Mr. Obama goes through with an executive action, there will likely be a congressional effort to undo it.
The president and the House speaker started talking with some optimism after Congress's bid to overhaul immigration ran aground in summer 2013, according to aides. They agreed to some confidence-building measures and bonded over a shared passion for golf.
Few people deny the scale of the immigration challenge, with about 11 million people in the U.S. illegally. Both sides had reason to keep the process alive. Hispanic supporters of Mr. Obama were growing impatient and resented record deportations. Some Republicans were seeking a fresh approach, especially after their 2012 election defeat, in which they fared poorly with Hispanics.
In an early sign of success, Mr. Boehner asked the president not to criticize Republicans on the issue, fearing this would antagonize lawmakers skeptical of an overhaul. Mr. Obama agreed, and a series of 2013 trips to battleground states with heavy Hispanic populations that had been considered never happened.
After several phone conversations, Mr. Obama agreed in November to seek a piecemeal overhaul rather than one bill as long as together it accomplished the goals of a broader bill. Democrats wanted the latter, but breaking it up would make the idea more palatable to the GOP.
They even batted around ideas for tackling the thorniest aspect: a so-called path to citizenship, which outlines the requirements illegal immigrants must meet to secure their place in the country.
More often, however, the two men talked past one another, aides said. Mr. Boehner told colleagues that he found it hard to squeeze a word in, and that Mr. Obama didn't grasp how Washington works. Mr. Obama and White House officials grew skeptical that Mr. Boehner could sell any deal to House Republicans.
In January, Mr. Boehner asked the president to stop signing executive orders on other issues, such as the minimum wage, while they worked on a deal. The speaker thought such a gesture might appease Republican lawmakers accusing Mr. Obama of abusing presidential power.
"We can't move forward on this when there's mistrust about whether or not you're going to enforce the laws that we pass," Mr. Boehner told the president.
Some of the president's aides thought it was a phony excuse. They thought the speaker couldn't come through with the needed votes.
Mr. Obama offered Mr. Boehner what he saw as a compromise: The White House would defer executive action on immigration until after the summer to give the speaker maneuvering room, a deal Mr. Obama confirmed in his Wednesday news conference.
In the discussion, however, he followed up with his go-to talking point in dealings with Mr. Boehner: "There will never be another Republican president again if you don't get a handle on immigration reform."
Mr. Boehner resented getting advice from a Democratic president on how to make Republicans a viable political force. What he wanted was more specific: A strategy to build a coalition in the House that could pass a bill.
It became increasingly common, aides said, for Mr. Boehner to hang up the phone with Mr. Obama and sigh: "He just doesn't get it." Senior White House officials, for their part, saw Mr. Boehner as a leader perpetually vulnerable to being deposed. House conservatives wanted tougher border security, not millions of new citizens.
Former Senate Democratic leader Tom Daschle, who has close ties to the White House, described both men as working within tight limits. He described Mr. Boehner as having a fragile hold on his leadership position. As for the president, "he is not real comfortable in terms of building relationships with people he has substantial disagreements with."
On a personal level, their conversations remained friendly. In September 2013, when Mr. Boehner was at the White House to discuss Syria, cameras caught the speaker gesturing with his wrist while deep in discussion with the president. Aides later explained Mr. Boehner had strained a tendon and couldn't hit a golf ball as hard as he wanted.
A White House social invitation offered to Boehner—a Professional Golfers' Association event in the East Room this June—was a turning point.
The speaker requested a meeting with the president before the event. That got the White House's attention. Previously, it was Mr. Obama who initiated contact.
Seated around a table outside the Oval Office, Mr. Boehner told Mr. Obama that the window for passing legislation was as narrow as it gets. His caucus was rattled by a child-refugee crisis on the Mexico border and the primary defeat of House Majority Leader Eric Cantor , in which immigration played a part.
During the 15-minute conversation, Mr. Boehner also informed Mr. Obama the House planned to file a lawsuit over his use of executive authority.
"Now you're suing me?" Mr. Obama said to the speaker.
The following day Mr. Boehner announced his lawsuit. A week later, Mr. Obama publicly declared any change to the immigration system dead for the year. He blamed Mr. Boehner.
—Laura Meckler contributed to this article.