Editor's Note – Apparently 'news' is a subjective term. If you only watch the MSM, how would you know anything? We at SUA see better coverage from Russia and the Middle East…not on their issues…on ours!
Even a Democrat is suing to have Obama vetted. In Florida:
Another lawsuit has been filed asking state officials to remove Barack Obama's name from the 2012 election ballot because he has not documented that he is eligible for the office, but this case in Florida has a twist: It was brought by a Democrat.

The case was filed by Larry Klayman of Freedom Watch USA on behalf of Democrat Michael Voeltz, "a registered member of the Democrat Party, voter, and taxpayer in Broward County, who was an eligible elector for the Florida Primary of Jan. 31, 2012."
Wake up folks, time to rattle the phones at the MSM. Remember, this is only one of soooo many stories you have not heard yet! Embargo the MSM!
Media blackout continues on Arpaio's Cold Case Posse investigation
BY LINDA BENTLEY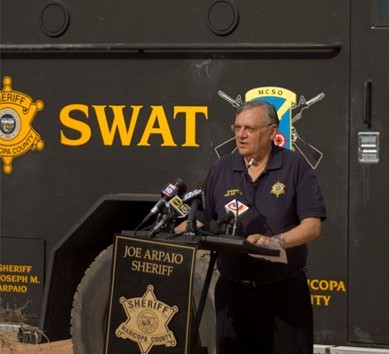 'This will be an historic event in Arizona. Please come and be a part of history. The public is invited to attend. Come early. Learn the truth.'
Maricopa County Sheriff Joe Arpaio (l) and Cold Case Posse lead investigator Mike Zullo will hold a press conference on Saturday, March 31, at 1 p.m. at the Church on the Green to present their findings and updates regarding Obama's fraudulent Selective Service System registration form and Certificate of Live Birth.
SURPRISE – While the media blackout continues over the largest story in American history, Maricopa County Sheriff Joe Arpaio is stunned, but undaunted, and said his Cold Case Posse will continue to pursue its investigation into President Barack Obama's fraudulent Certificate of Live Birth as well as his Selective Service registration, both of which it has deemed forgeries.
Although the March 1 press conference presenting the Cold Case Posse's preliminary findings was somewhat well-attended, the mainstream media made it abundantly clear they were more interested in whether the investigation was politically motivated than in the evidence presented.
Arpaio finds the media blackout astounding, noting the media otherwise reports "every time I go to the toilet."
Since Arpaio's investigation began at the behest of a petition signed by 250 Surprise Tea Partiers last year, the Surprise and Sun City West Tea Parties have teamed up to host a public press conference at 1 p.m. on Saturday, March 31, at the Church on the Green, 19051 R.H. Johnson Blvd., Sun City West, where Arpaio and Cold Case Posse lead investigator Mike Zullo will present their preliminary findings and updates.
This is the information the national media refuses to report, which Zullo learned during the investigation was because the media had been threatened with FTC investigations and commentators were threatened with their jobs if they dared report on the Cold Case Posse's findings of forgery and fraud associated with Obama's documents.
Zullo stated the threats even caused some to quit their positions "over safety concerns for their families."
A petition will be circulated during the event requesting the Arizona State Legislature, in conjunction with Secretary of State Ken Bennett, take action requiring the Democratic National Committee to provide documentation satisfactory to Arpaio and the Cold Case Posse that validates Obama's true identity and eligibility before he can be placed on the 2012 ballot in Arizona.
The Tea Parties hosting the event stated, "This will be an historic event in Arizona. Please come and be a part of history. The public is invited to attend. Come early. Learn the truth."