Editor's Note – In a stunning development, one obviously prompted by tensions between the US and the gulf oil states, many Sunni states were represented in Kuwait at a summit that focused on mutual defense because of the rise of Iran's attempts at regional hegemony. The Middle East has decided it can no longer rely on America.
The timing was also important as Iran actually walked out of talks with the US and the west as reported Friday Alakhbar English:
Iran has quit nuclear talks with world powers, accusing Washington on Friday of going against the spirit of a landmark agreement reached last month by expanding its sanctions blacklist.

US Secretary of State John Kerry and a spokesman for EU foreign policy chief Catherine Ashton, who represents the major powers in the talks, both played down the suspension and said talks were expected to resume soon.

But Iran's chief nuclear negotiator Abbas Araqchi said the US move went against the spirit of the deal struck in Geneva under which the powers undertook to impose no further sanctions for six months in exchange for Iran curbing its controversial nuclear activities.
In addition to creating their own joint military command, they called for interlopers, the rival foreign militias in Syria to leave the theater:
Gulf Arab states demanded foreign militias quit Syria and said President Bashar al-Assad must have no future role Wednesday, in a declaration his Iran- and Hezbollah-backed regime denounced as meddling. Wrapping up a two-day annual summit in Kuwait City, the Gulf Cooperation Council's leaders welcomed what they described as the new Iranian government's shift to a positive policy toward the six-nation bloc.

The GCC leaders also approved the formation of a joint military command, but postponed a decision on a proposed union. Adopting a firm stance on Syria, the GCC "strongly condemned the continued genocide that Assad's regime is committing against the Syrian people using heavy and chemical weapons." It called "for the withdrawal of all foreign forces from Syria," in a clear reference to Iran-backed Shiite militias from Iraq and Lebanon's Hezbollah movement which are supporting Assad's troops against Sunni-led rebels. (Read more at Arab Times.)
Once again we see more evidence that the foreign policy of the Obama Administration and Secretary of State John Kerry has been an abject failure regarding Iran and Syria. John Kerry can play it down and use appeasing words, but he has been 'punked' once again. It must be asked again, what is Obama's actual policy on any aspect of the Middle East?
Israeli/Palestinian talks – failure; Syria 'red line' – failure; Iran nuclear program/sanctions talks – failure; supporting the MB in Egypt – failure; reset with Russia – failure; failure after failure, and it reaches beyond to Afghanistan, China, and North Korea to name but a few. In fact, his foreign policy, and that of his last two Secretaries of State and UN Ambassadors – abject failures.
America is now less than a 'paper tiger! Please read on:
Gulf nations to create joint military command
DUBAI, United Arab Emirates (AP) — Saudi Arabia and its Gulf Arab neighbors wrapped up a summit meeting in Kuwait on Wednesday by agreeing to establish a joint military command, paving the way for tighter security coordination even as their regional rival Iran pursues outreach efforts in the wake of its interim nuclear deal.
The six-member Gulf Cooperation Council also agreed to lay the foundations for a joint Gulf police force and a strategic studies academy, according to a summary of the group's closing statement carried by the official Kuwait News Agency.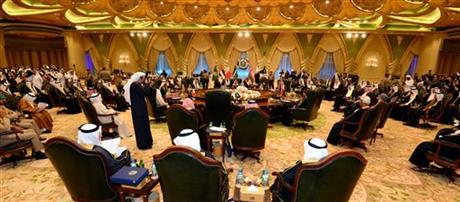 Taken together, the initiatives suggest that the U.S.-allied Gulf states are seeking to do more to ensure their collective security amid the prospect of warmer relations between Iran and the West. The Islamic Republic agreed last month to freeze parts of its nuclear program in exchange for some relief from Western economic sanctions.
Many in the Gulf remain wary of Tehran's intentions. Saudi Arabia in particular sees a stronger Iran as a threat to its own influence, and it and other Gulf states are major backers of the rebels fighting to overthrow Syrian President Bashar Assad, whose government is backed by Iran.
The Gulf states have nonetheless voiced at times cautious support for the nuclear deal — a theme they reiterated as a bloc in Wednesday's closing statement. They also welcomed Iran's "new approach" toward the GCC and expressed hope that it would lead to "concrete steps in order to reflect positively on peace, security and stability of the region."
U.S. Defense Secretary Chuck Hagel traveled to the Gulf in recent days to reassure longstanding Arab allies. He made clear that the interim nuclear deal does not mean that Washington thinks the security threat posed by Iran is over.
Hagel also outlined steps to increase security cooperation in the Gulf region, where the U.S. deploys tens of thousands of air, land and sea forces, and opened the door to sales of missile defense and other weapons systems to the GCC as a bloc.
His tour followed visits by Iranian Foreign Minister Mohammad Javad Zarif last week to four of the six Gulf nations in an effort to improve ties.
It was not immediately clear when the proposed Gulf military command and joint police force would be formed, how they would be structured or what the extent of their mandates would be.
The summit's closing statement said a joint defense council would "take necessary measures to put this agreement into effect," while the joint police force "will boost security and help expand security and anti-terror cooperation and coordination among member states," according to the Kuwaiti news agency.
The GCC includes Saudi Arabia, Kuwait, Bahrain, Qatar, Oman and the United Arab Emirates.
Saudi Arabia is the bloc's largest economy and traditionally sets the political tone for the region. It has pushed for a closer union among the six nations, and led a Gulf military force that deployed in support of Bahrain's monarchy in March 2011 when it faced down a Shiite-led uprising in the tiny island kingdom.
Riyadh's push for greater unity has met resistance, however. Oman's minister responsible for foreign affairs, Yusuf bin Alawi bin Abdullah, announced over the weekend at a security conference in Bahrain that his nation would not participate in any formal union among the Gulf monarchies.