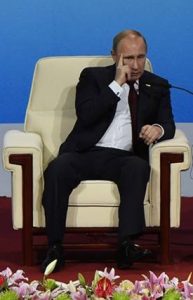 'President-elect Trump understands need for new vision in Syria – that includes Russia'
There will be no status quo in America after January 20, and then President Trump will be more than willing to work with the Russians to solve the Middle East problems, Paul Vallely, retired US General and Chairman of Stand Up America, told RT.
The Syrian army liberated almost half of Eastern Aleppo from militants, according to the Russian defense ministry. Thousands of civilians can now flee to the safety of government-held areas of the city.
Last ditch effort? Kerry 'wants to seal deal' with Russia before Trump becomes US president – Kremlin https://t.co/KFxyfGf1X3
— RT (@RT_com) 28 ноября 2016 г.
US President Barack Obama and President-elect Donald Trump, who will assume office in January, have different approaches to solving the crisis in Syria and the Middle East in general. Trump's remarks suggest the US doesn't "know who the rebels are," while highlighting the importance of cooperation with Russia to bring about some sense of normalcy in Syria. Meanwhile, some Syrian groups that define themselves as 'moderate' hope that Trump will be able to separate so-called 'rebels' from terrorists.
RT: You're now working with Trump's team. Can you shed some light on what could potentially change regarding America's approach to the Syrian crisis?
Paul Vallely: Well, here's a number of things that you have to realize, the importance of the transition right now naming new members of the administration is the top priority. But as these individuals are named, like General [Michael] Flynn of National Security, they are starting to form positions so that when Trump takes over as President January 20, they'll have a firm ground and they will have some vision and strategy particularly as it pertains to the Middle East and Syria.
Much of the advice and recommendations coming from my organization to the Trump organization really deals with a whole new vision for Syria, and it is called 'The Reconciliation and Reunification of Syria,' and that is what we would like to work very closely with the Russians, as well as with a lot of the ex-patriots and members of the Syrian population that do not support Assad. So we're looking for a whole new vision here and a whole new strategy to come after the first year.
Trump Jr. discussed Syria crisis with supporters of cooperation with Russia https://t.co/bU4vQWbpAYpic.twitter.com/bBva9sonX8
— RT (@RT_com) 24 ноября 2016 г.
RT: Do you think the new administration will look to increase cooperation with Russia in Syria?
PV: I'll guarantee there will be no status quo in America after January 20, and that President Trump at that time will be more than willing to work with the Russians to solve the Middle East problems over there. General Flynn and I both realize that nothing is going to be solved in the Middle East until we can work up some kind of relationship and some kind of a strategy with the Russians. It is very important we do that, just like we did with Gorbachev; just like we did with Stalin in WWII to defeat the Nazis. Trump is very open to work with anyone that can come up with solutions that will solve these problems that we see, particularly in the Middle East.
Syrian govt forces take over 40% of east #Aleppo from rebels – Reconciliation center https://t.co/EpmO9j9oarpic.twitter.com/ndW4JTnJ4e
— RT (@RT_com) 28 ноября 2016 г.
RT: How will Obama's legacy concerning Iraq and Afghanistan be viewed by Trump and his advisers?
PV: I think very badly, because they have been very unsuccessful as you well know, when you examine what has happened in Afghanistan and Iraq. Basically the frustration and the complexity of understating the dynamics of Syria, and they certainly – in the Obama administration – have never understood that. As you know, I am the only senior officer that has gone into Syria on two occasions. So the credibility I have there in Syria with the opposition and the ex-patriots who would like to see a new government in Syria for this reunification I thoroughly understand it. I am imparting my experience to the Trump organization at this time so that we do have new a vision and a new outlook.
The statements, views and opinions expressed in this column are solely those of the author and do not necessarily represent those of RT.