Editor's Note – It is no surprise that Loretta Lynch's confirmation to succeed Eric Holder as Obama's Attorney General is on the cusp of needing a tie-breaking vote by VP Joe Biden. What is a surprise is that so far, Sen. Lindsay Graham (R-SC) may vote for her confirmation.
Fortunately, Sen. John McCain (R-AZ) is not going to vote yes: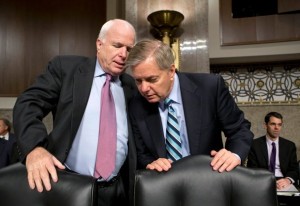 As two hefty primary challengers loom back home in Arizona ahead of his expected run for re-election to the U.S. Senate, Sen. John McCain (R-AZ) has come out publicly against the nomination of U.S. Attorney Loretta Lynch to be Attorney General because of her support for President Barack Obama's executive amnesty.

"No he's not voting for her, because she called the Obama executive action on immigration 'reasonable,'" McCain spokesman Brian Rogers said in an email to Breitbart News in response to a breaking story from Politico that Lynch's nomination is a "cliffhanger" that's going down to the wire.

Only four Senate Republicans currently publicly support her, meaning that assuming all Democrats vote for her and no other Republicans do, she would have 50 votes—and Vice President Joe Biden would come in to cast the tiebreaker in favor of her nomination. (Read more at Breitbart.)
The vote is next week and we hope for all our sakes, and oddly, Graham's Presidential aspirations that he changes his mind and follows in the footsteps of his running buddy, McCain.
Loretta Lynch nomination a cliffhanger
She currently has the bare minimum number of votes to succeed Eric Holder.
By Seung Min Kim – Politico
Just days before her nomination as attorney general goes to the Senate floor, Loretta Lynch is stubbornly stuck right around 50 votes — suggesting a confirmation fight the Obama administration once seemed certain to win with relative ease will go down to the wire.
Barring an 11th-hour surprise, Lynch is likely to be confirmed. But with four GOP senators currently backing her along with unanimous support from Senate Democrats, Lynch would secure the bare minimum required to be installed as the nation's top cop – as long as senators hauled in Vice President Joe Biden to break a tie.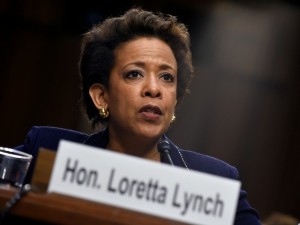 Several Republican senators who could have been potential "yes" votes are signaling ahead of the confirmation vote that that they will instead vote against her.
The overwhelming bloc of opposition from Republicans stems from President Barack Obama's executive actions on immigration, and Lynch's confirmation is also plagued with remnants of congressional Republicans' toxic relations with current attorney general Eric Holder.
Sen. Richard Burr (R-N.C.) said when he met with Lynch more than two months ago, he asked the federal prosecutor to lay out how the Justice Department's agenda would differ than that of Holder, who's led the Justice Department since 2009.
"She told me it would not be different," Burr recalled of his conversation with the nominee. "I voted against Eric Holder and he's lived up to exactly what I thought he would."
But Lynch, who would be the first black woman to lead the Justice Department, is drawing potential opposition on other issues. Republican Sen. Dean Heller said in an interview that he is "leaning no" on the confirmation vote expected next week, a view that is based on Lynch's answers to his concerns about how to regulate gambling.
The Nevada senator said Lynch's responses to a letter he sent following up on the issue left him "not very comfortable."
"She said she has very little knowledge of what occurred in the Wire Act," a 1961 law that banned certain types of interstate gambling, Heller said. "And yet at the same time, she prosecuted illegal gambling, offshore gambling. You can't be prosecuting illegal gambling and say you have very little knowledge of the Wire Act itself."
The confirmation showdown is set for next week. Senate Majority Leader McConnell hasn't indicated how he will vote, though two members of his leadership team – Senate Majority Whip John Cornyn of Texas and Missouri Sen. Roy Blunt, the fifth-ranking Republican – are confirmed "no" votes.
Senate Republicans who are backing her are Orrin Hatch of Utah, Jeff Flake of Arizona, Lindsey Graham of South Carolina and Susan Collins of Maine.
Democrats have argued that Republicans' anger over Obama's executive actions on immigration – which would halt deportations and give work permits for more than 4 million immigrants here illegally – shouldn't be a factor in whether or not to confirm Lynch. She said during her confirmation hearing in January that she believes the presidential directives are legal.
But that hasn't swayed Republican senators, who say they were troubled by her stance on the immigration matter.