Editor's Note – The Obama administration again places the sensitivities of the un-American Muslims ahead of our soldiers. He is continually changing the very ethic of what it means to be a soldier for his religious and political fealty that belie his oath of office. Then again, it is now clearly evident that he never regarded the oath as sacred.
He holds these two aspects ahead of the Constitution and the security of the United States, just shameful!
U.S. Decorated Veteran: Tossed Under the Bus Because He DID Follow the Rules
By Katharine Russ – City Watch LA
RUSS REPORT – The saga of LTC Matthew Dooley, the Officer condemned for portraying Islam negatively, terminated from a teaching position and publicly scorned by high-ranking officials continues to suffer the "fall-out" from recklessly made decisions absent of any due process.
For over a year, Dooley's career has been in limbo creating undue hardship for his family.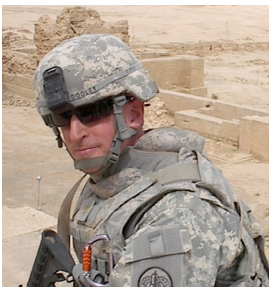 Earlier this year, a military corrections board consisting of 2 Generals and 3 Colonels, recommended Dooley be retained on the Army's Battalion Command List. The newly confirmed Chief of the U.S. Central Command, General Lloyd J. Austin III, then Deputy Chief of Staff for the Army, overruled that approval. Austin ordered Dooley's name to be taken off the list signaling what appears to be the end of a decorated career for Dooley.
Dooley was targeted for termination from a teaching post in the spring of 2012 for teaching an APPROVED course at the Joint Forces Staff College (JFSC), a branch of National Defense University (NDU).  (emphasis added)
Dooley took the course titled "Perspectives on Islam and Islamic Radicalism" in 2010 at the Joint Forces Staff College (JFSC) and shortly after, he was selected to teach the course.  "Perspectives on Islam and Islamic Radicalism" had been an approved elective course by the National Defense University (NDU) for over six years.
The curriculum and guest speakers had also been vetted by the school administration. This was again confirmed in writing by the NDU Deputy VP for Academic Affairs, Dr. Brenda Roth in December 2011.
His class garnered high praise from his Superiors, particularly the Commandant at JFSC who gave Dooley an outstanding Officer Evaluation Report (OER) and recommended Dooley for an immediate promotion.
It was a series of articles published by Wired Magazine (based in San Francisco, California)  prompted by a single student "whistleblower" who violated the "Non-Attribution" policy of NDU and was supposedly concerned over the use of "false and highly offensive training materials" towards Muslims and Islam that generated the much sensationalized publicity.
That publicity fuelled a letter to the White House, signed by 57 Muslim-American groups, including Council on American Islamic Relations (CAIR), known to have ties with Hamas that targeted the course taught by Dooley. Their October 19, 2011 letter demanded that all training materials offensive to Islam be scrubbed and instructors be effectively disciplined.
Chairman of the Joint Chiefs of Staff, Martin Dempsey ordered a review of the instruction on April 24, 2012 that was allegedly "disrespectful of the Islamic religion" so to ensure "cultural sensitivity."
Even before the "investigation" was concluded, Dempsey made it a point on a nationally broadcast Pentagon Press Conference on May 10, 2012 to personally attack Dooley and severely criticized his course as "objectionable, unprofessional, and "against our values." He accused Dooley of formally advocating actions contrary to U.S. policy, despite a preliminary finding that confirmed the theoretical and conceptual notion of Dooley's class. Dooley was relieved of his teaching assignment citing the negative way he portrayed Islam in the elective course.
Dempsey's vicious national attack sparked threats against Dooley and his family and additional security measures had to be put in place for their protection.
Not long after Dempsey's harsh criticism, Dooley received his first Negative OER, which, most likely, tarnished any opportunities for promotion.
In September 2012, the Thomas More Law Center (TMLC) in Ann Arbor, Michigan took on Dooley as a client. Richard Thompson, President and Chief Counsel-TMLC expounded on Dooley's distinguished career, saying, "Dooley, a combat veteran, was deployed to Bosnia, Kuwait, and Iraq for a total of six operational and combat tours over the course of his career. He attended the United States Military Academy at West Point, where he graduated and received his commission as a Second Lieutenant in May 1994.
"Dooley has served as a Tank Platoon Leader, Tank Company Executive Officer, Tank Company Commander, Headquarters Company Commander, Captains Career Course Small Group Instructor, Cavalry Squadron Operations Officer, Cavalry Squadron Executive Office, Regimental Plans Officer, Aide-de-Camp (to three separate General Officers), and Instructor at the Joint Combined Warfare School.
"He is a graduate of the Command and General Staff College as well as the Joint Forces Staff College.
"His awards and decorations include the Bronze Star Medal, the Meritorious Service Medal with two Oak Leaf Clusters, the Joint Service Commendation Medal, the Army Commendation Medal with three Oak Leaf Clusters, the Army Achievement Medal, the National Defense Service Medal, the Armed Forces Expeditionary Medal with Star, Medal, the Iraq Campaign Medal with Two Stars, both the Global War on Terrorism Service and Expeditionary Medals, the Armed Forces Service Medal, the NATO Medal, the Parachutist Badge, the Air-Assault Badge, and two Army Superior Unit Awards."
In a letter to Dempsey dated October 10, 2012, Congressman Duncan Hunter (California-District 50) and Thomas Rooney (Florida-District 17) questioned Dempsey's reasoning for such unprecedented punishment. "In his 18 year long career, LTC Dooley had never received a negative OER, until this year. In fact, his last five OER's, prior to the ordered negative one, have all listed his performance as outstanding and best qualified.
"Since DoD (Dept. of Defense) had already directed NDU to cancel the JFSC elective, and LTC Dooley was then relieved as its instructor, we would like to know why the DoD was compelled to further discipline LTC Dooley by jeopardizing his reputation and his future in the service. It is our understanding that LTC Dooley did not violate any established University practices, policies or DoD regulations to merit a negative OER."
On January 14, 2013, TMLC filed a complaint on behalf of Dooley with the Middle States Commission of Higher Education. Thompson pointed to NDU's Regulations on Free Speech and Academic Freedom, which clearly states, "Academic freedom is not an indulgence but a necessity to realize the university's aspirations. Academic freedom is therefore understood to be essential to the U.S. national interest, and upheld by the United States Supreme Court as a right protected by the First Amendment (Keyishian v. Board of Education, 385 U.S. 589-1967).
"The Chairman of the Joint Chiefs of Staff, under provisions and requirements of Title 10, United States Code (USC), has directed the President of the NDU to establish a climate of academic freedom within the university to foster thorough and lively academic debate, and to examine national security issues. Non-attribution is a policy well entrenched at NDU. That is so to enable and encourage the university community and visiting guests to speak candidly. The university assures that nothing will be attributed to speakers directly or indirectly without their expressed permission."
Thompson said, "In order to appease Muslims and the White House, General Dempsey and the Department of Defense rushed to punish LTC Dooley. In the process, they violated not only our Nation's core principles of free speech and academic freedom guaranteed by our Constitution, but also, a number of the military's own regulations dealing with academic freedom and non-attribution policies of the National Defense University (NDU) to which LTC Dooley was assigned. They violated the right to due process of law and even by-passed the University's Provost, who under NDU's own rules has primary responsibility for adjudication of this matter."
Political "sensitivity" has run amok in this country and poses a dangerous environment for our soldiers still fighting Afghanistan, the security in other nations as well the security of our own country.  One need only point to the characterization of the Fort Hood massacre in which 13 people were killed and 30 injured as "workplace violence" and more recently, the events of Benghazi where U.S.
Ambassador Chris Stevens and three others were killed was described as a protest prompted by a video and the Boston Marathon Bombings where the Tsarnev brothers ties to a Chechnya militant jihadist insurgency were underscored. Even anthrax and ricin tainted letters sent to the White House and two others have been downplayed. Islamic Sharia Law prohibits criticism of Islam and notably appears to have a foothold within our nation's highest offices.
Claire M. Lopez, a former CIA agent and strategic policy and intelligence expert, pointed this out months ago when she commented on General Dempsey's order.
Lopez said, "The final bastion of America's defense against Islamic jihad and sharia, the Pentagon, fell to the enemy in April 2012, with the issuance of a letter from General Martin E. Dempsey, Chairman of the Joint Chiefs of Staff, re-issuing his earlier order that all Department of Defense (DoD) course content be scrubbed to ensure no lingering remnant of disrespect to Islam. 
"All U.S. military Combatant Commands, Services, the National Guard Bureau and Joint Staff are under Dempsey's Muslim Brotherhood-dictated orders to ensure that henceforth, no U.S. military course will ever again teach truth about Islam that the jihadist enemy finds offensive (or just too informative).
"To all intents and purposes, DoD Secretary Leon E. Panetta likewise has acquiesced to a Muslim Brotherhood takeover of U.S. military education."
Calls to NDU were not returned.
Dooley remains on active duty and is not allowed to speak publicly on his case.