Editor's Note – Where and when does the hypocrisy end? The only truth anyone can faithfully glean from the eternal campaigner-in-chief and his cronies is that whatever they say about their opponents, you can be sure they are at least twice as guilty of the same transgression.
The examples of such are far too voluminous to list again, and again, but here is the latest. Remember, Jack Lew has already been caught giving false testimony during budget discussions to Congress. This man cannot be trusted with America's checkbook and 'the full faith and credit' of the country.
The 'do as we say, not as we do' mentality oozes from there deflections, obfuscations, and blatant disregard for the truth  – so we ask again: "America, what the heck were you thinking on that one Tuesday last November?"
Obama's hypocrisy on Jack Lew
By Marc A. Thiessen – Washington Post
In a brutal campaign ad last year, Barack Obama showed Mitt Romney warbling "America the Beautiful" while pictures of a sandy beach appeared and the ad declared: "He had millions in a Swiss bank account . . . tax havens like Bermuda … and the Cayman Islands." It concluded: "Mitt Romney's not the solution. He's the problem."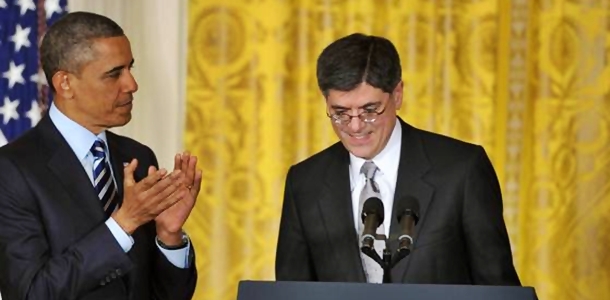 Well, apparently someone else is part of the "problem": Obama's nominee for Treasury secretary, Jack Lew.
It turns out Lew had $56,000 invested in a Citigroup venture capital fund based in . . .wait for it . . . the Cayman Islands. Sen. Chuck Grassley (R-Iowa), a member of the Finance Committee before which Lew will soon appear, declared, "The irony is thick," pointing out that "President Obama has been almost obsessively critical of offshore investments."
Grassley is right. Just last week, during a "60 Minutes" interview before the Super Bowl, Obama declared, "When you look at some of these deductions that certain folks are able to take advantage of, the average person can't take advantage of them. The average person doesn't have access to Cayman Island accounts."
It's a recurring theme for the president. In a 2009 speech, Obama focused his ire on "a building in the Cayman Islands that had over 12,000 businesses claim this building as their headquarters" — a building called Ugland House. Obama said, "And I've said before, either this is the largest building in the world or the largest tax scam. And I think the American people know which it is: The kind of tax scam that we need to end."
Well, guess who was involved in the "largest tax scam" in the world? Jack Lew. According to the New York Times, Lew's Cayman Islands fund was based in "the notorious Ugland House, a building whose mailboxes are home to nearly 19,000 corporate entities, many of them tax shelters."
Someone else who was deeply concerned about Ugland House is the man who will consider Lew's nomination, Senate Finance Committee Chairman Max Baucus (D-Mont.). In a 2008 hearing, Baucus said of Ugland House, "Many of those tenants are feasting at America's taxpayers' expense." Now he must decide whether to confirm one of those tenants as our next secretary of the Treasury.
Lew's defenders point out that his investment was "only" $56,000. Well, $56,000 may be a small amount in Washington and on Wall Street, but it is more than the annual income of the typical American family. They say that he sold his Cayman holdings for a loss three years ago. But Lew divested himself and sold his investment for a loss only when confirmed as director of the Office of Management and Budget. Before that, even as a senior State Department official, he had no problem parking his money offshore.
Democrats point out that Republican Treasury Secretary Hank Paulson also had investments in the Cayman Islands and that Republicans did not view this as disqualifying. But the ethics of investing in the Cayman islands is not the issue here. The issue is Obama's hypocrisy.
Obama excoriated his opponent in last year's election as being unfit for office for having such investments. So by Obama's own standard, shouldn't Lew be considered unfit for office as well? Obama specifically called the investment Lew held the world's biggest "tax scam." Should the man responsible for U.S. tax policy be someone the president says was involved in a "tax scam"? Someone the Democratic Senate Finance Committee chairman says was "feasting at America's taxpayers' expense"?
A White House spokesman, Eric Schultz, pointed out that Lew broke no laws and "paid all of his taxes and reported all of the income, gains and losses from the investment on his tax returns." But last year Obama campaign spokesman Ben LaBolt said that while Romney had not technically broken any laws by keeping his money in offshore tax havens, "is not technically breaking the law a high-enough standard for someone who wants to be president of the United States?" Well, is not technically breaking the law a high-enough standard for someone who wants to be secretary of the Treasury?
Investing in the Cayman Islands does not make Lew unfit to be Treasury secretary. But it does make him unfit to be Obama's Treasury secretary.