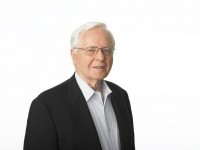 Charles E. Jones (Brigadier General, USAF, Retired). General Jones served continuously in the Air Force and Air Force Reserves from 1954 to 1986. He has held numerous command and staff positions, including Vice Commander Numbered Air Force, Commander Tactical Fighter Wing, Commander Tactical Airlift Wing, Commander Strategic Airlift Wing, Commander Special Operations Group with attached SOF/CAS Combat Crew Training School, Wing Dep Cmdr Operations, Chief Of Aircraft Maintenance Division at Numbered Air Force, Wing Chief of Maintenance, Wing Maintenance Control Officer, Aide-de-camp/Pilot to MAJCOM Commander, B-66 Aircraft Commander with additional duty as Squadron Maintenance Officer, Flight Test Maintenance Officer, Multi Engine Instructor Pilot and Aviation Cadet. He was Commander of Airlift Forces (COMALF) for Bold Eagle 80, the largest joint service exercise, at that time, since WWII.
He is a graduate of the Air War College and has logged over 6,500 hours in 35 types of military and civilian aircraft and flew as an active pilot during his entire Air Force career. Awards and decorations include the Distinguished Service Medal plus thirteen additional others.
He was an Air Carrier Operations Inspector with the FAA and maintained currency as an ATR pilot in the Boeing 727 and 737 and as a Flight Engineer in the B-727 until recalled to Active Duty for the Pueblo Crisis in January 1968. Over the years he has worked in close coordination with well known candidates, elected and public officials such as Presidential and Vice Presidential Candidates, White House Senior Staffers, Senators, House Members, Governors, Industrialists and others. He has seen the workings of government at all levels, military and civilian, close up for many years which has given insight to the grave, destructive issues and matters today confronting America.
After retiring from the Air Force, General Jones owned his own R&D (Fast Patrol Boat) Company for several years. He is a member of the Advisory Committee for US Aircraft Corporation who is developing an advanced multi-mission fixed wing CAS/ISR/COIN aircraft for which an 80% scale version is flying and concept proven. He is the founder and was Chairman, now retired, of the National Veterans Coalition, an arm of the Constitution Party. He is a member of Stand up America and serves on the advisory Kitchen Cabinet. He is a Lifetime Member of both the Order of Daedalians, (a Fraternal Organization of Military Pilots) and the Military Officers Association of America, ( a veterans association dedicated to maintaining a strong national defense). He continues to work toward maintaining a strong National Defense and preserving the Constitution and Republic for future generations.