Editor's Note – As we have pointed out in the past, many liberal leaning web sites are posting some interesting things of late – they are reporting failings of the Obama Administration. They are also conducting investigations that only a few short months or more ago would never even have been discussed prior to the Presidential election of 2012.
Here is one such example from the Daily Beast (Ranked 17 on the list of the most liberal web sites at Right Wing News), exposure that even John Kerry believes his boss's policies have failed in Syria. Josh Rogin at the Daily Beast does a fine job, but left a lot on the cutting room floor regarding Obama/Kerry/Clinton foreign policy disasters.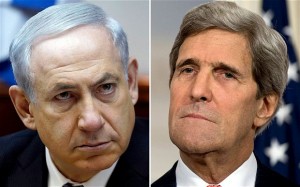 Everything they touch goes up in smoke somehow, and even James Clapper revealed startling new insights on Syria himself during his testimony (See transcript here and his opening statement here.) last week in front of the Senate Intelligence Committee that contradicts official White House policy. Syria – utter failure, Israel/Palestine – inept/naive failure, Afghanistan – flaming/corrupt failure, Egypt – abject failure, Iran – explosive failure, Russia reset – played like an accordion by Putin…
Then there is the big issue of the a threat of a "boycott on Israel" that is now being explained, or walked back as it were, but the damage is done. Now even groups like Security Solutions International are suspending any future trips to Israel that they have been doing for years. Security issues and the deteriorating relationship we have with Israel were mentioned as reason why. (Read more here.)
Senators: Kerry Admits Obama's Syria Policy Is Failing
By Josh Rogin – Daily Beast
In a closed-door meeting, two senators say, the Secretary of State admitted to them that he no longer believes the administration's approach to the crisis in Syria is working. Peace talks have failed, he conceded, and now it's time to arm the moderate opposition—before local al Qaeda fighters try to attack the United States.
Secretary of State John Kerry has lost faith in his own administration's Syria policy, he told fifteen U.S. Congressmen in a private, off-the-record meeting, according to two of the senators who were in the room.Kerry also said he believes the regime of Bashar al Assad is failing to uphold its promise to give up its chemical weapons according to schedule; that the Russians are not being helpful in solving the Syrian civil war; and that the Geneva 2 peace talks that he helped organize are not succeeding. But according to the senators, Kerry now wants to arm Syria's rebels—in part, to block the local al Qaeda affiliates who have designs on attacking the U.S. (Kerry's spokesperson denied that he now wants to supply weapons, but did not dispute the overall tenor of the conversation.)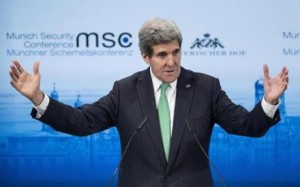 "[Kerry] acknowledged that the chemical weapons [plan] is being slow rolled, the Russians continue to supply arms, we are at a point now where we are going to have to change our strategy," said Sen. Lindsey Graham, who attended Kerry's briefing with lawmakers on the sidelines of the Munich Security Conference. "He openly talked about supporting arming the rebels. He openly talked about forming a coalition against al Qaeda because it's a direct threat."
Kerry's private remarks were a stark departure from the public message he and other top Obama administration officials repeatedly have given in public. Shortly after the meeting ended, Sens. Graham and John McCain described the meeting to The Daily Beast, The Washington Post, and Bloomberg View. Given newly-released intelligence on the growing al Qaeda presence in Syria, as well as shocking new evidence of Syrian human rights atrocities, the senators said they agreed with Kerry that the time had come for the United States to drastically alter its approach to the Syrian civil war.
"Kerry acknowledged that we are at a point now where we are going to have to change our strategy."
Kerry arrived in Munich after eight days of talks between the Assad regime and the Syrian Opposition Coalition—negotiations talks that U.N. envoy Lakhdar Brahimi said made "no progress"  in ending the conflict. The Secretary of State sought feedback from the Congressional delegation there about U.S. policies towards Syria.
Kerry confirmed new testimony by Director of National Intelligence James Clapper, who told Congress last week that al Qaedas affiliates in Syria "have aspirations for attacks on the homeland."
"Kerry confirmed that," said Graham, "The first thing [Kerry] said [to the lawmakers] is, 'The al Qaeda threat is real. It is getting out of hand.'"
McCain, the leader of the bipartisan delegation to Munch, told Kerry that he supports the Secretary of State's drive to change the administration's policy, including increasing the flow of U.S. arms to the rebels. The CIA has provided small amounts of arms to some rebel groups, but Kerry is lobbying internally for an aggressive escalation of that effort.
"This is not surprising because all along John [Kerry] has wanted more vigorous action," said McCain. "I said to John on the way out, 'Don't make it a half measure.' I said you've really got to do something to change the momentum."
McCain and Graham also said they share Kerry's assessment that the U.S. must take steps to address the growing al Qaeda presence in Syria, which Clapper said now amounts to over 26,000 extremists on Syrian soil.
"Well, eventually you've got to confront them," said Graham. "So to me, it's a choice of: do we hit them after they hit us, or do we hit them before they hit us?" (It's a position McCain and Graham have long held. The senators are long-time advocates for U.S. military intervention in Syria, and were some of the highest-profile backers of surging American troops to Iraq and Afghanistan.)
Kerry's spokesperson, Jen Psaki, said the senators are confusing their views with the Secretary of State's. "This is a case of members projecting what they want to hear and not stating the accurate facts of what was discussed," Psaki added. "It's no secret that some members of Congress support this approach, but at no point during the meeting did Secretary Kerry raise lethal assistance for the opposition."
"He was describing a range of options that the Administration has always had at its disposal, including more work within the structure of the international community, and engaging with Congress on their ideas is an important part of that process," Psaki continued. "While Secretary Kerry restated what we have said many times publicly about our concern about the growing threat of extremists, he did not draw a direct connection to the threat on the homeland or reference comments made by other Administration officials."
The lawmakers also said that newly released evidence showing the torture and apparent starvation of as many as 11,000 civilians by the Syrian government might be enough to persuade the White House to change course in Syria, as Kerry said he wanted.
"Maybe those two disturbing facts about the results of the war in Syria could maybe help them think they ought to change their policy," said McCain. "The president needs to be convinced."
McCain wants the U.S. to establish a safe zone in northern Syria protected by U.S. patriot missile batteries currently stationed in Turkey. Graham said he thinks the U.S. should use drones to directly attack extremists inside Syria. McCain does not favor drone strikes.
At one point in Kerry's 45-minute Munich meeting with the lawmakers, he sought to gauge the popular appetite for more aggressive action in Syria, asking the lawmakers, "Where are your constituents at?" Lawmakers inside the meeting told Kerry that without leadership and public discussion of such options from President Obama, there was no way individual Congressmen would be able to convince a war weary public to get more involved.
"How many Americans even know about this?" asked McCain, comparing the alleged atrocities perpetrated by the Assad regime to the ethnic cleansing conducted by the Serbians in Bosnia in the 1990's.
The senators suggested that President Obama could follow the path of Bill Clinton, who avoided using military force in Bosnia for years until the Serbian atrocities came to light, after which Clinton reversed himself and decided to bomb the Sarajevo and the government of Slobodan Milošević.
"The president needs to challenge the Congress, based on Clapper's assessment, Kerry's assessment, that the time for action is at hand when it comes to the growing threat of al Qaeda," said Graham.
In his public remarks at Munch, Kerry said that the Assad regime had become a magnet for extremists, who would someday return to their home countries. Kerry also said publicly that the international community needed to keep the pressure on the Assad regime to live up to its promises to hand over it chemical weapons stockpiles.
Responding to a joint inquiry about Kerry's private meeting from The Daily Beast, The Washington Post, and Bloomberg News, State Department Spokeswoman Psaki insisted that all the top administration officials were on the same page regarding Syria policy.
"Like [White House Chief of Staff] Denis McDonough [Sunday] morning on the Sunday shows, Secretary Kerry has stated publicly many times that more needs to be done rapidly by the regime to move chemical weapons to the port at Latakia, that we need to continue doing more to end the conflict, and that he has pushed the Russians to help in this effort," said Psaki. "No one in this administration thinks we're doing enough until the humanitarian crisis has been solved and the civil war ended. That is no different from the message Secretary Kerry conveyed during the private meeting. The meeting was an opportunity to hear from and engage with members of Congress and it is unfortunate that his comments are being mischaracterized by some participants."
But McCain has said repeatedly that top White House officials, including McDonough, are avoiding any further U.S. involvement in Syria and making the argument that the current strategy can be sustained. In June, McCain recalled, he and Sen. Dianne Feinstein travelled to Guantanamo Bay with McDonough, who revealed his position on the Syrian crisis.
"He said, 'Well, we are keeping Iran pinned down,'" McCain recounted. "What? 130,000 dead and we are keeping Iran pinned down?"
Kerry, on the other hand, wants to move more aggressively to arm and train the rebels—placing him at odds with McDonough, other White House staff, and perhaps President Obama himself.
"John Kerry, to his credit today, said this is getting really out of hand. And he was really down on the Russians," said Graham. "He was really good on Syria. He was good on [saying] the Russians are slow rolling us and saying this ain't working. He sounded more like John McCain than I have ever heard him.