Editor's Note – As expected, evidence that Diane Feinstein and others in Congress like Nancy Pelosi that they were indeed briefed and signed off on interrogations for years despite blatant denials. Subsequently we know that the enhanced techniques were last used in December of 2007, long before Obama banned them in 2009.
It is just more and more stunning that Feinstein and the Democrats not only released the scathing report, one that now jeopardizes our future safety and security, they lied about it and twisted the facts. Why? Because they had a political vendetta to fulfill.
Once again, does anyone realize that videos and taped audio have been in existence for many years?
CIA Docs Obtained by JW in 2010 Show Congress Approved of Enhanced Interrogation
From Judicial Watch
As some lawmakers purport to be stunned over the new CIA "torture report" the fact is Congress knew for years that enhanced interrogation techniques were being used on terrorists and in fact dozens of members were repeatedly briefed on the subject, including former House Speaker Nancy Pelosi.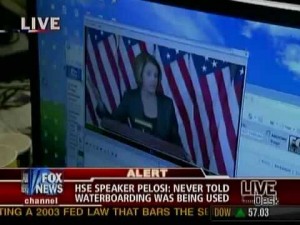 Back in 2010 Judicial Watch obtained government documents—once marked "Top Secret"—that reveal between 2001 and 2007, the CIA briefed at least 68 members of Congress on its interrogation program. This included so-called "enhanced interrogation techniques."
The dates of all congressional briefings and, in some cases, the members of Congress in attendance as well as the specific subjects discussed are included in the files. Pelosi, who has publicly denied she was briefed by the CIA on the use of these techniques, is specifically referenced in a briefing that took place on April 24, 2002, regarding the "ongoing interrogations of Abu Zubaydah."
After being the subject of enhanced interrogation techniques, Zubaydah identified Khalid Sheikh Mohammed (KSM) as the mastermind of the September 11 terrorist attacks that killed thousands of innocent Americans. Before Zubaydah identified KSM, currently held at the U.S. military prison in Guantanamo Bay Cuba, the 9/11 mastermind didn't even appear in the intelligence community's file of key Al Qaeda operatives or associates.
KSM, in turn, provided valuable intel about another Al Qaeda jihadist, Majid Khan, who, in turn, identified a terrorist named Zubair who was subsequently captured. Zubair later provided information that led to the arrest of Al Qaeda's South Asia leader.
These jihadists didn't exactly provide this valuable information willingly over tea and biscuits. The CIA held meetings with legislators as it pursued broader authority for its interrogation program, which did not begin until the agency got legal guidance from the Department of Justice (DOJ). A separate CIA report obtained by JW details the effectiveness of enhanced interrogation techniques to thwart Al Qaeda operations in the United States and overseas.
Nevertheless, President Obama banned the use of enhanced interrogation techniques during his first week in office in January 2009 and withheld information detailing the program's successes. His allies in Congress did an about-face, pretending to be shocked and in the dark about the interrogation program they had been briefed about—and apparently endorsed—so many times.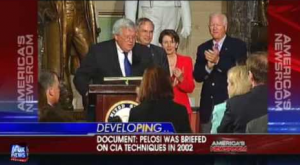 When Senate Intelligence Committee Chairwoman Dianne Feinstein proudly released the torture report this week, she said the document "examines the CIA's secret overseas detention of at least 119 individuals and the use of coercive interrogation techniques—in some cases amounting to torture."
The veteran California senator also proclaimed that the enhanced interrogation techniques, which she compares to those used by torturous regimes during the Cold War, were not effective and that the CIA provided "extensive inaccurate information" about the program to policymakers.  Furthermore, the CIA program was "far more brutal" than the agency represented to Congress, according to Feinstein.
CIA Director John Brennan defends the interrogation techniques and assures the agency obtained useful information as a result of the program, including intelligence that led to the death of Osama bin Laden. Interrogations of detainees produced intelligence that helped thwart attack plans, capture terrorists and save lives, according to a statement issued by the CIA this week.
"The intelligence gained from the program was critical to our understanding of al-Qa'ida and continues to inform our counterterrorism efforts to this day," the statement says, adding that the report's characterization of how the CIA briefed Congress on the program is inaccurate. "While we made mistakes, the record does not support the Study's inference that the Agency systematically and intentionally misled each of these audiences on the effectiveness of the program. Moreover, the process undertaken by the Committee when investigating the program provided an incomplete and selective picture of what occurred."