By Denise Simon and Scott W. Winchell
With the surge of terror across the globe and here at home, especially after the Paris "Charlie Hebdos" attack and the kosher market massacre, everyone keeps asking, are they coming or are they already here?
They are here!
In fact, just today an Ohio man, Christopher Lee Cornell (Raheel Mahrus Ubaydah) was arrested by the FBI and was reportedly influenced by the same man who influenced the Kouachi brothers, Anwar al Awlaki and that Cornell also may have known the brothers from online networks:
The FBI has arrested an Ohio man for allegedly plotting an ISIS-inspired attack on the U.S. Capitol, where he hoped to set off a series of bombs aimed at lawmakers, whom he allegedly considered enemies.

Christopher Lee Cornell -– also known as Raheel Mahrus Ubaydah -– was arrested earlier today on charges of attempting to kill a U.S. government official.

Further investigation revealed his intent to attack the U.S. Capitol, and he planned to detonate pipe bombs there and open fire on any employees and officials after the bombs went off, according to government documents.

The FBI and Department of Homeland security issued a bulletin to law enforcement agencies across the country, notifying them of the case.

"The alleged activities of Cornell highlight the continued interest of US-based violent extremists to support designated foreign terrorist organizations overseas, such as ISIL, by committing terrorist acts in the United States," the bulletin read. "Terrorist group members and supporters will almost certainly continue to use social media platforms to disseminate English language violent extremist messages."
See the release at Heavy.com and other documents.
Just this past week, even Diane Feinstein, D-CA, the former Chairwoman, and now the Ranking Member of the Senate Select Committee on Intelligence said they are. She should know, and and so should the White House. Here is what she said:
"I think there are sleeper cells not only in France but certainly in other countries and, yes, in our own," she told CNN. "This calls for vigilance. … Hopefully, we can be more active in terms of doing those things which enable us to find terrorists, see who they're communicating with and to track that."
With the Caliphate now formed in the Levant, better known as the Islamic State (Also ISIS, ISIL, Daesh) the spread of the threat has expanded and it appears the cell in Paris had roots to Yemen and Syria. In fact, AQAP release a new video today claiming responsibility and that it was years in the making the same day the newest edition of "Charlie Hebdos" hit the news stands. (Sheikh Nasr Ben Ali al-Aanesi spoke on the video.)
%CODE%
The lure appears to be working well for the master marketing team of al Qaeda and Daesh and the latest word of warning has been sent by officials that more cells may have been activated. We may not immediately because patience has been one of their calling cards but it appears likely that it will be sooner than later here.
With the Fort Hood Massacre, the Oklahoma Beheading, the Attacks in Canada, the Hatchet Attack in New York, and now the convert in Ohio, we are in a new era and we all had better keep alert.
But we ask, what has been done to secure us to date, especially since we have known about them for years and years right here at home besides this Ohio Muslim convert?
Many cases and studies have been done by those who were aware long ago of the rise of sleeper cells and training camps.
The FBI introduction to the Freedom of Information Act (FOIA) file on Clarence Smith—aka Clarence 13X—reads only, "Smith was the leader of the 'Five Percenters,' a notorious Harlem street gang. He was shot to death in 1969" [1].

Yet, as a lyrical sample from Lord Jamar (a prominent Five Percenter and hip-hop artist) reads in his Greatest Story Never Told, "Allah [Clarence Smith] was assassinated in 1969, that case was never solved. His movement survived him, today it's known as the Nation of Gods and Earths" [2].

The Five Percenters are just one facet of indigenous Muslim evolution in the United States; others, like Jama`at al-Fuqara', retain ties to Pakistan and are ideological affiliates of militant Salafist groups such as al-Qa`ida.

This article will examine trends among three predominantly African-American Islamic movements, at least one of which should be considered a domestic terrorism concern for the United States. It also serves to provide counter-terrorism professionals with knowledge enabling them to differentiate terrorist threats from more benign religious groups.
Heffelfinger  illustrates further where some of these groups are and the threat they have "today," as in 2008, so imagine how much worse it is today:
Critical for intelligence and law enforcement officials is the ability to distinguish non-violent, pietistic or spiritualist movements from Salafist-inspired ones that advocate or practice militancy. Today, the Five Percent Nation is largely leaderless, with various teachers propagating the beliefs of Clarence 13X and poses no serious terrorist threat, although gang activity and criminality is a concern.

The Seas of David will, in all likelihood, dissipate and pose no further threat. Such movements, however, may serve at times as a gateway to more conservative—sometimes militant—Salafist groups, such as Jama`at al-Fuqara'.

The Jama`at al-Fuqara'/Muslims of America deserves a more comprehensive treatment, as the group is clearly one of the most glaring domestic terrorism concerns for the United States.(Read more here, it is extensive and worth the read. Our emphasis added.)
Heffelfinger was not the only one by a long shot. As late as 2012 an article in Law Enforcement Today entitled "Informant: Islamic Compounds in America are Training for Jihad" was posted by Martin Mawyer. His introduction speaks volumes:
In Hancock, NY an Islamic community that sits on 80 acres of land has decided to form its own government.  They call their community: The Town of Islamberg.  They have their own mayor, deputy mayor and five town council members.  None of them are elected, of course.

They even boast that their "town" provides departments of education, medical, finance and land development services.

This Islamic compound has truly become a city-state.  Though not recognized as a legitimate township by the City of Hancock, this Islamic community nevertheless enforces its own laws on the "citizens" within its borders.  They do so by using the iron fist of Sharia law.

I interviewed a member of this camp, which sits deep in the Catskills Mountains of upstate New York.  The Islamic group that has established this camp is part a network known as Muslims of the Americas (MOA), which has documented links to Al Qaeda.

MOA has established similar villages in nearly three-dozen locations nationwide, with other prominent camps found in Texas, Virginia, South Carolina, Georgia, California and Tennessee. (Read more here.)
Remember, that interview took place in 2012, where are we today in 2015? Even further back in 2007, another article came out entitled "Red House, Va has radical Islamic terrorist training camp" and you can read the commentary with charges and denials by many including Muslims in Virginia. Read more from Eric Stackleback from 2012 on this case and view his interview.
Many of these reports have been published many times, where is the FBI and the White House? In 2012, World Net Daily posted an article entitled "35 Training Camps Now Operating Inside U.S. – Government does nothing to impede expansion of 'Soldiers of Allah' network."
This is not new, but fortunately of late, many more people are discovering the work done over the years.
In the period between 2006 and now, Stand Up America staff has been part of some of these investigations and financing some of the work investigators performed on others like Adnan al Shukrijumah who was operating in Hamilton, Ontario, and who was just recently killed by Pakistani officials.
Ryan Mauro at the Clarion Project and Brigitte Gabriel's group Act For America have also done extensive work on exposing the many enclaves, training camps and sights of older crimes that may be related to terror.
A Clarion Project investigation has discovered a jihadist enclave in Texas where a deadly shooting took place in 2002. Declassified FBI documents obtained by Clarion confirm the find and show the U.S. government's concern about its links to terrorism. The investigation was completed with help from ACT! For America Houston.

The enclave belongs to the network of Muslims of the Americas, a radical group linked to a Pakistani militant group called Jamaat ul-Fuqra. Its members are devoted followers of Sheikh Mubarak Ali Gilani, an extremist cleric in Pakistan.
Be alert America, "see something, say something" applies at all times.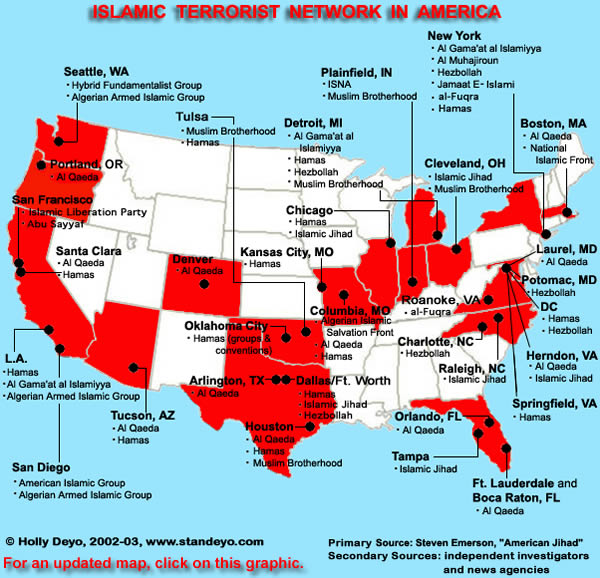 ---
This article was expanded from a cross-post at the Founders Code