Editor's Note – See the entire timeline here: The Guardian – UK
• Dozens of Iranian protesters forced their way into the British embassy in Tehran, tearing down the Union flag and throwing documents from the windows. They also pulled down a picture of the Queen and burnt an embassy vehicle, as well as US, Israeli and UK flags. The protesters said they wanted to shut down the embassy. Protesters also targeted Gholhak Gardens, a British diplomatic compound in north Tehran that has been a source of contention between Iranian and UK officials over its ownership. Both of the protests have now ended.
• The UK foreign secretary, William Hague, said he held the Iranian government responsible for failing to protect the embassy, despite Tehran's expressions of regret for today's events. The foreign office advised British nationals in Iran to stay indoors and keep a low profile after the attacks. The Iranian foreign ministry said it regretted the events and was committed to the safety of diplomats on its soil but Hague said it "remains a very serious failure by the Iranian government".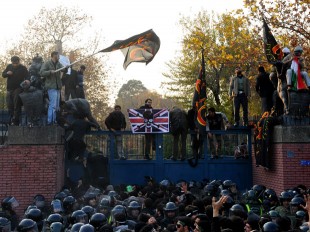 • The semi-official Fars news agency said six UK embassy staff were rescued by police after being held hostage by the protesters who it described as "self-motivated university students". The UK foreign office would not comment directly but Hague said that all staff had been accounted for.
• Clashes between police and protesters were reported at the UK embassy. One protester was in a critical condition, according to Fars. It said several protesters and police officers were injured. Police used teargas to try to disperse protesters. Some were reportedly arrested at Gholhak Gardens.
The Guardian's Saeed Kamali Dehghan writes:
The attack came two days after the Iranian parliament voted to expel the British ambassador, Dominick Chilcott, in retaliation against economic sanctions imposed by the west over the country's disputed nuclear programme. The Foreign Office said it was "outraged" at the events and that they were "utterly unacceptable".
Fars news agency reported on Tuesday that a small group of students chanting "death to England" had replaced the British flag with the Iranian Flag. British and Israeli flags were also reported to have been burnt during the protests. Another semi-official news agency, Ilna, said the protesters had "conquered" the embassy. The episode was shown live on state-run Press TV..
Around a thousand protesters gathered on the street in front of the embassy, waving pictures of the Iranian nuclear scientist, Majid Shahdirari, who was assassinated last November in Tehran. Others held pictures of another assassinated Iranian scientist, Masoud Ali-Mohammadi, and a senior commander of the elite Revolutionary Guards, Qassem Suleimani, who is said to be in charge of the group's overseas operations.
State TV reported that another group of hardline students gathered at the gate of the British ambassador's residence in northern Tehran, at the same time.