Editor's Note: Iran is constantly forging ahead with its world plans despite all external pressures. Here are two more aspects of this constant chess master's moves. Reports of Iran creating nuclear warheads as they start a new Spanish language station targeting our southern neighbors gives us great pause. Please stay tuned for more news on this front that you are likely not going to see anywhere else without a lot of digging.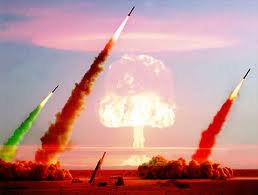 Head of U.N. Nuclear Agency Believes Iran Is Building Nuclear Warhead
VIENNA (AP) — The head of the U.N. nuclear agency on Monday announced plans to publish new information backing up his belief that Iran may be working on a nuclear warhead — developments that leave his organization "increasingly concerned."
The comments by International Atomic Energy Agency chief Yukiya Amano were significant because it was the first time he revealed plans to release some of the most recent knowledge available to the IAEA leading to such worries. Such new intelligence would likely be detailed in the next report on Iran's nuclear activities in November.
Read more here at CNS News.
Iran Government Launching Spanish-Language TV to Target Latin America
CNSNews.com – The Iranian government is racing to launch its first Spanish-language news channel by the end of this year, which is expected to reach audiences in Latin America and Europe, a Brazilian news outlet reported.
HispanTV, the name of the upcoming Iranian channel, has already made its debut on the Web, covering news in Iran, the Americas, the United States, Canada, Middle East, Europe, Asia, and Africa and also reporting on culture, health, sports, society, economy, and technology.
The Iranian channel is expected to air "varied" programming, including interviews and talk shows about movies and books on Iranians and Hispanics. Pilot programs, such as one about the "the massacre of Pakistanis" by the United States are already available on Facebook, YouTube, and Twitter.
On Aug. 18, the Brazilian newspaper, Folha de São Pao (Folha), reported that HispanTV was aimed to bring "Iran's vision to the region, particularly South America." Folha's story was disseminated by Brazil's Ministry of Defense.
Folha (Portuguese for sheet/page) highlighted that apart from the governments of Argentina and Colombia, Iranian President Mahmoud Ahmadinejad has close ties with some South American leaders, including Venezuelan President Hugo Chavez and Bolivian President Hugo Morales, both known for spreading anti-American sentiment in the region.
Iran will bear the full cost of the upcoming TV station, which will join Press TV, the English-based Iranian channel, with coverage on all continents. HispanTV is expected to be based out of Tehran in a building next to PressTV. The station is expected to have a branch in Madrid, Spain and plans to open offices throughout South America. It already has a "permanent contract" with Venezuela's Telesur channel, but is keeping its doors open to other stations in the region.
The Islamic Republic News Agency (IRNA), an Iranian state entity, plans to open an office in Brazil. According to the Iranian Embassy in Brazil, the project is ongoing but there is no set date for when the branch will begin operating. Brazil's official language is Portuguese, making it the only non-Spanish speaking country in Latin American.
Two free satellites will make HispanTV broadcasting possible. Potential consumers will a satellite dish and decoder to access the content.
Syrian President Bashir Assad meets with his Iranian counterpart Mahmoud Ahmadinejad and Hezbollah leader Hassan Nasrallah in Damascus in February 2010. (Photo: Hezbollah/Moqawama Web site)
"Our signal will reach all of Latin America and Europe, and may also be picked up in Brazil," said Chilean Manuel Raimondi, the managing editor of the upcoming channel, according to the Brazilian newspaper.
"Few agencies have a monopoly of Western news about Iran and the Middle East in Latin America. This will help the population to have access to news without distortion," said Ali Mohaghegh, the first secretary of the Iranian Embassy in Brazil.
HispanTV is the latest example of Iran's efforts to create alternative media channels to "giant corporations," added Folha.
On Aug. 4, Tiroalblanco.cl (Spanish for Target shot), a Chilean news outlet, reported that HispanTV will reach the United States and Canada as well.
HispanTV is in a process of implementation and consolidation, according to Tiroalblanco.cl. The finished product is expected to be comprised of correspondents, columnists, bloggers, and contributors who will join the current team on the channel.
"We work with more than 100 people, mostly Iranian colleagues, of course. Also, we have the valuable support of high level professionals from Spain, Peru, Argentina, Ecuador and Venezuela, all females, which certainly strengthens the incessant news service, " said Manuel Arismendi, the managing editor of HispanTV, as reported in Tiroalblanco.cl.
The Chilean news outlet reported that, according to Arismendi, by 2012 HispanTV will begin broadcasting "24 hours a day with a variety of programming, including news every half hour, movies, documentaries, television series and feature stories."
CNSNews.com attempted to reach Arismendi for comment using an e-mail address listed at Tiroblanco.cl, but he did not respond before this story was posted.
During testimony before lawmakers in March 2010, the Drug Enforcement Agency (DEA), a component of the Department of Justice, said the Iran-backed groups Hamas and Hezbollah, which are designated as terrorist organizations by the U.S. State Department, are operating in South America.
"Some DTOs [drug-trafficking organizations] based in the tri-border area have ties to radical Islamic terrorist groups such as Hezbollah," testified Anthony Placido, the assistant administrator for intelligence at DEA.
"There are numerous reports of cocaine proceeds entering the coffers of Islamic Radical Groups (IRG) such as Hezbollah and Hamas in Europe and the Middle East," he said.
Nevertheless, Daniel Benjamin, the State Department's coordinator for counterterrorism, told lawmakers in June 2010 that there is "no credible information" to indicate that the international terrorist organization Hezbollah has an "operational presence in Latin America."
Although it maintained that "there was no corroborated information that these or other Islamic extremist groups had an operational presence in the TBA [the "tri-border area" of Paraguay, Brazil and Argentina] or elsewhere in the hemisphere," the Congressional Research Service (CRS) in February 2011 reported that U.S. concerns have increased in recent years over Hezbollah and Hamas' fundraising activities in South America.
According to the State Department's latest Country Reports on Terrorism, "Designated as a State Sponsor of Terrorism in 1984, Iran remained the most active state sponsor of terrorism in 2010" providing weapons, training, and funding, to terrorist groups such as Hamas and Hezbollah."
(This news story was based on translations of reports by Portuguese-basedFolha de São Pao and Spanish-based Tiroblanco.cl.)